Here's Why Horizon Pharma plc's Stock Slumped in April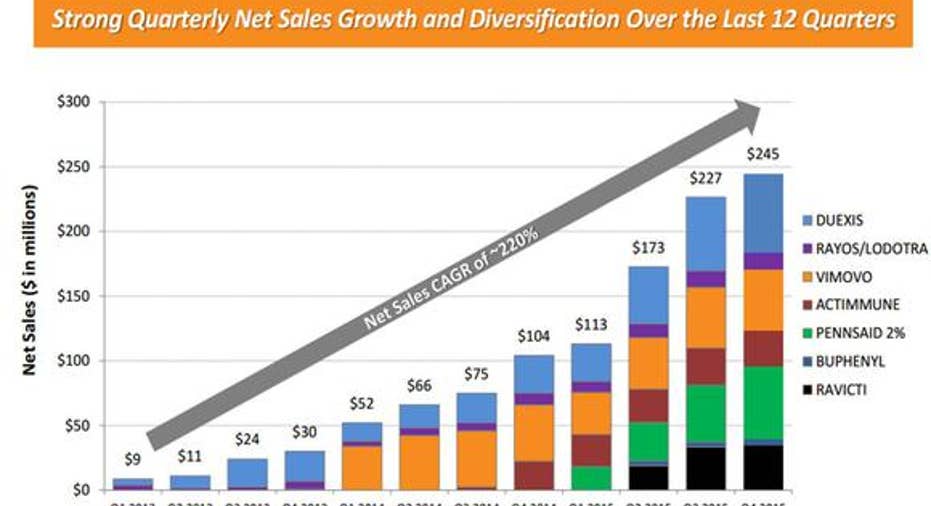 What:Shares ofHorizon Pharma dropped by 11.5% in April, according to data fromS&P Global Market Intelligence. The drugmaker's monthly decline primarily stemmed from its updated annual guidance that hit the Street last month, and subsequently fell below analysts' expectations in terms of net product sales for the first and second quarter of 2016. That said, Horizon did reaffirm its2016 annual sales guidance of $1.025 billion to $1.05 billion, implying that product sales should pick up in the second half of the year.
So what:Horizon's updated, and somewhat disappointing, annual guidance couldn't have come at a worse time. After all, market sentiment has been steadily turning against the specialty pharmacy model due toValeant Pharmaceuticals' spectacular implosion, combined with the heated political debate regarding branded drug pricing schemes in the United States right now.
Now what: Horizon is struggling to throw off the impression that it's basically Valeant Lite, especially after the company disclosed that it had received a subpoena from the U.S. Attorney's office for the Southern District of New York requesting information related to its patient assistance programs. Some critics claim that Horizon's patient assistance programs are little more than a tactic to lower the barriers to reimbursement, allowing the company to charge exorbitant prices for certain medicines. As a reminder, Valeant was investigated by the same office for similar practices last year, leading the drugmaker tocut ties with the specialty pharmacy Philidor.
Horizon's management has thus been attempting to pivot the company more toward an orphan drug model -- a business model that rarely garners stinging criticism from payers or politicians. However, until the smoke clears, investors might be best served by remaining on the sidelines with this pharma stock, despite the drugmaker's recent upswing in net product sales across across its product portfolio.
Data source: Horizon Pharma.
The article Here's Why Horizon Pharma plc's Stock Slumped in April originally appeared on Fool.com.
George Budwell has no position in any stocks mentioned. The Motley Fool owns shares of and recommends Valeant Pharmaceuticals. Try any of our Foolish newsletter services free for 30 days. We Fools may not all hold the same opinions, but we all believe that considering a diverse range of insights makes us better investors. The Motley Fool has a disclosure policy.
Copyright 1995 - 2016 The Motley Fool, LLC. All rights reserved. The Motley Fool has a disclosure policy.