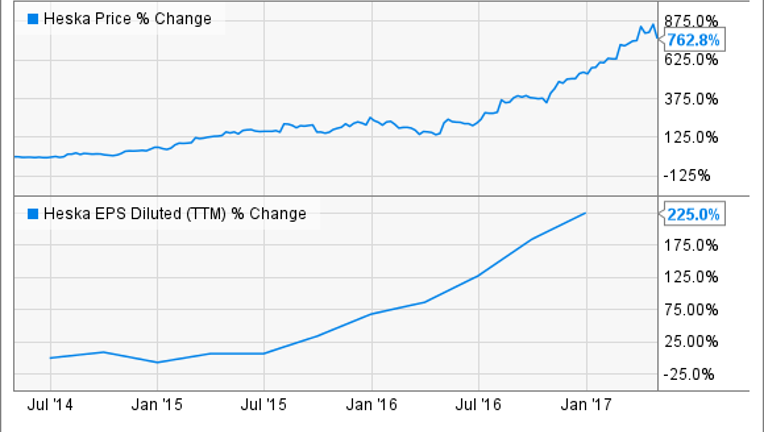 What happened
In response to first-quarter sales results that came in well short of expectations, shares of Heska Corporation(NASDAQ: HSKA),a diagnostics and pharmaceuticalcompany focused on veterinary products, fell 11% as of 11:30 a.m. EDT on Tuesday.
Image source: Getty Images.
So what
Here's a look at the key quarterly numbers that drove today's price action:
Revenue grew 12% to $30.4 million. The gains were driven by 22% growth in blood diagnostics revenue but offset by a 26% decline in imagine revenue. Meanwhile, pharmaceuticalsales grew 56% thanks to a new sales contract with Eli Lilly's animal health division Elanco. This number came in quite a bit shy of the$33.3 million in total revenue that Wall Street had expected.
Heska's operating income rose 42% to $2.8 million thanks to margin expansion.
Net income surged 288% to $4.6 million and earnings per share skyrocketed 259% to $0.61 due to the combination of margin expansion and a big income tax benefit. That figure was more than double the $0.30 in EPS that market watchers had expected.
Heska ended the quarter with $12.2 millionin cash.
The disappointing revenue growth appears to be the primary reason behind Tuesday's tumble.
Now what
Heska's stock has been a grand-slam investment over the past three years. Shares have surged more than 700% since 2014 thanks to strong profit growth as the business continues to scale.
In addition, Heska's results continue to show that veterinariansaround the country are warming up to its core diagnostic products based on the promised cost savings over rivals like Idexx Laboratories. When combined with growing pharmaceutical sales, Heska continues to look poised for double-digit revenue and profit growth from here.
On the flip side, the company's huge share price gains have stretched its valuation to more than 68 times trailing earnings. That might be a multiple that even some growth investors find too rich to stomach.
Overall, I see reasons to believe that Heska will keep growing rapidly, but given the company's stretched valuation, I have a hard time calling today's dip a buying opportunity.
10 stocks we like better than HeskaWhen investing geniuses David and Tom Gardner have a stock tip, it can pay to listen. After all, the newsletter they have run for over a decade, Motley Fool Stock Advisor, has tripled the market.*
David and Tom just revealed what they believe are the 10 best stocks for investors to buy right now... and Heska wasn't one of them! That's right -- they think these 10 stocks are even better buys.
Click here to learn about these picks!
*Stock Advisor returns as of May 1, 2017
Brian Feroldi has no position in any stocks mentioned. The Motley Fool recommends Idexx Laboratories. The Motley Fool has a disclosure policy.