Here's Why Hecla Mining Gained 23% in January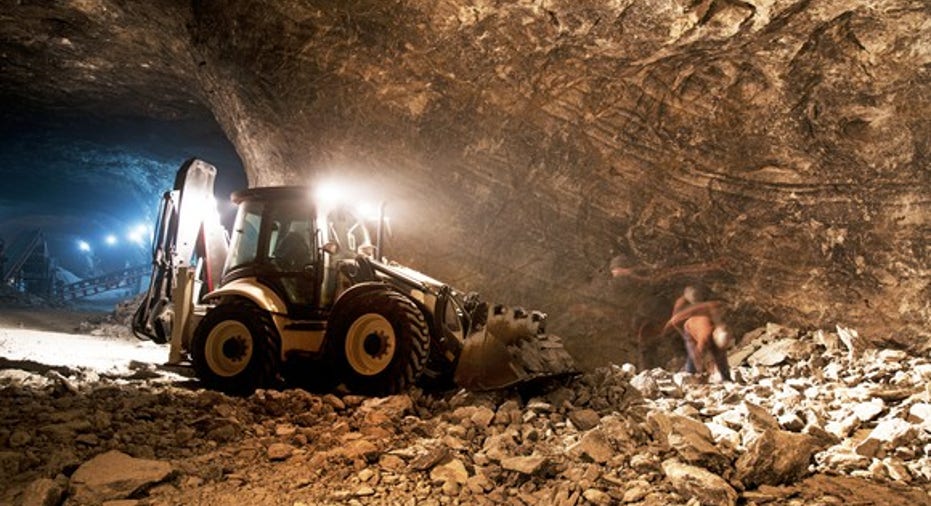 What happened
Shares of Hecla Mining (NYSE: HL), a North American silver and gold miner, surged 23% in January, according to data from S&P Global Market Intelligence. There appear to be two key reasons for its outstanding performance to begin the year.
So what
The first catalyst that pushed Hecla Mining higher during January was the release of its 2016 production results ahead of its official fourth-quarter earnings release. Based on Wall Street's reaction over the course of the month, it's safe to say that analysts were pleased with the results.
Image source: Pixabay.
For the year, Hecla Mining produced 17.2 million ounces of silver, a 48% increase from 2015, and an all-time record for the company. Meanwhile, gold production improved by 24% to 233,929 ounces. In terms of byproducts, lead production increased 6% while zinc production declined by 2%.
All four of Hecla Mining's commercial assets delivered impressive results in 2016. Greens Creek produced 9.25 million ounces of silver, its highest production level since Hecla boosted its stake in the mine to 100% in 2008. Lucky Friday produced just shy of 3.6 million ounces of silver, also an all-time record in its 16-year production history. As for Casa Berardi, the company's flagship gold mine, production rose 14% for the year with the mill processing 2,726 tons of ore per day, a new record. Finally, the ramp up at San Sebastian continued, with nearly 4.3 million ounces of silver produced.
Beyond its production figures, the other catalyst for Hecla Mining was the rapid rise in prices for physical silver. After ending 2016 at $15.90 an ounce, spot silver prices rose by 10.1% in January, which means juicier margins for precious-metal mining companies. The weakest start to a new year in 30 years for the U.S. dollar (the dollar and silver often move in opposite directions), coupled with the uncertainties surrounding the presidency of Donald Trump, gave physical silver all the impetus it needed to head higher in January.
Image source: Getty Images.
Now what
Hecla hasn't followed the commonly trekked path that most of its precious-metal mining peers have taken. Instead of peeling back on its capital expenditures, it moved ahead with new projects even as silver prices declined from 2011 through 2015. What seemed like a somewhat crazy strategy at the time has worked out nicely for Hecla today as it's benefiting from both a rapid increase in production thanks to San Sebastian's ramp-up, as well as rising spot silver prices.
The best part is that Hecla Mining may not be anywhere close to peaking, with an estimated 175 million ounces of silver and 2 million ounces of gold yet to be mined in its current sites. For instance, mill optimization at Casa Berardi is expect to increase throughput to 3,400 tons per day by the end of this year, adding up to 30,000 extra ounces of gold production over what the mine produced in 2016. Similarly, mine expansion opportunities exist at Lucky Friday and Greens Creek, as well as at Rock Creek and Montanore, the latter two of which could have 20 to 30 years of mining life left, and are closely situated to the Lucky Friday Mine.
Hecla Mining is valued at nearly 11 times Wall Street's estimated 2017 cash flow per share (CFPS), which is more or less in-line with the industry average. But if management finds a way to extract even more value from San Sebastian, Casa Berardi, or its development projects, then Hecla's valuation will have room to run.
10 stocks we like better than Hecla MiningWhen investing geniuses David and Tom Gardner have a stock tip, it can pay to listen. After all, the newsletter they have run for over a decade, Motley Fool Stock Advisor, has tripled the market.*
David and Tom just revealed what they believe are the 10 best stocks for investors to buy right now... and Hecla Mining wasn't one of them! That's right -- they think these 10 stocks are even better buys.
Click here to learn about these picks!
*Stock Advisor returns as of February 6, 2017
Sean Williams has no position in any stocks mentioned. The Motley Fool has no position in any of the stocks mentioned. The Motley Fool has a disclosure policy.