Here's Why Goldman Sachs Soared 33% in 2016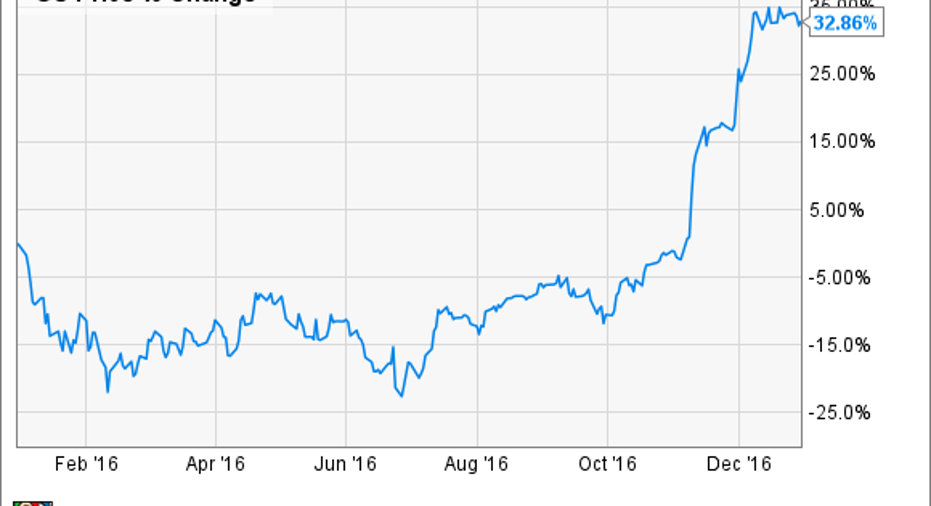 Image source: Disney/ABC Television via Flickr.
What happened
Bank stocks had an excellent year in 2016, with most banks posting double-digit gains. Goldman Sachs (NYSE: GS) did even better than most, with a 33% rise. This was partially due to the expectation of rising interest rates, but the biggest boost to Goldman occurred after election day.
So what
If you take a closer look at the chart above, you'll notice that the majority of Goldman Sachs' gains came in the last two months of the year, specifically after the presidential election. In a nutshell, President-elect Donald Trump's policies could potentially add billions of dollars in profit to Goldman Sachs' bottom line.
The combination of Trump in the White House and a Republican majority in Congress is conducive to Trump's anti-regulation platform. The future of regulations and regulatory agencies such as the Dodd-Frank Act and the Consumer Financial Protection Bureau could be in jeopardy. Without getting into too much detail, getting rid of banking regulations would lower costs and generally make it easier for banks to do business.
In addition, Trump's pro-growth economic policies are likely to result in higher interest rates, which translate into better margins for banks, as well as an overall increase in lending activity.
One way Trump's election could help investment banks such as Goldman Sachs is that it will cause many investors to reposition their portfolios, especially in the months after Trump takes office. This could result in higher volatility in the markets and increased trading revenue for Goldman. A related example occurred after the Brexit vote -- the trading revenue fueled by the Brexit vote was a big reason the bank blew past earnings expectations in the third quarter of 2016.
Other parts of Goldman's business could benefit as well. For example, if Trump is successful in producing as much economic growth as he expects, it could be great for IPO and M&A activity. In short, the Trump presidency is expected to be good for the entire banking industry, with some unique advantages for the investment banking business.
Now what
Whether or not Trump follows through with all of his campaign promises remains to be seen at this point, but if he does, there could be even more upside ahead for Goldman's shareholders.
10 stocks we like better than Goldman Sachs When investing geniuses David and Tom Gardner have a stock tip, it can pay to listen. After all, the newsletter they have run for over a decade, Motley Fool Stock Advisor, has tripled the market.*
David and Tom just revealed what they believe are the 10 best stocks for investors to buy right now... and Goldman Sachs wasn't one of them! That's right -- they think these 10 stocks are even better buys.
Click here to learn about these picks!
*Stock Advisor returns as of January 4, 2017
Matthew Frankel owns shares of Goldman Sachs. The Motley Fool has no position in any of the stocks mentioned. The Motley Fool has a disclosure policy.