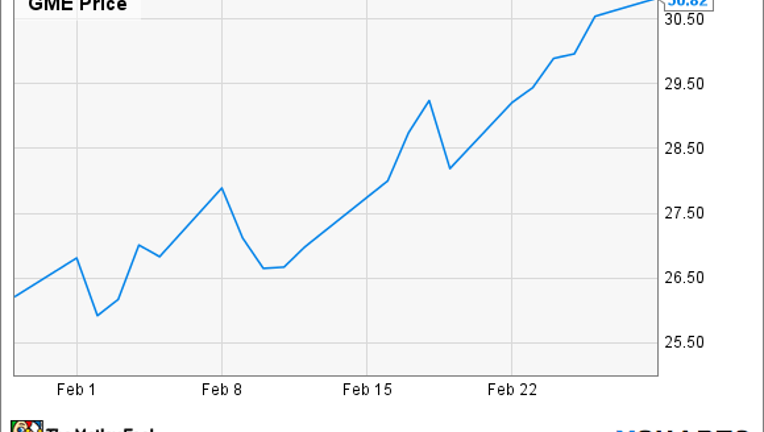 GameStop faces an ongoing challenge to prove it's still relevant when sales and delivery of its core product -- video games -- are moving from physical to digital.
In February, however, the retail chain showed that it still had some fight left, revealing the latest component in its broader plan to diversify its business. The market apparently approved; its stock has risen from a Jan. 29 close of $26.21 to a Feb. 29 ending price of $30.82, a 17.6% gain, according to data provided by S&P Global Market Intelligence.
Source: YCharts.com
What: In addition to having to compete with other retail chains that sell video games, GameStop is increasingly losing sales to consumers who are downloading games directly to their consoles. So far, this has been a slow-growing trend, one that is somewhat inhibited by the fact that over most home Internet connections, it can take hours to download a game. That makes the option not much more appealing than simply going to a store and buying it.
But console makers and game publishers have good reason to want to push this adoption of game downloading. It cuts out the retail middleman, which in theory allows for lower prices with higher profits.
That's a doomsday scenario for GameStop which seems inevitable as Internet speeds improve in the United States, and companies find ways to make downloads more efficient.
So what: GameStop executive know the company has to adapt to survive. In early February, it made a deal to team with Insomniac Games to release a new title Song of the Deep this summer, Dallas Business Journal reported. The game company, which also developed Ratchet and Clank and Sunset Overdrive, will create the title, and GameStop will be its exclusive distributor.
"GameStop has been in the exclusive video game content business for a long time, from add-on game items to never-before-seen game videos and more. Now we're building on that by exploring an opportunity to support an exclusive game launch through a partnership with Insomniac," GameStop Vice President of Strategic Initiatives Mark Stanley told the publication. "As we've said many times before, GameStop will continue to invest in new and exciting innovation and strategic opportunities that will grow our video game business and deliver better and better entertainment experiences for our customers."
Now what: While there are far-ranging merchandising plans behind Song of the Deep, one game does not a new strategy make. However, this is part of a broad plan that has seen the company move into other areas. For example, it ended 2015 with over 1,000 AT&T, Cricket Wireless and Simply Mac sections in its stores. The company also bought the parent company of the popular ThinkGeek website, which retails geeky items.
These changes are encouraging and clearly have boosted the stock, but GameStop needs to execute on these deals in order for the company to be sustainable in the long term.
The article Here's Why GameStop Corp. Stock Jumped 17.6% in February originally appeared on Fool.com.
Daniel Kline has no position in any stocks mentioned. He misses the GameStop which used to be near his house (though the mall near him has one). The Motley Fool has no position in any of the stocks mentioned. Try any of our Foolish newsletter services free for 30 days. We Fools may not all hold the same opinions, but we all believe that considering a diverse range of insights makes us better investors. The Motley Fool has a disclosure policy.
Copyright 1995 - 2016 The Motley Fool, LLC. All rights reserved. The Motley Fool has a disclosure policy.