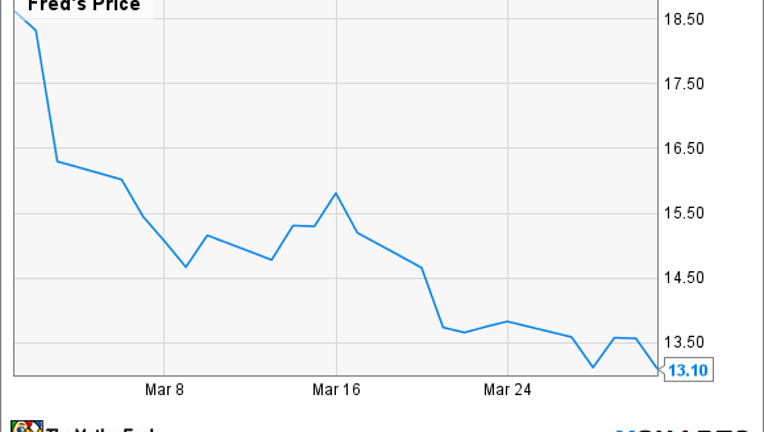 At a time when many traditional retailers have struggled, discount chains have done well. That may be why investors punished Fred's Inc. (NASDAQ: FRED) after the company released disappointing February sales numbers.
Image source: YCharts.
What happened
Fred's, which owns and operates 643 discount general merchandise stores and three specialty pharmacy-only locations in the southeastern United States, reported on March 3 that overall sales for February dropped 3.5%, while comparable-store sales fell by 4%, after gaining 0.8% in the same month in the prior year.
In addition to having a rough sales month, Fred's is still in limbo when it comes to possibly buying 865 stores from Walgreens Boots Alliance, Inc. (NASDAQ: WBA) and Rite Aid Corporation (NYSE: RAD) for $950 million in cash. That deal would more than double the size of the company, which essentially makes any past sales trends irrelevant.
Those two pieces of news were enough tosend the company's share price steadily downward throughout March. After opening the month at $17.98, shares ended March at $13.10, a 27% drop, according to data provided by S&P Global Market Intelligence.
Fred's would have a much larger traditional pharmacy business if its deal with Walgreens goes through. Image source: Getty Images.
So what
CEO Michael K. Bloom blamed the down month on consumers getting their tax refunds later than they traditionally do. He also made it clear in his remarks in the company's press release on its February sales that he does not expect the negative trend to continue.
Now what
What's next for Fred's depends on if federal regulators decide to allow the Walgreens purchase of Rite Aid to proceed. It's possible that as a condition of that deal happening, Walgreens will have to sell off even more locations, and Fred's could be the beneficiary of that.
Going forward, it's hard to judge the company's prospects until you know what the chain will look like, but bad sales numbers could be a simple case of bad timing. That, of course, would suggest a big bounce-back in April, when it reports its March sales numbers.
10 stocks we like better than Fred'sWhen investing geniuses David and Tom Gardner have a stock tip, it can pay to listen. After all, the newsletter they have run for over a decade, Motley Fool Stock Advisor, has tripled the market.*
David and Tom just revealed what they believe are the 10 best stocks for investors to buy right now...and Fred's wasn't one of them! That's right -- they think these 10 stocks are even better buys.
Click here to learn about these picks!
*Stock Advisor returns as of April 3, 2017.
Daniel Kline has no position in any stocks mentioned. The Motley Fool has no position in any of the stocks mentioned. The Motley Fool has a disclosure policy.