Here's Why Fracking Stocks Are Going Through the Roof Today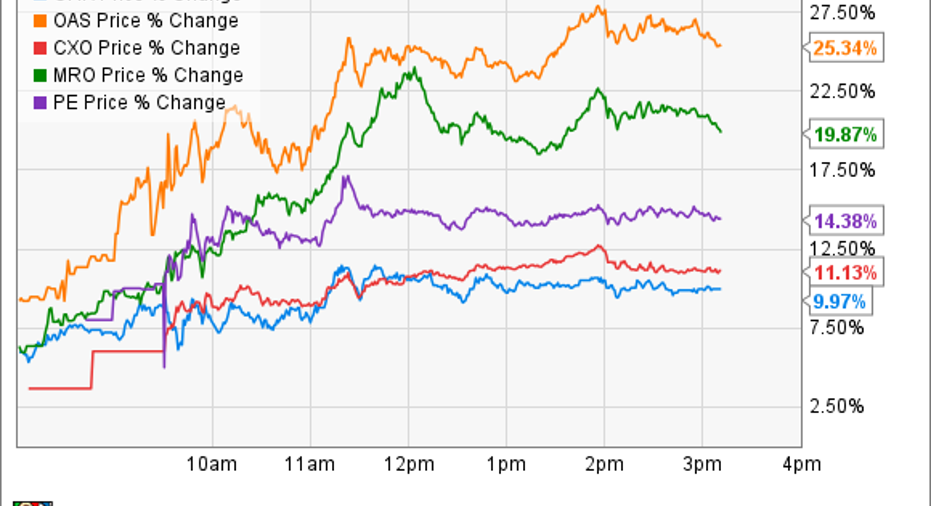 Image source: Marathon Oil.
What happened
OPEC finally put an end to its war on shale, agreeing to cut its output by more than 1 million barrels per day. That announcement ignited a remarkable rally across the oil market, with crude up more than 8% to around $50 a barrel. Suffice it to say, it was no surprise to see fracking stocks surge along with crude prices. Among the those up double digits on the day were Marathon Oil (NYSE: MRO), Oasis Petroleum (NYSE: OAS), Concho Resources (NYSE: CXO), Chesapeake Energy (NYSE: CHK), and Parsley Energy (NYSE: PE):
Here's what the deal means for these shale-focused producers.
So what
Fracking pioneer Chesapeake Energy has spent billions of dollars over the past decade to lock in a prime position in America's shale plays, which it used to fuel explosive production growth. That said, the problem with Chesapeake's plan was that it used a tremendous amount of debt to build a leading driller, which almost crushed the company when OPEC started its war on shale more than two years ago. However, after a string of strategic moves to cut costs and debt, Chesapeake put itself in the position to thrive at lower oil prices, forecasting 5% to 15% annual production growth through 2020 under the assumption that oil would average $60 a barrel. However, with OPEC now supporting oil prices instead of battling shale producers, prices could rise above Chesapeake's base case, which would enable the driller to generate more cash flow in support of its balance sheet and production growth.
Marathon Oil, likewise, didn't need OPEC's help to survive going forward. Thanks to a strong balance sheet, low costs, and a robust portfolio of high-return shale assets, Marathon estimated that it could grow its shale production by a 15% to 20% compound annual growth rate while living within cash flows at a flat $55 oil price over the next five years. Suffice it to say, if OPEC causes prices to run higher, Marathon has the potential to accelerate production growth.
We find a similar story at Permian Basin-focused Concho Resources. After spending the past couple of years getting costs down, optimizing its drilling operations, and high grading its portfolio, Conoco Resources is ready to restart its production growth engine next year. In fact, Concho expected to deliver 20% compound annual production growth through 2019 while living within cash flow. However, if oil continues to rebound, then Concho could grow at a higher rate given that it has thousands of low-cost drilling locations in the Permian Basin.
Image source: Getty Images.
Meanwhile, Parsley Energy has thrived during the oil market downturn and was expecting more of the same for the foreseeable future. Since going public 10 quarters ago, the company grew production by a 17% compound quarterly growth rate, with output up 72% over the past year. Fueling that remarkable growth is the company's prime position in the Permian Basin, where its wells are generating a rate of return in the 65% to 90% range at current prices. Because of those returns, and its ample liquidity, Parsley Energy can deliver 30% to 60% compound annual production growth through 2018, with it likely to grow at the higher end as a result of the OPEC deal.
While Bakken Shale-focused Oasis Petroleum has not thrived in recent years, only able to keep its production roughly flat, that is about to change. Thanks to its ability to push down costs, Oasis Petroleum was expecting to deliver mid-teens production growth through 2018, with absolute output growth of 65% on the docket by the end of that year. However, with oil prices likely to move higher than the $50 a barrel it needed for this plan, Oasis could add more rigs to accelerate its growth rate. Further, the company had 80 drilled but uncompleted wells that it can finish, capturing the upside to higher prices.
Now what
While the past couple of years have not been a picnic for shale stocks, they were able to cut costs and repositioned their operations to thrive at lower oil prices. Now with OPEC ending its war on shale, these companies are poised to capture even more upside as prices rise in the years ahead.
10 stocks we like better than Chesapeake Energy When investing geniuses David and Tom Gardner have a stock tip, it can pay to listen. After all, the newsletter they have run for over a decade, Motley Fool Stock Advisor, has tripled the market.*
David and Tom just revealed what they believe are the 10 best stocks for investors to buy right now...and Chesapeake Energy wasn't one of them! That's right -- they think these 10 stocks are even better buys.
Click here to learn about these picks!
*Stock Advisor returns as of November 7, 2016.
Matt DiLallo has no position in any stocks mentioned. The Motley Fool has no position in any of the stocks mentioned. Try any of our Foolish newsletter services free for 30 days. We Fools may not all hold the same opinions, but we all believe that considering a diverse range of insights makes us better investors. The Motley Fool has a disclosure policy.