Heres Why Encana Corp's Stock Spiked 32.5% in November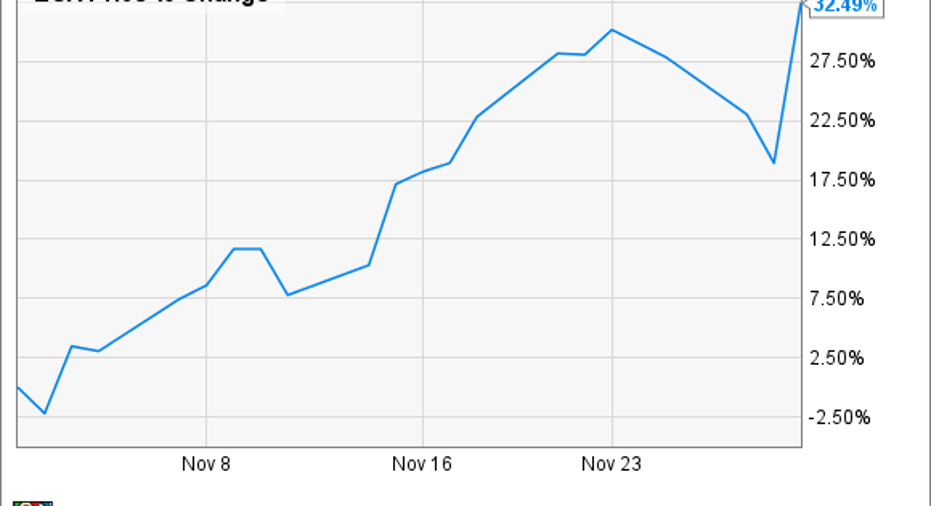 Image source: Encana Corp.
What happened
Encana's (NYSE: ECA) stock took off last month thanks to three catalysts. Not only did the company report solid third-quarter results and win an analyst upgrade, but OPEC stepped in to support the oil market. That deal clearly got the stock moving higher on the final day of the month:
So what
Jump-starting Encana's November rally were its expectation-beating third-quarter results. The shale driller reported operating earnings of $32 million, or $0.04 per share, which was a surprisingly strong showing, given that analysts had expected a $0.04 per-share loss. Driving those earnings were "innovation and exceptional well performance coupled with continued capital and operating efficiencies," according to CEO Doug Suttles.
Those results, along with the company's previously released five-year growth plan, won it an upgrade from RBC Capital a few weeks later, which raised the stock from "sector perform" to "outperform." Analysts said that Encana's better-than-expected third-quarter results reinforced their confidence in the company's ability to achieve its growth plan. That plan will see the company increase production 60% and cash flow 300% by 2021, as it focuses on drilling liquids-rich wells in the Permian Basin and Montney plays.
That said, if there is apossible catch with Encana's plan, it is that the company needs oil to average $55 per barrel to achievethose growth rates. However, after OPEC decided to step in to support prices, it is much more likely that crude hits that level sooner -- and potentially rises above it over the next few years.
Higher oil prices could allow Encana and its peers to grow at an even faster clip going forward because they will generate more cash flow. For example, Canadian Natural Resources (NYSE: CNQ) said that it could produce enough cash flow to maintain production,pay the dividend, reduce debt, and fund some production growth at $50 oil. However, at $60 oil, Canadian Natural Resources would generate double the free cash flow. Because of that, the company could accelerate debt reduction while potentially growing output by an 8% compound annual rate.
Now what
Encana only needs oil to move a little higher to provide it with enough fuel to deliver robust growth over the next few years. Those higher prices are now likely to arrive much sooner thanks to OPEC, which could enable Encana -- and other producers like Canadian Natural Resources -- to deliver even faster growth in the years ahead. That is certainly what investors expect, given how much oil stocks rallied last month.
10 stocks we like better than Encana When investing geniuses David and Tom Gardner have a stock tip, it can pay to listen. After all, the newsletter they have run for over a decade, Motley Fool Stock Advisor, has tripled the market.*
David and Tom just revealed what they believe are the 10 best stocks for investors to buy right now... and EnCana wasn't one of them! That's right -- they think these 10 stocks are even better buys.
Click here to learn about these picks!
*Stock Advisor returns as of Nov. 7, 2016
Matt DiLallo has no position in any stocks mentioned. The Motley Fool has no position in any of the stocks mentioned. Try any of our Foolish newsletter services free for 30 days. We Fools may not all hold the same opinions, but we all believe that considering a diverse range of insights makes us better investors. The Motley Fool has a disclosure policy.