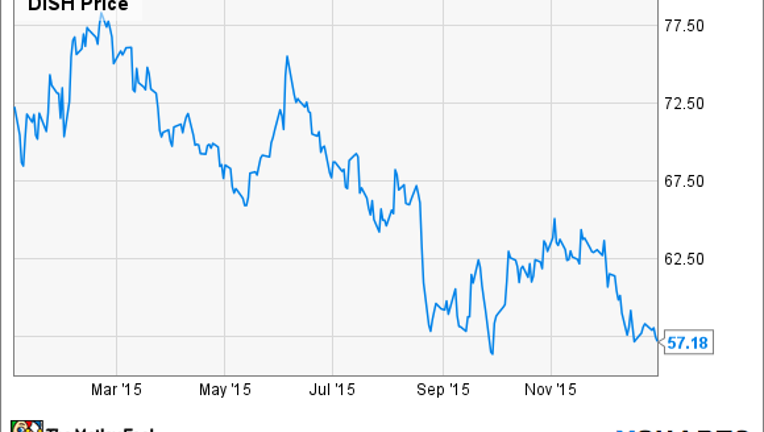 DISH Network had a boundary-breaking year with the launch of its Sling TV streaming service, but uncertainty about pay television in a broad sense saw its stock drop from $72.82 when 2015 opened to $57.18, according to S&P Capital IQ data.
That's a 21.47% drop, which has to be disheartening to shareholders given the company's relative resiliency and the promise Sling offers to capture cord-cutters leaving rival pay-TV providers.
Source: YCharts.com.
What: DISH had a decent year; it lost users in similar numbers to the overall drop experienced by the pay-television industry at large, and relatively in line with its satellite rival DirecTV, which is now owned by AT&T .
In Q1, DISH gained 40,000 subscribers while AT&T added 12,000, and the entire industry was up 10,000 new paying customers, according to research from Leichtman Research Group. In Q2, the industry dropped nearly half a million subscribers while DISH lost 81,000 and AT&T's DirecTV lost 133,000. In Q3, the last period for which numbers have been reported, the industry bounced back and lost only 190,000 subscribers, with DISH dropping 26,000 and DirecTV adding 33,000.
So what: DISH does not break out numbers for Sling in its earnings reports, but it's fair to say that the streaming service has not yet become a blockbuster hit. The company did say it has 169,000 subscribers to the service as the end of March during an August earnings call, according to The Street, which estimates total Sling subscriptions at around 500,000 now.
Those numbers may be a little lower than the company had hoped for (though it has not shared any sales projections), but it's still very early in the streaming video game. In a broad sense, DISH operates in a declining industry, and while Sling may be a hedge against that, it has not yet proven its value.
Now what: DISH needs to keep as many full-price satellite customers as it can while also adding cord-cutters to its Sling user base. The challenge for the company is that it needs to win users from its rivals for Sling while not cannibalizing its own customer base.
The company has a long road ahead of it, but offering a low-cost pure-streaming service for cord-cutters gives it a marketplace versatility that rivals, including AT&T, do not have. It may be a long time before that advantage matters, but Sling is a good service that should be the company's long-term salvation.
The article Here's Why Dish Network Corp. Stock Lost 21% in 2016 originally appeared on Fool.com.
Daniel Kline has no position in any stocks mentioned. He has a free Sling subscription which is provided for media but pays for cable at his residences and office. The Motley Fool has no position in any of the stocks mentioned. Try any of our Foolish newsletter services free for 30 days. We Fools may not all hold the same opinions, but we all believe that considering a diverse range of insights makes us better investors. The Motley Fool has a disclosure policy.
Copyright 1995 - 2016 The Motley Fool, LLC. All rights reserved. The Motley Fool has a disclosure policy.