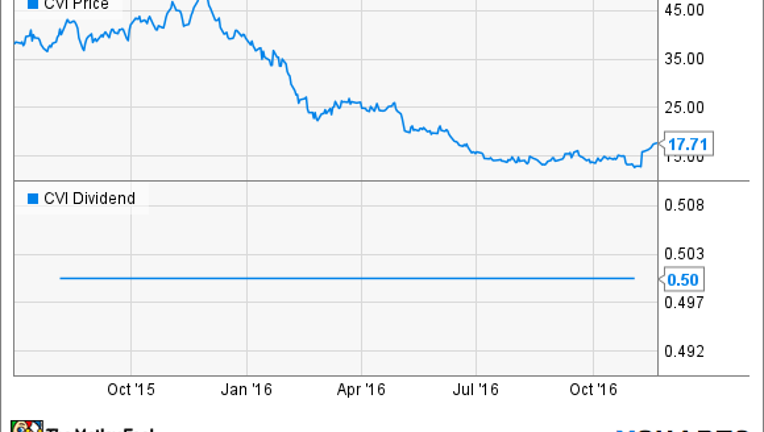 Photo via CVR Partners Website
The last 15 months have been a rough ride forCVR Energy(NYSE: CVI) investors. Due to decreased profitability at both of the operating partnerships owned by the company, the stock fell 75%, from $48 to as low as $12 in early November. However, since Donald Trump's surprise win, the stock's fortunes have changed, with the shares now up close to 50% in a matter of weeks.While the speed and strength of the move may cause some short term profit taking, a review of the business indicates that the share price has room to run.
CVR Energy is a holding company engaged in oil refining and fertilizer production via its 66% stake inCVR Refining(NYSE: CVRR)and 34% stake inCVR Partners(NYSE: UAN). The companies operate as variable distribution MLP's (Master Limited Partnerships), adjusting their distributions to unit-holders every quarter based on results. Thus, when evaluating the safety of CVR Energy's dividend, it's important to review results at the operating companies. Both businesses have been dealing with strong headwinds over the past year, but as we shall see, might just be poisedto deliver better results. Not only that, but given the current yield is over 11%, prospect investors might just find CVR to be a rewarding investment no matter what happens to the share price in the short-term. All of this will, of course, depend on how the company's two operating partnership perform going forward.
CVR Refining
CVR Refining'sprofit margins have been squeezedin two different ways over the last 16 months. Refining crack spreads came down late last year when Congress lifted the 40-year ban on exporting crude oil, and have remained low all year. Given this new reality, its unlikely that we will see a return to the large crack-spreads that refiners have enjoyed over the past five years.
If lower crack spreads were the only headwind for CVR Refining, the company would still be generating a solid distribution for unit-holders. However, the company has also had to deal with increased RINprices. RINs are renewable energy credits generated by blending bio-fuels such as ethanol into gasoline and other products. Refiners are required to blend a little more than 10% biofuel in order to meet the EPA's Renewable Fuel Standard (RFS), or purchase the RINs to make up for any shortfall.
CVR Refining spent $58.3 million on RINs in the 3rd quarter alone, three times more than during the 3rd quarter of 2015, and has spent over $152 million in 2016. That's worth over $1.00 per share of CVR Refining, or $0.70 per share to CVR Energy.
The EPA just increased the biofuels mandate by another 6% for 2017, which could put short term pressure on results. However, Donald Trump's election has given CVR and other independent refiners hope that the RFS program will be eliminated, as Trump's campaign fact sheet listed it as one of their planned proposals. While this remains to be seen, it is a distinct possibility.
CVR Partners
CVR's fertilizer business has also been dealing with headwinds over the past two years. Prices for ammonia and UAN, the company's two principle products, were down over 25% year-over-year, due in part to new capacity coming online in the US and Chinese exports.However, international coal prices have seen a very strong move up over the past few months, increasing fertilizer input costs. Prices have thus started to climb off lows, and strong historical4th quarter sales means that CVR Partners is likely to declare a distribution once again after skipping it for the 3rd quarter.
So just how safe is the dividend?
While its operating holdings pay a variable quarterly distribution, CVR Energy's dividend policy is to pay a fixed $0.50 per quarter, plus issue special dividends if they have excess profits. Of course, company's ability to continue paying a steady dividend in the long run requires futuredistributions from CVR Refining and CVR Partners. As we can see, CVRR and UAN's distributions have been somewhat variable over the past few years to say the least:
CVRR Dividend data by YCharts
Quarterly distributions for both companies have been trending downward and extremely volatile, with neither company making any distribution for the 3rd quarter. However, CVR Refining actually reported substantially better results during the 3rd quarter, but chose not to make a distribution in order to rebuild their cash reserves after negative operating results in the 4th quarter of 2015 and 1st quarter of 2016. Crack spreads are down slightly compared to last quarter, but still high enough that the company should be able to deliver at least $100 million in operating cash, and make a $0.50 or so distribution.
In addition, CVR Energy has over $400 million in cash at the parent level which they can use to cover the dividend in case of short term distribution shortfalls, as has occurred the past few quarters. This is equivalent to about nine quartersof no distributions whatsoever from either CVR Refining or CVR Partners. Even with the recent shortfalls,CVR Energy has actually paid out less in dividends than they have received in distributions from their operating companies over the last eight quarters.
Source: CVR Energy, CVR Partners, and CVR Refining Corporate SEC Filings.
Foolish Takeaway
It might be challanging for CVR Energy to return to previous highs anytime soon, but improving fundamentals at their operating companies should allow them to start making distributions again, allowing CVR Energy to maintain its own dividend. The coverage is obviously a little close, but the situation is not hopeless.At least for this fool, the reward is worth therisk.
A secret billion-dollar stock opportunity The world's biggest tech company forgot to show you something, but a few Wall Street analysts and the Fool didn't miss a beat: There's a small company that's powering their brand-new gadgets and the coming revolution in technology. And we think its stock price has nearly unlimited room to run for early-in-the-know investors! To be one of them, just click here.
awindenberger owns shares in CVR Energy. The Motley Fool has no position in any of the stocks mentioned. Try any of our Foolish newsletter services free for 30 days. We Fools may not all hold the same opinions, but we all believe that considering a diverse range of insights makes us better investors. The Motley Fool has a disclosure policy.