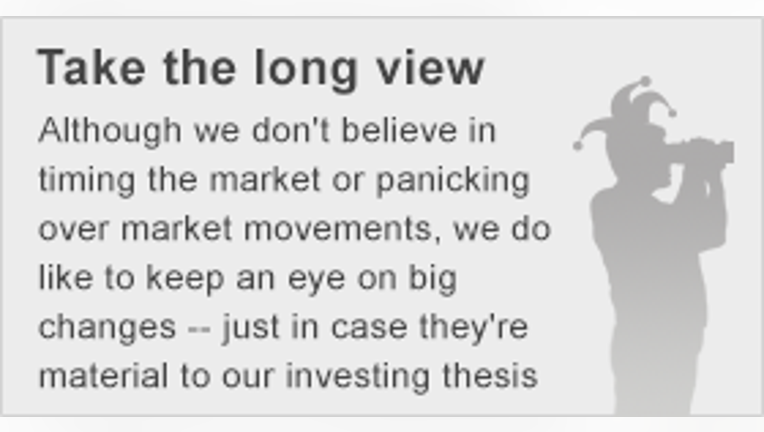 What: December was another tough month for investors in Chesapeake Energy . The nation's No. 2 natural gas producer not only faced pressure from weak gas prices but also on its balance sheet as concerns grew that it could end up defaulting on its debt.
So what: The price of natural gas stayed weak last month due to much warmer-than-expected temperatures thanks to the effects of the El Nino weather pattern. This, along with stronger-than-expected gas production from companies like Chesapeake, kept a lid on the price of natural gas, sending it to a 17-year low.
With natural gas remaining weak and the price of oil continuing to slump, there's a lot of stress on Chesapeake Energy's balance sheet. To relieve some of this pressure, the company offered its credit investors a bond swap whereby it would issue new second lien notes in exchange for some of its unsecured notes. In doing so, the company joined a number of other struggling producers like EXCO Resources in issuing second lien notes, which rank higher in bankruptcy. That said, because distressed companies such as EXCO Resources are the ones using these exchanges, it made Chesapeake appear to be in trouble, which only put more pressure on its stock price. Making matters worse, unlike EXCO Resources, which successfully reduced its total debt by $413 million, or 27%, Chesapeake's debt exchange was said to have "failed miserably" because the participation rate was well below expectations.
This failure put even more weight on the company, with an analyst from Citi saying that the company's leverage was unsustainable. Meanwhile, rating agency S&P downgraded Chesapeake's credit rating further into junk territory.
Having said all that, not everyone was convinced that it is teetering on the brink of bankruptcy. An analyst from Morningstar said that "default is far from imminent," with the company having enough liquidity to get it through to at least 2018.
Now what: Chesapeake Energy is in a tight spot right now. It needs to see a meaningful rally in natural gas prices in order to give it some breathing room to address its debt issues. The sooner that happens, the better chance it has of making it through the downturn.
The article Here's Why Chesapeake Energy Corporation's Stock Slumped 18.3% in December originally appeared on Fool.com.
Matt DiLallo has no position in any stocks mentioned. The Motley Fool has no position in any of the stocks mentioned. Try any of our Foolish newsletter services free for 30 days. We Fools may not all hold the same opinions, but we all believe that considering a diverse range of insights makes us better investors. The Motley Fool has a disclosure policy.
Copyright 1995 - 2016 The Motley Fool, LLC. All rights reserved. The Motley Fool has a disclosure policy.