Here's Why Charter Communications Is Up Nearly 25% in 2016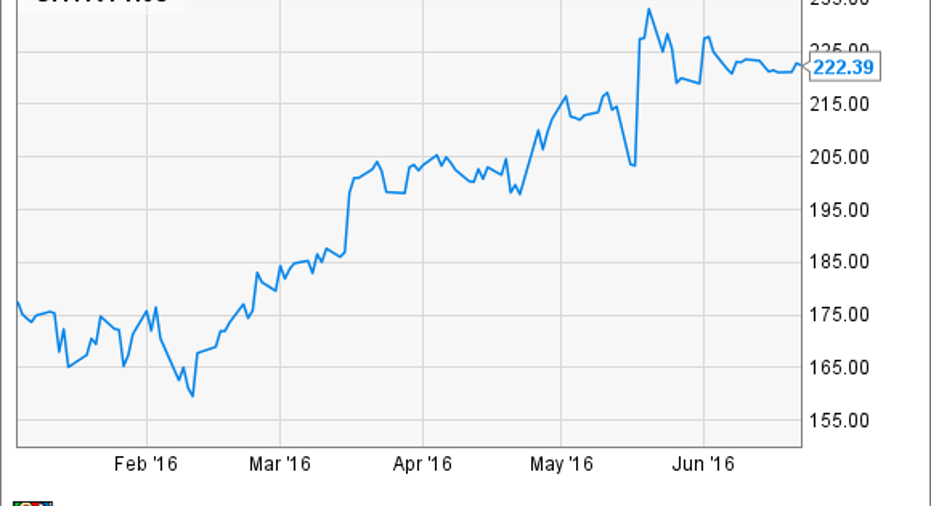 Charter Communications went from mid-level player to top-tier operator when it completed its acquisition of Time Warner Cable and Bright House Networks in May.
What: In acquiring Time Warner Cable, Charter added over 11 million cable customers and more than 13 million broadband customers. That gives it over 18.5 million internet users along with about 15.5 million pay-TV customers, according to Leichtman Research Group (LRG). Add in the Bright House subscribers and the company now claims it serves over 25 million customers in 41 states.
That has been good news for shareholders sending Charter stock from its 2016 opening price of $180.56 to close June 22 at $222.39, a 23% increase according to data provided by S&P Global Market Intelligence.
Image source: YCharts.com.
So what: In a market where size matters, Charter bought the pieces to compete with market leader Comcast . The company grew by roughly four times its subscriber base which gives it more customers to spread out costs over. That should allow it to invest in technology and its platform at comparable levels to Comcast.
Now what: Charter has secured the prize and now it needs to execute with a much bigger company. CEO Tom Rutledge does not expect that to be a problem.
That sounds nice and clearly the markets like the larger Charter, but in buying Time Warner Cable the company has inherited a skeptical customer base. Charter will have to work to win over those subscribers who have been burned by lousy customer service from the previous entity. That's not impossible -- in some ways it's easier to build up from zero -- but it's not a guarantee.
Charter has an opportunity and the market has rewarded that so far, but going forward how it operates will matter far more than the size growth it has bought.
The article Here's Why Charter Communications Is Up Nearly 25% in 2016 originally appeared on Fool.com.
Daniel Kline has no position in any stocks mentioned. There is nothing worse than watching the Today show hosts react to rap concerts. The Motley Fool has no position in any of the stocks mentioned. Try any of our Foolish newsletter services free for 30 days. We Fools may not all hold the same opinions, but we all believe that considering a diverse range of insights makes us better investors. The Motley Fool has a disclosure policy.
Copyright 1995 - 2016 The Motley Fool, LLC. All rights reserved. The Motley Fool has a disclosure policy.