Here's Why CF Industries Stock Gained 10.7% in January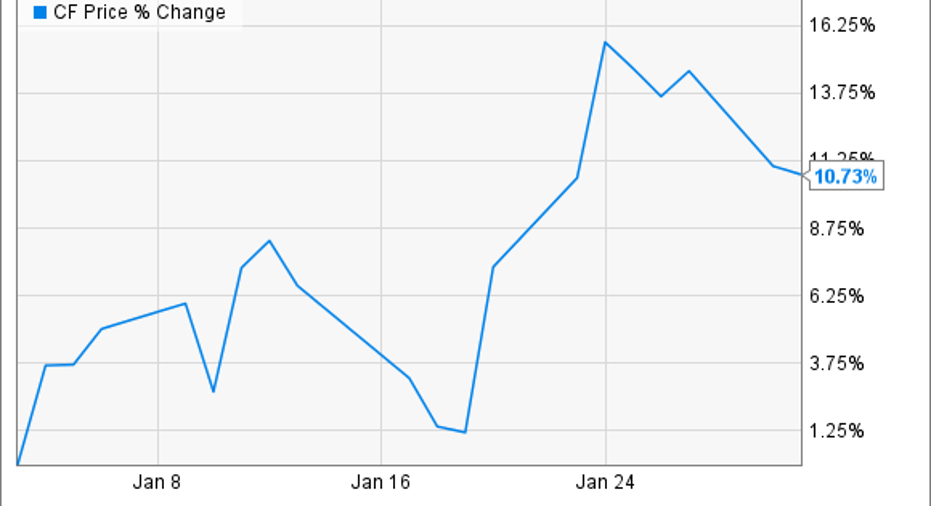 Image source: Getty Images.
What happened
Shares of nitrogen fertilizer specialist CF Industries (NYSE: CF) jumped nearly 11% last month after analysts cozied up to the stock. In addition, long-beaten-down investors are finally seeing the light for a recovery in agricultural nutrient prices.
So what
The stock had a ho-hum start to 2017 until analysts at B of A Merrill Lynch changed their rating from hold to buy on January 20, citing likely improvements in earnings starting this year. The announcement set a target price of $40 per share and lifted CF Industries stock 6% that day.
Shares kept rising, but gave back some of the gains in the last week of January. Still, CF Industries stock trades below $36 per share today -- meaning the new analyst price target represents 12% upside before the hefty 3.3% dividend is factored in.
Investors are betting that shares will rise even further in the long term as nutrient prices begin to recover. In fact, nearly all major fertilizer producers have signaled that the worst is over and a slow recovery will begin in 2017 and 2018. That could bode well for CF Industries, which, at the very end of December, announced that its final capacity expansion project was completed and operating at commercial production levels.
The short-term benefits may be debatable, and rapid capacity expansions wereadmittedly one of the major contributing factors in the recent downturn,but the recent portfolio-wide upgrade and investments will enable some of the lowest-cost production and growth in the company's history. A reduction in capital expenditures related to growth investments in 2017 should also help the stock rise by providing a slight boost to the bottom line.
Now what
What happens from here depends on nitrogen fertilizer demand. Leading producers are optimistic that the overall fertilizer market will begin to return to form in the next two years, but volatility is likely, as the supply-demand balance works its way to an equilibrium.
10 stocks we like better than CF Industries Holdings When investing geniuses David and Tom Gardner have a stock tip, it can pay to listen. After all, the newsletter they have run for over a decade, Motley Fool Stock Advisor, has tripled the market.*
David and Tom just revealed what they believe are the 10 best stocks for investors to buy right now... and CF Industries Holdings wasn't one of them! That's right -- they think these 10 stocks are even better buys.
Click here to learn about these picks!
*Stock Advisor returns as of January 4, 2017
Maxx Chatsko has no position in any stocks mentioned. The Motley Fool has no position in any of the stocks mentioned. The Motley Fool has a disclosure policy.