Here's Why Calvin Klein Parent PVH Corp. Stock Jumped Today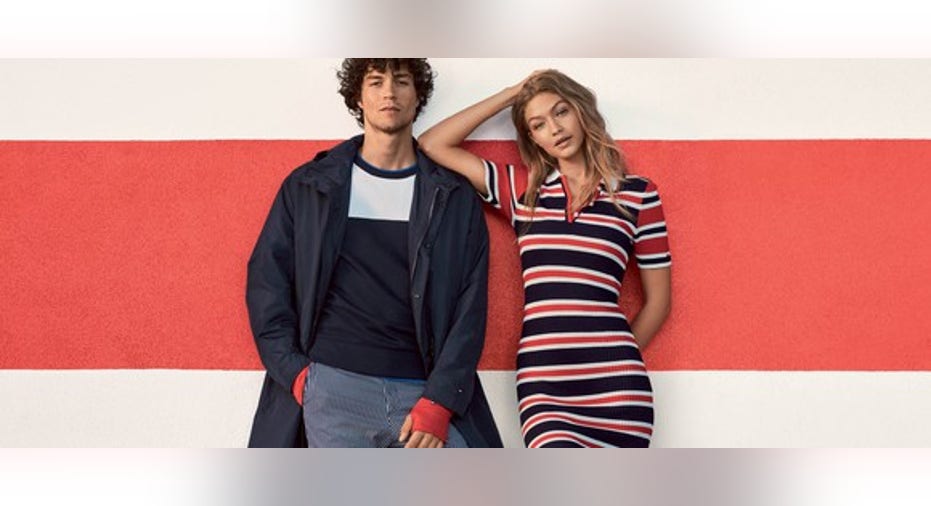 What happened
PVH Corp.(NYSE: PVH)-- the parent company of well-known brands like Calvin Klein, Tommy Hilfiger,and Speedo USA -- got a positive market reaction today following the release of its Q4 and full-year earnings. Thestock was up as much as 10% during the trading day.
So what
For the full year, the apparel brand conglomerate posted sales of$8.2 billion, up 2% year over year, though earnings per share dropped a little more than 1% to $6.79 (GAAP). Still,both were above analyst expectations. Speaking about the relatively positive performance, CEOEmanuel Chirico said,"We are very pleased with our fourth quarter results, which exceeded both our sales and earnings guidance despite the volatile macroeconomic environment and the highly promotional retail market in the U.S."
Image source: Tommy Hilfiger / PVH Corp.
Now what
The retail environment continues to be a challenge for many companies, such as Guess? (NYSE: GES),whose stock took a big hit last week on weak 2016 earnings. The changing consumer landscape has left many iconic brands on the defensive, including some of PVH Corp.'s brands.Chirico spoke to that in the press release as well, saying that the environment has forced the company to "implement new initiatives to ensure that our business model is positioned for future success."
For the future, Chirico says that the company will be prudent about macroeconomic risks, but that it will continue to seek out growth opportunities, such as the recently announced plan to acquire bra makerTrue&Co. The company also set guidance, including an expected 2% rise in full-year sales,that seems to have pleased Wall Street. However, it expects an even wider drop in earnings in 2017, down to the range of$6.20 to $6.30.
10 stocks we like better than Phillips-Van HeusenWhen investing geniuses David and Tom Gardner have a stock tip, it can pay to listen. After all, the newsletter they have run for over a decade, Motley Fool Stock Advisor, has tripled the market.*
David and Tom just revealed what they believe are the 10 best stocks for investors to buy right now... and Phillips-Van Heusen wasn't one of them! That's right -- they think these 10 stocks are even better buys.
Click here to learn about these picks!
*Stock Advisor returns as of February 6, 2017
Seth McNew has no position in any stocks mentioned. The Motley Fool recommends Guess?. The Motley Fool has a disclosure policy.