Here's Why Cabela's Incorporated Stock Climbed 26% in 2016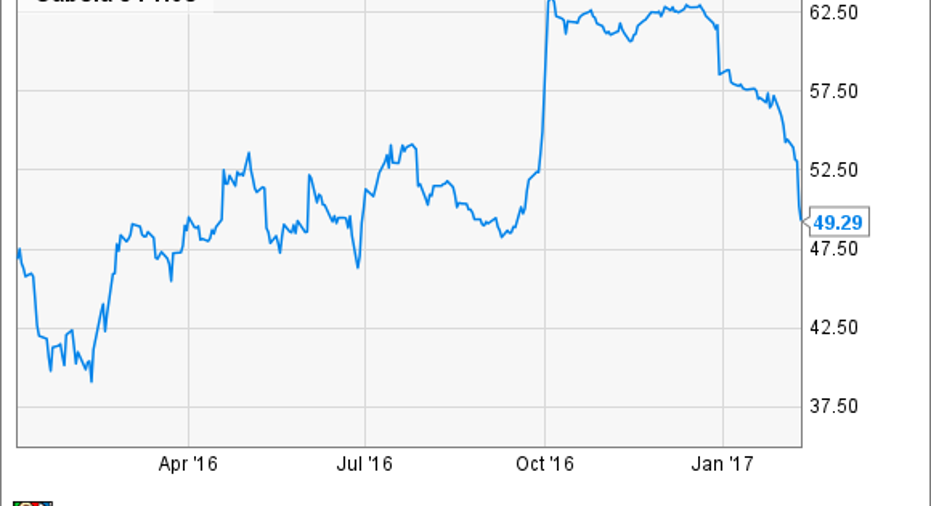 Cabela's (NYSE: CAB) surged in October 2016, when the company entered a deal to be purchased by privately held Bass Pro Shops for $65.50 per share in cash, about a 20% premium on where the stock was trading at the time the agreement went public.
What happened
The $5.5 billion purchase agreement not only came with a hefty premium for shareholders, it brought an end to the uncertainty many Cabela's shareholders had been facing about the future of the brand. It's not exactly that the company was struggling, but it had to compete with a major rival in Bass Pro Shops while also dealing with the shift of many consumers to buying online.
"Having undertaken a thorough strategic review, during which we assessed a wide variety of options to maximize value, the board unanimously concluded that this combination with Bass Pro Shops is the best path forward for Cabela's, its shareholders, outfitters and customers," Cabela's CEO Tommy Millner said in a press release announcing the deal. "In addition to providing significant immediate value to our shareholders, this partnership provides a unique platform from which our brand will be extremely well positioned to continue to serve outdoor enthusiasts worldwide for generations to come."
Image source: YCharts.com.
So what
Shareholders certainly seemed happy with the sale, sending a stock that had been up and down all year rocketing higher. After opening 2016 at $46.28, Cabela's shares closed it at $58.55, a 26% increase, according to data from S&P Global Market Intelligence. That's entirely thanks to the announcement of the sale.
Cabela's sells outdoor gear, including fishing equipment. Image source: Getty Images.
Now what
Cabela's shares have come down from their 2016 highs because the acquisition has faced more regulatory concerns than were initially expected. It's possible that requests for more information from the Federal Trade Commission (FTC) have already pushed the closing past its originally expected date.
Assuming the deal ultimately gets approved -- and that's not guaranteed -- the stock should bounce back up. If the deal does not pass, Cabela's finds itself having to compete in a crowded retail market where it will count its one-timer partner as a rival along with other brick-and-mortar retailers and growing online competition. If that happens, the company will likely see its share price fall since it will have to regroup in order to figure out a strategy for standing on its own.
10 stocks we like better than Cabela'sWhen investing geniuses David and Tom Gardner have a stock tip, it can pay to listen. After all, the newsletter they have run for over a decade, Motley Fool Stock Advisor, has tripled the market.*
David and Tom just revealed what they believe are the 10 best stocks for investors to buy right now...and Cabela's wasn't one of them! That's right -- they think these 10 stocks are even better buys.
Click here to learn about these picks!
*Stock Advisor returns as of February 6, 2017.
Daniel Kline has no position in any stocks mentioned. The Motley Fool has no position in any of the stocks mentioned. The Motley Fool has a disclosure policy.