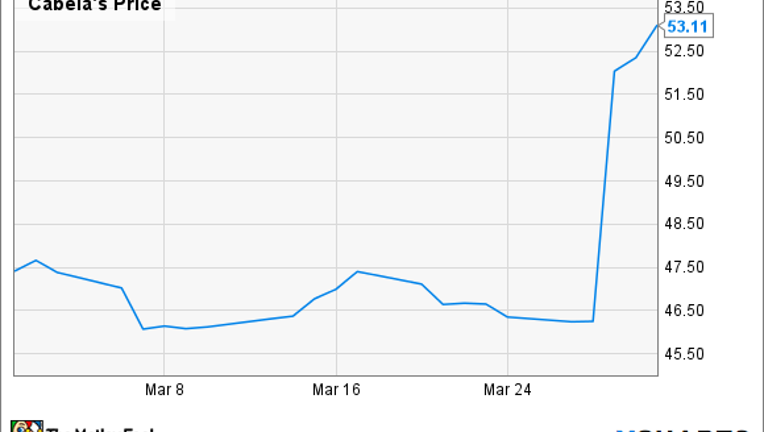 Bass Pro Shops' decision to buy rival Cabela's (NYSE: CAB) for $5.5 billion made sense in a difficult retail environment, but since the October announcement, the execution has been far from easy. The deal has been sidetracked by the challenges Cabela's has faced selling the internal banking operation for its credit card program.
What happened
Cabela's had reached an agreement to sell its credit card unit to Capital Oneas a side deal that was announced on the same day as its acquisition. The agreement was supposed to become effective when the merger closed.
Due to a number of regulatory problems, however, that deal has stalled, casting doubt on whether it would happen at all. If it does not, and Cabela's fails to find another buyer for the unit, its deal with Bass Pro Shops would be in jeopardy. But in late March, Cabela's found what appears to be its answer, Synovus Financial, a smaller bank that now plans to take over, keeping the deposits and then reselling the credit card business to Capital One.
Image source: YCharts.
So what
With Synovus swooping in to save the day, the broad merger between Cabela's and Bass Pro Shops should be back on track. That helped Cabela's stock recover -- after closing out February at $46.84, shares climbed to $53.11 last month, a 13.4% gain, according to data provided by S&P Global Market Intelligence.
Cabela's and Bass Pro Shops sell fishing and outdoors gear. Image source: Pixabay.
Now what
According to the original dealpress release, closing is supposed to occur in the first half of 2017. As that window closes, a review from the Federal Trade Commission has yet to be finalized, but even with these hurdles, the strategic rationale behind the mergerremains sound.
However, Cabela's stock is still trading well below the $65.50 per share Bass Pro offered to take it over, so despite the recent positive developments, investors still have their doubts as to whether the deal will ultimately go through.
10 stocks we like better than Cabela'sWhen investing geniuses David and Tom Gardner have a stock tip, it can pay to listen. After all, the newsletter they have run for over a decade, Motley Fool Stock Advisor, has tripled the market.*
David and Tom just revealed what they believe are the 10 best stocks for investors to buy right now... and Cabela's wasn't one of them! That's right -- they think these 10 stocks are even better buys.
Click here to learn about these picks!
*Stock Advisor returns as of April 3, 2017
Daniel Kline has no position in any stocks mentioned. The Motley Fool has no position in any of the stocks mentioned. The Motley Fool has a disclosure policy.