Here's Why Berkshire Hathaway Soared 23% in 2016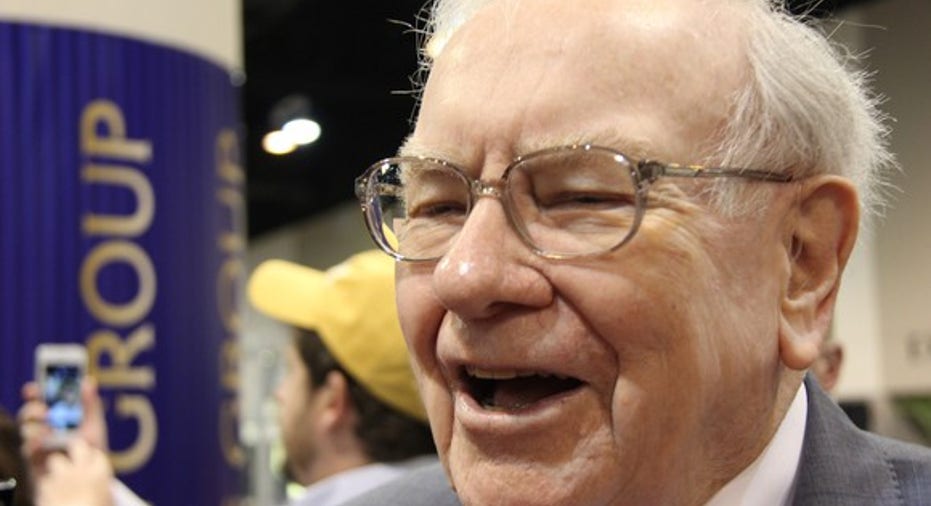 Image source: The Motley Fool.
What happened
Berkshire Hathaway (NYSE: BRK-A) (NYSE: BRK-B), the conglomerate headed by Warren Buffett, delivered great returns for investors in 2016, even when compared with Berkshire's own stellar track record of performance.
So what
If you look a little closer at the chart, you'll notice that the majority of Berkshire's gains took place in the latter part of the year -- specifically, after Donald Trump was elected president. Being that Buffett was an outspoken Hillary Clinton supporter, the cause of the increase is quite ironic, but there are a few reasons Berkshire was a big beneficiary of the "Trump rally."
For one thing, many of Berkshire's businesses should benefit tremendously if Trump sticks to his plan of lowering regulation on businesses. Specifically, Berkshire's insurance operations, such as GEICO, could find it much easier to do business. Additionally, Trump's pro-growth policies are expected to cause a rise in interest rates, and since insurance businesses make most of their profits from investments, this could translate into billions of dollars in additional profit for Berkshire. After all, the company has about $85 billion in cash on its balance sheet, so even a small increase in rates could be big news.
Furthermore, several other Berkshire businesses could be helped by Trump's plan to spend $1 trillion on infrastructure over the next decade. Just to name a few examples, BNSF Railway, Acme Brick, and Benjamin Moore (paints) could see revenue climb faster than expected.
Finally, many of the factors that could help Berkshire's subsidiaries also can (and already have) boost the company's massive stock portfolio. For instance, Berkshire has large positions in several bank stocks, such as Wells Fargo and Bank of America, and the entire banking sector could be in a much-better environment to profit under Trump.
Now what
The bottom line is that while the Donald Trump presidency won't necessarily help all of Berkshire's subsidiaries and stock investments (to name one example, Trump's trade policies could potentially hurt Berkshire's Apple investment), it should certainly help more of them than it hurts. If President-elect Trump actually follows through with his promises, Berkshire's strong performance could continue in the years ahead.
10 stocks we like better than Berkshire Hathaway When investing geniuses David and Tom Gardner have a stock tip, it can pay to listen. After all, the newsletter they have run for over a decade, Motley Fool Stock Advisor, has tripled the market.*
David and Tom just revealed what they believe are the 10 best stocks for investors to buy right now... and Berkshire Hathaway wasn't one of them! That's right -- they think these 10 stocks are even better buys.
Click here to learn about these picks!
*Stock Advisor returns as of January 4, 2017
Matthew Frankel owns shares of Apple and Berkshire Hathaway (B shares). The Motley Fool owns shares of and recommends Apple and Berkshire Hathaway (B shares). The Motley Fool has the following options: long January 2018 $90 calls on Apple and short January 2018 $95 calls on Apple. The Motley Fool has a disclosure policy.