Here's Why Apple, Inc.'s iPad Business Has Tumbled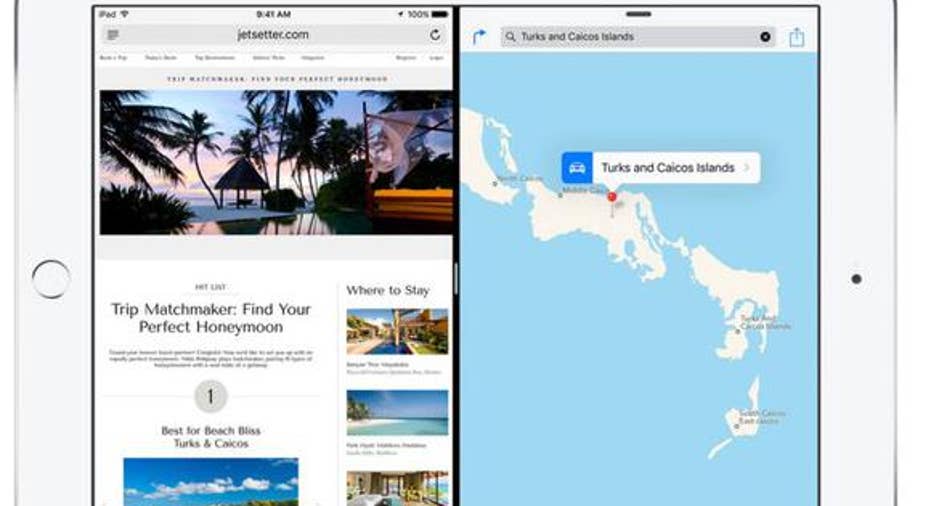 An iPad using Split View. Photo: Apple
By most metrics, Apple's tablet business has performed poorly in recent years. It's still a multi-billion dollar segment, but the overall trend has been brutal. Consider:
iPad unit sales have contracted on an annual basis in each of the last seven consecutive quarters, consistently falling short of analyst estimates.
The iPad's share of the tablet market has fallen from around 90% in 2010 to just over 20% today.
In Apple's 2014 fiscal first quarter, the iPad generated a record $11.47 billion -- that fell to just $4.8 billion last quarter.
Once Apple's second-largest business, the iPad is now Apple's fourth-largest segment.
Yet consumers are happy with their iPads, and they appear to be using them often.
97% of iPad Air 2 owners are satisfied with their devices.
iPad generated more than 70% of North American tablet web traffic in the first quarter, almost seven-times as much as the closest competitor.
iPad continues to score well with critics, and as is commonly listed as the best tablet you can buy.
What's with thediscrepancy?
Consumers aren't upgradingThe problem appears to center around upgrades: they just aren't happening. Last month, analytics firm Localytics published a report detailing the current installed base of iPads.
Apple's second-generation iPad, originally released in 2011, remains the most popular model, accounting for about one-fifth of iPad users. The original iPad Mini, released a year later, comes in second place, with 18% market share. Interestingly, these results are similar to data Localytics published last year.
In the fall of 2014, the iPad 2 and the iPad Mini were also the most popular of Apple's tablets, though their relative popularity has eroded to some extent. This year, they accounted for about 38% of the total iPad population, compared to 47% last year. The second-generation iPad Air, released last year, has achieved a respectable 9% penetration rate.
Admittedly, some of these older iPads may have been purchased recently: although it was originally released four years ago, the iPad 2 was not discontinued until last year, and the original iPad Mini hung around until earlier this year. Apple publishes the number of iPads it sells each quarter, but unfortunately, it does not break down individual models. The iPad's average selling price has been trending down in recent years, suggesting that consumers are opting for these older devices. Still, the average iPad sold for $433 last quarter -- more than what the recently released, entry-level iPad Mini 4 costs.
The carrot and the stickIn July, during Apple's earnings call, CEO Tim Cook spoke about what his company planned to do to convince consumers to upgrade:
iOS 9 includes three features that make multi-tasking possible. With Slide Over, iPad owners can access an app while inside another app. With Split View, they can use two apps simultaneously. And with Picture in Picture, they can watch a video while, at the same time, using their iPad for something else. Slide Over and Picture-in-Picture require an iPad Mini 2 or iPad Air (or newer model); Split View only works with the iPad Air 2 and iPad Mini 4.
iPad using Picture in Picture. Photo: Apple
Having recently upgraded from an iPad 3 to an iPad Mini 4, I can attest to their appeal; that said, they may not be enough. Compared to newer iPads, the iPad 2 is already missing many key features, including TouchID, AirDrop, and Handoff. The iPad 2's camera is pitiful compared to that of the iPad Air 2, and it doesn't have Apple Pay or a Retina display. At the same time, it's much thicker and heavier. The same is largely true for the original iPad Mini. If these improvements haven't been enough to entice consumers to upgrade, I'm skeptical that a few new multi-tasking features will.
Still, an upgrade cylce could be on the way, as the iPad 2 and iPad Mini will soon face obsolescence.
If recent history is any indication, Apple is likely to release iOS 10 next fall, and it's unlikely that the iPad 2 or iPad Mini will support it. Apple hasn't confirmed that definitively, but it regularly discontinues iOS support for older models: the iPhone 4, released in 2010, received last year's iOS 8, but isn't compatible with iOS 9.Owners of these older iPads will lose out on whatever features the next version of iOS brings, but more importantly, they could miss out on interesting new apps. Star Wars: Galaxy Heroes is currently the tenth-most popular free app on Apple's App Store. It supports the iPad, but requires iOS 8 to function.
It won't happen overnight, but as long as consumers continue to use and enjoy their iPads, they will upgrade eventually. And with about 40% of the iPad's installed base sporting the iPad 2 or iPad Mini, the upgrade cycle -- when it eventually happens -- could be huge.
The article Here's Why Apple, Inc.'s iPad Business Has Tumbled originally appeared on Fool.com.
Sam Mattera has no position in any stocks mentioned. The Motley Fool owns shares of and recommends Apple. Try any of our Foolish newsletter services free for 30 days. We Fools may not all hold the same opinions, but we all believe that considering a diverse range of insights makes us better investors. The Motley Fool has a disclosure policy.
Copyright 1995 - 2015 The Motley Fool, LLC. All rights reserved. The Motley Fool has a disclosure policy.