Here's Why Alnylam Pharmaceuticals Plunged 59.8% in 2016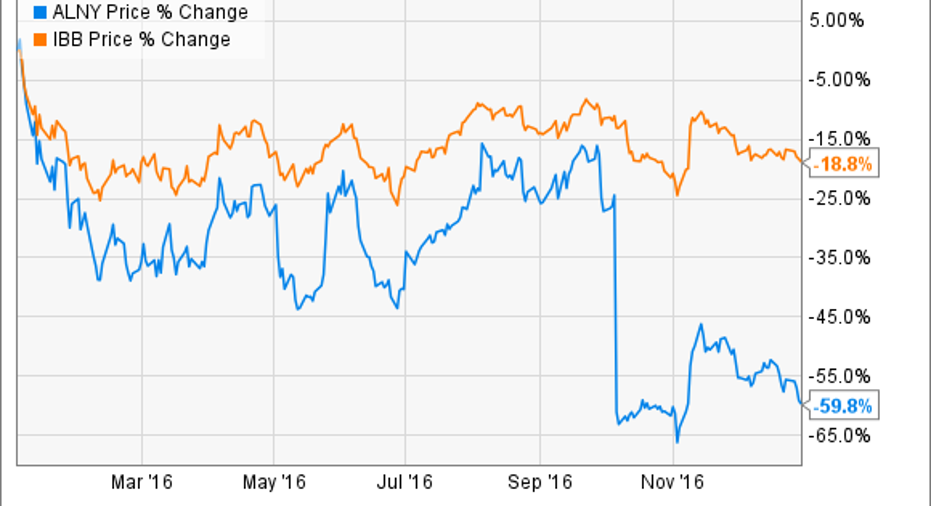 Image source: Getty Images.
What happened
2016 was brutal for investors in Alnylam Pharmaceuticals (NASDAQ: ALNY).Shares of the RNAi-focused biotech utterly collapsed, falling by nearly 60% during the year, according to data fromS&P Global Market Intelligence. That was a far worse decline than the 19% loss by the biotech sector, in general, as measured by the iShares Nasdaq Biotechnology ETF (NASDAQ: IBB).
So what
While Alnylam's share price was weak through the first nine months of the year, investors can mostly chalk that up to the general sell-off in biotech. However, the company's stock was decimated in October after the company reported a major clinical setback.
On Oct. 5, management stated that the company wasdiscontinuing development ofrevusiran,a compound that was aimed at treating hereditary ATTR amyloidosis with cardiomyopathy (hATTR-CM), a rare conditionthatcan lead to heart failure. The decision was made in response to a recommendation made by an independent monitoring committee that was watching the drug's late-stage trials.
The committee concluded that the potential benefits of using revusiranwere not high enough to outweigh its risks after several patients involved in the trials had died or suffered nerve damage. Management agreed with that bleak assessment and abandoned all future development.
Since revusiranwas believed to hold blockbuster potential and wasone of the company's most advanced compounds, the update didn't sit well with investors. Shares fell by more than 48% on the day of the announcement and have yet to recover.
Now what
Management was quick to point out that its decision to stop development on revusiranwould not impact any of their other RNAi drugs in development. Importantly, this includespatisiran, which is another compound that's being studied as a treatment forATTRamyloidosis. Top-line data forpatisiran's late-stage clinical trials is still expected to be available in thesecond half of 2017, which gives investors hope that Alnylam can still transform itself into a commercial enterprise as early as 2018.
That being said, there's no doubt thatrevusiran's failure was ahugeblow to shareholders. Not only did it remove a potential blockbuster drug from hitting the market, but it also raised serious safety questions about the rest of the company's pipeline that utilizes the company's gene silencing RNAi technology. If future studies also show that this drug-making technique is too unsafe for real-world uses, there could still be a lot more pain ahead for shareholders.
Given that there are so many unknowns, I think the smart move for potential investors to make is to take await-and-see approach to this risky biotech.
10 stocks we like better than Alnylam Pharmaceuticals When investing geniuses David and Tom Gardner have a stock tip, it can pay to listen. After all, the newsletter they have run for over a decade, Motley Fool Stock Advisor, has tripled the market.*
David and Tom just revealed what they believe are the 10 best stocks for investors to buy right now... and Alnylam Pharmaceuticals wasn't one of them! That's right -- they think these 10 stocks are even better buys.
Click here to learn about these picks!
*Stock Advisor returns as of Nov. 7, 2016
Brian Feroldi has no position in any stocks mentioned.Like this article? Follow him onTwitter where he goes by the handle@BrianFeroldi,or connect with him on LinkedIn to see more articles like this.
The Motley Fool owns shares of and recommends Alnylam Pharmaceuticals. The Motley Fool has a disclosure policy.