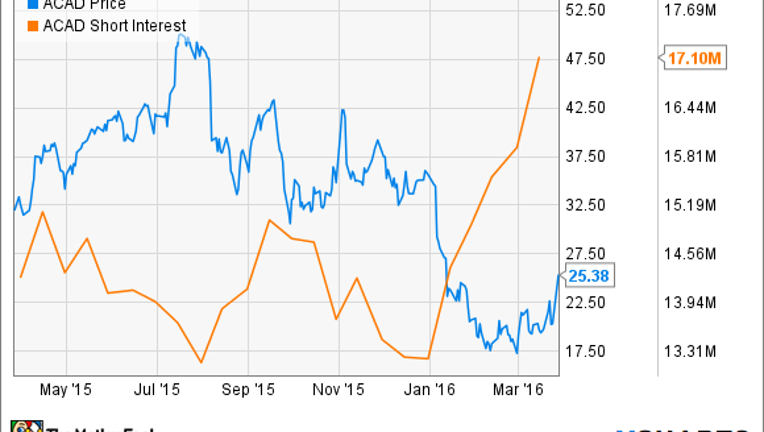 Image source: Flickr via userjonel hanopol.
What: Shares of Acadia Pharmaceuticals gained more than 20% in early morning trading today on exceptionally high volume. The apparent catalyst behind this move upward was a positive note in the FDA's briefing documents for the company's experimentalParkinson's disease psychosis (PDP) drug called Nuplazid (pimavanserin), which is scheduled to be reviewed by a panel of outside experts tomorrow. Specifically, the agency noted in its internal review:
So what: Short-sellers have been piling into Acadia ahead of Nuplazid's regulatory review, presumably because the drug has failed to meet its primary endpoint in three of its clinical trials and only hit the mark in a single late-stage study.
Now what: The FDA is expected to hand down Nuplazid's regulatory decision by May 1.As there are no approved treatments for PDP at the moment, some analysts think Nuplazid could generate peak sales in excess of $3 billionif approved. So, Acadia's shareholders will clearly want to pay close attention to tomorrow's review.
In light of the fact that most, if not all, of Acadia's valuation is built on Nuplazid's commercial potential, though, I personally won't be picking up any shares in this speculative biopharma until this significant regulatory risk is off the table.
The article Here's Why Acadia Pharmaceuticals' Stock Is Soaring Today originally appeared on Fool.com.
George Budwell has no position in any stocks mentioned. The Motley Fool has no position in any of the stocks mentioned. Try any of our Foolish newsletter services free for 30 days. We Fools may not all hold the same opinions, but we all believe that considering a diverse range of insights makes us better investors. The Motley Fool has a disclosure policy.
Copyright 1995 - 2016 The Motley Fool, LLC. All rights reserved. The Motley Fool has a disclosure policy.