Here's What Tim Cook Has to Say About the Apple Inc. iPhone Business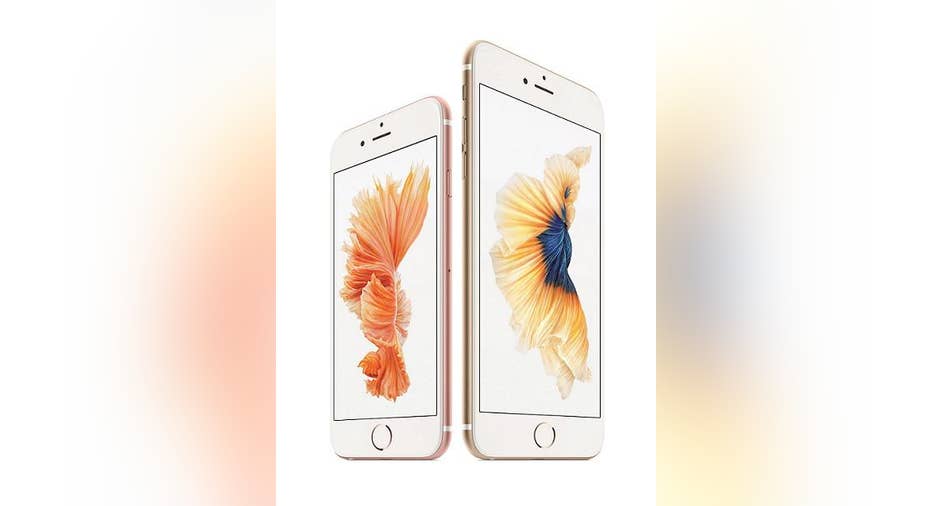 Image source: Apple.
After reporting a disappointing quarter and issuing dreadful guidance, Apple CEO Tim Cook offered some much-needed insight to investors around iPhone.
In particular, Cook took the opportunity to go into detail into Apple's thinking around the iPhone business, which he characterized as "healthy and strong."
Additionally, the executive explained that "iPhone sales come from three sources: customers who upgrade from previous iPhone models; customers who switch from Android and other operating systems; and customers who purchase a smartphone for the first time."
Let's take a closer look at what Cook had to say.
Weak upgrade cycle relative to iPhone 6Addressing the upgrade portion first, Cook noted that during the first half of the company's current fiscal year, Apple saw an "upgrade rate for the iPhone 6s cycle" that's "slightly higher" than what the company saw with the iPhone 5s cycle, but "lower than the accelerated upgrade rate that [Apple] saw with iPhone 6."
Though Cook declined to give specifics around the exact upgrade rates, he did characterize the iPhone 6s upgrade rate as "a lot lower" than the iPhone 6 upgrade rate.
"If we would have the same rate on iPhone 6s that we did on iPhone 6, it would be time for a huge party," Cook added. "It would be a huge difference."
No kidding. Perhaps Tim Cook and the marketing team at Apple may want to rethink the notion of 's' cycles and make big enough changes generation-over-generation to reaccelerate upgrade cycles.
High "switcher" rateOn a more positive note, Cook claimed that the company "continue[s] to see a very high level of customers switching to iPhone from Android and other operating systems."
He further added that, over the last six months, Apple enjoyed an influx of "more switchers from Android and other platforms in the first half of this [fiscal] year than any other six-month period ever."
I have to wonder, though: is this a statement about net Android switchers? If so, why hasn't this apparently significant share gain helped to soften the woes associated with the weaker upgrade activity? Why are companies like Huawei, Oppo, and Vivo still growing as Apple sees iPhone shipments contract?
Still plenty of potential first-time buyers leftAlthough it is commonly believed that the smartphone market has become "saturated," Cook claims that only 42% of the handset market has moved over to smartphones.
"iPhone is still attracting millions of first-time smartphone buyers each quarter, especially from emerging markets," said Cook, citing 56% year-over-year growth in iPhone sales in the company's most recent quarter.
It's worth noting, though, that Apple's smartphones are quite pricey, with even the "cheap" iPhone SE starting at $400 in the United States (it is likely much more expensive in other regions). This may make it tougher for the iDevice maker to gain traction in the areas of the world in which smartphones haven't already caught on.
What's the investment takeaway?Cook makes a reasonable argument for why the future may be brighter for iPhone than it looks at this moment in time, but I don't think investors should take Cook's long-term view on faith.
For example, it's clear that Apple wildly overestimated the demand that it expected to see for the iPhone 6s/6s Plus at the beginning of the cycle. Additionally, according to Cook last quarter, the fiscal second quarter was expected to be the "trough" for iPhone year-over-year comparisons -- something that, clearly, doesn't seem to be the case given the shockingly poor forward guidance.
To me, it looks like Cook has a lot of very nice-sounding excuses, but the bottom line is that its core iPhone business is currently experiencing sharp year-over-year declines. This needs to be resolved, preferably sooner rather than later, before Apple stock becomes worthy of fresh investment capital again.
The article Here's What Tim Cook Has to Say About the Apple Inc. iPhone Business originally appeared on Fool.com.
Ashraf Eassa has no position in any stocks mentioned. The Motley Fool owns shares of and recommends Apple. Try any of our Foolish newsletter services free for 30 days. We Fools may not all hold the same opinions, but we all believe that considering a diverse range of insights makes us better investors. The Motley Fool has a disclosure policy.
Copyright 1995 - 2016 The Motley Fool, LLC. All rights reserved. The Motley Fool has a disclosure policy.