Here's What $50 Oil Means for Seadrill, Ltd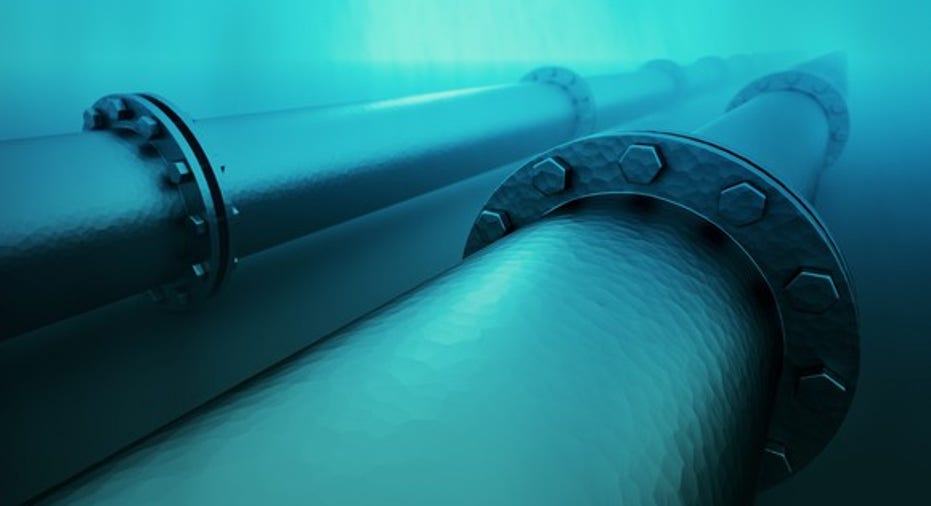 Oil producers aren't ready to start spending on offshore oil production again. Until that changes, Seadrill's prospects are bleak. Image source: Getty Images.
Early in 2016, crude-oil prices fell to the lowest level in more than a decade. At one point, Brent crude bottomed out below $29 per barrel, West Texas Intermediate fell to barely more than $26 per barrel, and there were even calls that prices could fall as low as $15. This happened because global oil production remained stubbornly high, even as demand growth remained weak.
Yet here we are, six months later, and crude-oil prices are up nearly 80%. That's great forSeadrill, Ltd(NYSE: SDRL), right? In a general sense, sure, but it's probably not as meaningful as it may seem on the surface. Let's talk about why.
Why oil prices have gone up recently
At best, the recent surge in oil prices in the past couple of weeks has been on positive, yet mixed, news. U.S. oil and total gasoline inventories fell in recent weeks, and that's a positive for re-establishing market balance. At the same time, there's more possible good news coming out of OPEC, with word floating around that the cartel responsible for about one-third of global oil production is considering capping its oil output.
But here's the main reason oil prices have been on the rise recently: Oil traders are exiting short positions on the news and rumors above.
Simultaneously, U.S. crude stocks and total gasoline stocks have declined, and inventories of diesel fuel, propane, and finished gasoline -- gasoline including the blending components that make it pump ready -- were up at last report. And even with recent declines in inventories, total levels are still well above historical averages for this time of year.
In other words, it's hard to look forward and see oil prices continue to march higher from here. However, it should be said that this doesn't mean they will fall, either.
What it means for Seadrill
In the long run, there's no doubt that higher oil prices are a good thing for Seadrill. But when we're talking about price increases over a few months, it really doesn't change the story at all. Here's why.
Oil producers plan their capital investments years in advance. This is particularly true for offshore oil and gas, where the reserves are much harder and more expensive to reach and cost more to extract and get to market. While an onshore operator can start drilling today and have a well connected to a pipeline and producing oil in less than one month, it can take years to get from offshore drilling to producing oil, and often at higher per-barrel production costs.
There's some good in this for Seadrill and its offshore peers. Since offshore projects are typically very long term in nature and often quite large, oil producers will typically sign long-term agreements with drillers, with terms that make it very difficult and expensive to terminate those agreements. The nature of these agreements has certainly helped Seadrill keep many of its vessels working over the past year, even as oil prices continued to plummet.
Unfortunately, a lot of those contracts have begun expiring, and so far, there has been very little appetite from producers to start signing long-term deals to put those drilling vessels back to work. When Seadrill last reported earnings in June, we learned that 12 of its vessels were out of work, up from nine in the prior quarter. Even more concerning, the company has another nine vessels that are on track to end 2016 without any work lined up.
It's still too early to see the turnaround
The recent gains in crude oil prices are reassuring, but investors must consider the underlying fundamentals of oil supply and demand, the market fundamentals driving recent prices, and how uncertain the future remains with oil prices. Even more important is how those factors will inform offshore oil producers' decisions about long-term capital planning.
In other words, until the producers start loosening the purse strings -- which we haven't seen yet -- Seadrill's prospects aren't really any better today than they were a week or a month ago. At some point, capital spending offshore will recover.
Until there are some signs that it's happening, however, Seadrill remains a risky investment. Between its huge debt load, growing numbers of idle vessels, and the weakest offshore market in decades, it's probably best to stay on the sidelines until the path forward becomes a lot clearer.
A secret billion-dollar stock opportunity The world's biggest tech company forgot to show you something, but a few Wall Street analysts and the Fool didn't miss a beat: There's a small company that's powering their brand-new gadgets and the coming revolution in technology. And we think its stock price has nearly unlimited room to run for early in-the-know investors! To be one of them, just click here.
Jason Hall owns shares of Seadrill. The Motley Fool recommends Seadrill. Try any of our Foolish newsletter services free for 30 days. We Fools may not all hold the same opinions, but we all believe that considering a diverse range of insights makes us better investors. The Motley Fool has a disclosure policy.