Heres My Favorite Stock for 2017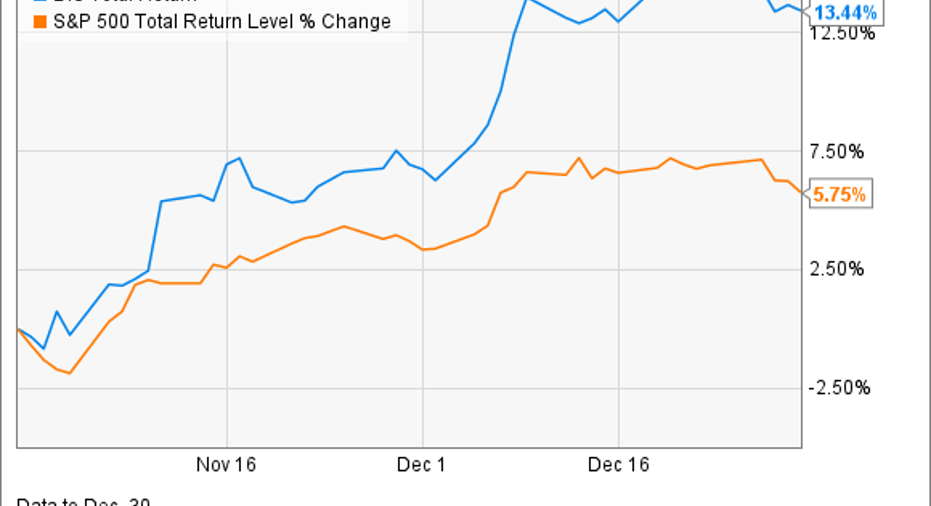 Image source: Disney.
My favorite stock for 2017 and beyond that would be a great choice for long-term investors who want growth potential with relatively good stability is entertainment powerhouseWalt Disney(NYSE: DIS).
Disney's business performance was magical in fiscal year 2016, ended Oct. 1, with year-over-year revenue increasing 6%, adjusted earnings per share growing 11%, cash provided by operations jumping 21%, and free cash flow soaring 27%. Moreover, these numbers understate the company's performance because there was one less week in the fiscal year than in the year-ago period.
Despite this robust business performance, Disney stock'stotal return in 2016 was flat -- 0.8% to be exact -- versus a 12% total return for the S&P 500. The stock's been suppressed until recently due to concerns over cable cord-cutting negatively impacting subscriber counts in the cable networks business, the largest business within the media networks segment. ESPN has been at the heart of these concerns because the sports cable-network superstar is the most lucrative of the company's cable properties.
Disney stock's flat 2016 returnmasks strong momentum over the last approximately two months: The stock's total return since Nov. 1 is 13.4% -- more than twice the broader market's total return of 5.8%.So early signs suggest that the stock is on track to get its mojo back in 2017. Despite its struggles since mid-2015, Disney's stock has crushed the broader market by a factor of more than two over the 10-year period.
Data by YCharts.
Disney's business breakdown
Here's a snapshot of the company's business by revenue and operating income:
| | | | | |
| --- | --- | --- | --- | --- |
| Metric | Media Networks | Parks and Recreation | Studio Entertainment | Consumer Goods and Interactive Media |
| Fiscal year 2016 revenue | $23.69 billion | $16.97 billion | $9.44 billion | $5.53 billion |
| Change (YOY) | 2% | 5% | 28% | (3%) |
| Percentage of total FY 2016 revenue | 42.6% | 30.5% | 17% | 9.9% |
| FY 2016 operating income | $7.76 billion | $3.30 billion | $2.70 billion | $1.97 billion |
| Change (YOY) | -- | 9% | 37% | 4% |
| Percentage of total FY 2016 operating income | 49.3% | 21% | 17.2% | 12.5% |
Fiscal year 2016 ended on Oct. 1. Data source: Disney.
Here are three top reasons to buy Disney stock:
1. Studio entertainment is firing on all cylinders
Disney's movie-making business has been firing on all cylinders, and given the company's strong slate of movies to be released over the next couple of years, there's no reason to believe that the party won't continue. This business iscomprised of the company's flagship movie brand Disney and its three brands acquired over the last decade: animation giant Pixar, superhero titan Marvel, andStar Wars-creator Lucasfilm.
For fiscal 2016, ended Oct. 1, studio entertainment's year-over-year revenue jumped 28%, while its operating income soared 37%. This business' revenue and operating income accounted for17% and 17.2%, respectively, of Disney's total revenue and segment operating income. These percentages understate how critical this business is to Disney's empire. The company leverages its movies across its businesses, turning blockbuster films into TV shows, popular attractions at its theme parks, and a plethora of licensed consumer products.
Disney's fiscal 2016 opened with the release of the megablockbusterStar Wars: The Force Awakensbefore the holidays in 2015. The film, which grossed nearly $2.1 billion at the box office, is the third-highest-grossing movie worldwide of all time. The company's hit-making chops continued into calendar year 2016, as shown in this chart of the year's top-grossing movies worldwide:
| Rank | Movie | Distributor (Brand) | Total Gross |
| --- | --- | --- | --- |
| 1 | Captain America: Civil War | Disney (Marvel) | $1,153,300,000 |
| 2 | Finding Dory | Disney (Pixar) | $1,027,800,000 |
| 3 | Zootopia | Disney (Disney) | $1,023,800,000 |
| 4 | The Jungle Book (2016) | Disney (Disney) | $966,600,000 |
| 5 | The Secret Life of Pets | Comcast's Universal Studios | $875,500,000 |
Data Source:Box Office Mojo; Data last updated on Dec. 30 at 1:19 p.m. PST.
2. Star Wars' partyunder Disney's ownership is just beginning
Just as Disney's fiscal-year 2016 opened with the mid-December 2015 release of The Force Awakens -- the first movie in a planned trilogy, and the first Star Wars' film since Disney acquired Lucasfilm -- fiscal-year 2017 kicked off with the Dec. 16 release of the first spinoff, or stand-alone, film from the iconic sci-fi franchise, Rogue One: A Star Wars Story.
Rogue Oneisn't anotherThe Force Awakens-- and Disney doesn't need it to be -- but it's nonetheless been a very successful movie. It ranked No. 1 domestically at the box office in its first two weekends, and is on track to do the same over the New Year's weekend.Its $375.4 million gross in North America, through Dec. 29, makes it the No. 3 top-grossing domestic movie in 2016 -- behind Finding Dory and Captain America: Civil War-- and it should have no trouble surpassing at least the latter movie over the last weekend of the month. Worldwide, the film has grossed $687.9 million.
Image source: Disney.
The great news for Disney investors is that there are four more Star Wars' movies slated through 2020: two films to complete the trilogy that began with The Force Awakens, scheduled for release in December 2017 and sometime in 2019, and two additional stand-alone movies, scheduled to hit silver screens worldwide sometime in 2018 and 2020.
3. Shanghai Disney has massive growth potential
Along with the release of the first Star Wars' movie in a decade, the other main highlight of Disney's fiscal 2016 was the much anticipated opening of Shanghai Disney on June 16. The massive $5.5 billion park is the company'sfirst in mainland China.
CEO Bob Iger said on the fourth-quarter earnings call that the park welcomed 4 million guests in its first four months of operation, which exceeded the company's expectations. The fantastic news for investors came from CFO Christine McCarthy on the call: Management expectsShanghai Disney Resort to be "very close to break-even" for fiscal 2017.
The park has huge potential because China is the most populous country in the world, and waves of its population continue to move into the middle class. Many of these folks are likely ravenous for experiences they could not previously afford.
As for Disney's parks and resorts segment, in general, it's a solid and steady performer. This should continue for generations, as the House of Mouse has a winning theme-park formula that can't be fully replicated.
What about media networks?
Media networks is the reason the market has been providing long-term investors with a buying opportunity for Disney's stock over the last year-and-a-half.The market has punished the stock due to what seem like overblown fears that cable cord-cutting -- a very real trend -- will eventually hurt Disney's cable business, particularly ESPN, enough to notably drag down the financials of the entire company. To date, this has not happened, as shown by Disney's robust fiscal 2016 results, outlined at the opening of this article.
Media networks held its own in fiscal 2016 with year-over-year revenue growing 2%, and operating income coming in flat. The strong performances of the company's other segments have been able to compensate for the flat operating income growth in media networks.
Moreover, Disney's management has been aggressively positioning the company so that ESPN and its other top-notch content will continue to thrive no matter how the consumer TV-viewing market evolves. Disney has been successful in getting ESPN and some of its other content included in various distributors' "skinny" over-the-top streaming services. Additionally, it bought a 33% stake in video streaming leader BAMTech, which will enable it to bring its content directly to consumers. In fact, the entertainment titan plans to launch a direct-to-consumer ESPN-brandedmultisport subscription video-streaming service in fiscal 2017, with content that's unique from its cable content and to which it already owns the rights.
Why now is the time to buy Disney's stock
Data by YCharts.
Relatively recently, the market has shaken off at least some concerns about cord-cutting negatively impacting Disney's future financials, as evidenced by Disney stock's outperformance over the last two months. So it's possible the opportunity train for buying Disney stock at a decent valuation -- it's priced at 17.6 times forward earnings and 20.3 times free cash flow -- couldzoom away sooner rather than later.
Potential investors should know that Iger said on the Q4 earnings call that the company expects fiscal 2017 to be a slower growth year, but anticipates that its robust recent growth dynamics will continue in 2018 and beyond.
10 stocks we like better than Walt Disney When investing geniuses David and Tom Gardner have a stock tip, it can pay to listen. After all, the newsletter they have run for over a decade, Motley Fool Stock Advisor, has tripled the market.*
David and Tom just revealed what they believe are the 10 best stocks for investors to buy right now... and Walt Disney wasn't one of them! That's right -- they think these 10 stocks are even better buys.
Click here to learn about these picks!
*Stock Advisor returns as of Nov. 7, 2016
Beth McKenna has no position in any stocks mentioned. The Motley Fool owns shares of and recommends Walt Disney. The Motley Fool has a disclosure policy.