Here's My Favorite Stock for 2016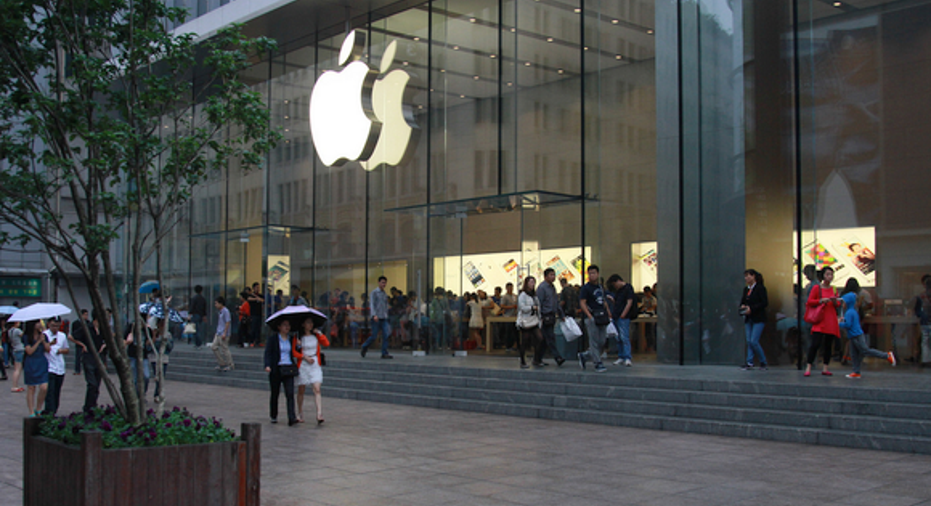 As the new year begins, one stock stands out as my absolute favorite: Apple . Here are three reasons I believe this is an excellent investment.
1. Valuation has entered bargain territory.Sure, Apple isn't the screaming buy it was when I called it a "dividend investor's dream stock" in 2013. Since then, shares have soared about 66%, nearly tripling the S&P 500's 23% rise during this period. But -- even after rising so sharply -- there's still solid value in Apple stock.
AAPL P/E Ratio (TTM) data by YCharts
The easiest way to understand just how cheaply the stock is trading is by comparing the stock's price-to-earnings ratio of 11.5 to the S&P 500's of 23. Put another way: The S&P 500's overall earnings trade at double the premium that Apple's do. This difference is staggering considering Apple's EPS is up 43% in the trailing-12-month period compared the year-ago period; such a suppressed P/E ratio for a company demonstrating such incredible growth recently is downright mindboggling.
Apple stock looks cheap no matter what angle you view the stock from. I've recently demonstrated the immense value in Apple stock by comparing its free cash flow yield to peers, as well as by estimating the present value of a conservative projection of the company's future cash flows.
2. Apple knows how to launch blockbuster products. While the tech giant's extremely focused portfolio of products could make the company appear to be a risky investment at first glance, uncertainty regarding its future is mitigated when investors give weight to Apple's excellent track record of major new product launches. The iMac, iPod, iPhone, and the iPad were all doubted ahead of their debut. And every one of these products played critical roles in growing the company's business.
Pairing Apple's track record of bringing new, successful products to market with its wildly loyal customer base, it's likely that the company's concentrated product portfolio will continue to fair well. And, fortunately for investors, "well" is all that is needed to justify the stock's current conservative valuation.
3. Dividends and share repurchases offer long-term stability.Dividends don't always automatically imply a stock is less risky than its non-dividend-paying counterparts, and share repurchases don't always provide meaningful value for shareholders. But, in Apple's case, a dividend and a share repurchase program are both signs of the company's extraordinary financial health; and they truly are enhancing intrinsic value for shareholders.
The money the tech giant is spending on two methods of returning cash to shareholders is money the company probably couldn't put to work in its business or on acquisitions even if it tried. Indeed, Apple has so much excess cash and such heady levels of free cash flow that even its share repurchase program, which is the largest in the world, still leaves the company's cash hoard unscathed.
For context, consider that during the trailing twelve months Apple paid $11.6 billion in dividends and spent around $35 billion repurchasing shares. While this sounds large in absolute terms, it pales in comparison to the company's cash hoard of about $205 billion, as well as to its near $70 billion in free cash flow during this period.
Of course, just because Apple is my favorite stock pick for 2016 doesn't mean I believe it will outperform the S&P 500 during the year. In the near term, stocks tend to trade irrationally in comparison to changes in the underlying intrinsic value. But, over the long haul, changes in intrinsic value can be so large that even an irrationally traded stock will likely at least rise or fall in the general direction of the underlying value. Looking out further than a year, therefore, I believe this undervalued stock will outperform the market.
The article Here's My Favorite Stock for 2016 originally appeared on Fool.com.
Daniel Sparks owns shares of Apple. The Motley Fool owns shares of and recommends Apple. Try any of our Foolish newsletter services free for 30 days. We Fools may not all hold the same opinions, but we all believe that considering a diverse range of insights makes us better investors. The Motley Fool has a disclosure policy.
Copyright 1995 - 2016 The Motley Fool, LLC. All rights reserved. The Motley Fool has a disclosure policy.