Here's How Many 10.5-inch iPad Pros Apple Inc. Could Sell This Year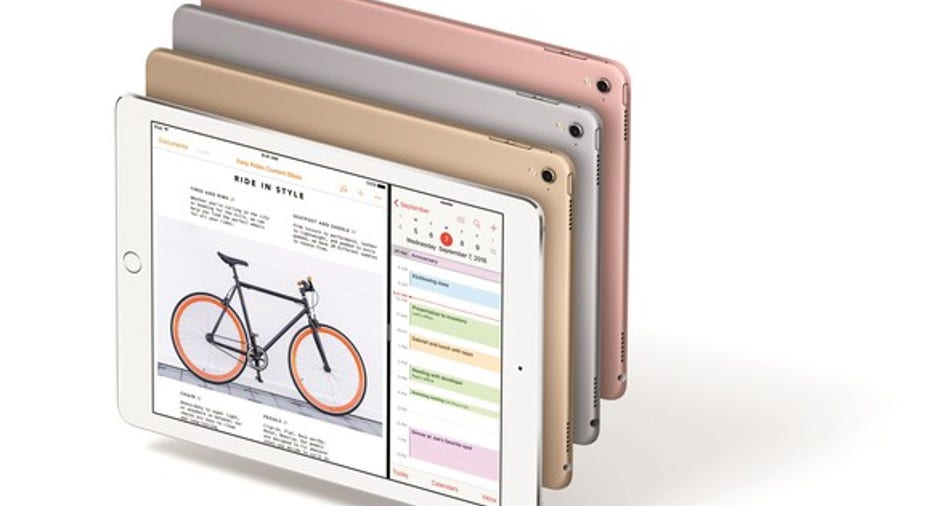 Per a pre-publication note from Digitimes, Apple (NASDAQ: AAPL) started mass-producing the oft-rumored 10.5-inch iPad Pro in the "March-April" time frame and is expected to release it in June -- almost certainly at the company's annual developer conference, known as the World Wide Developers Conference, or WWDC.
Digitimes says, citing "Taiwan-based supply chain makers," that the company will ship 600,000 units of the new iPad Pro in July, and full-year 2017 shipments of the device "are estimated at 5-6 million units."
Image source: Apple.
What could this mean for Apple's business? Let's take a closer look.
Putting that figure into context
In Apple's most recent fiscal year -- that is, fiscal year 2016 -- Apple shipped 45.59 million iPads, down approximately 17% from the nearly 55 million that the company shipped in the year prior.
Now, it's worth noting that the above figures represent shipments for a fiscal year, whereas the 5 million to 6 million figure Digitimes mentioned refers to shipments of new iPad Pros from June through December of calendar year 2017.
That said, it's not a stretch to extrapolate that the annual unit shipment run rate of these devices could be in the ballpark of 10 million (probably a bit lower since early demand for the product should be higher than demand for it later in the cycle).
However, even if we're talking about 8-9 million 10.5-inch iPad Pro shipments across a full year, that's still about 18%-20% of Apple's fiscal 2016 iPad unit shipments. The rest of the shipments would clearly consist of the company's 12.9-inch iPad Pro (which I'd suspect are substantially lower than 9.7-inch/10.5-inch iPad shipments) as well as the mainstream 9.7-inch iPad models (likely the bulk of Apple's shipments).
The promise of the 10.5-inch iPad Pro
Apple's goal with the iPad Pro seems to be to try to enrich its iPad product mix. Indeed, from a unit perspective, it doesn't seem like there's much of growth potential. While a compelling enough 10.5-inch iPad Pro could help provide a short-term boost to iPad unit shipments, any such bump doesn't seem as though it'd be sustainable over multiple quarters.
The tablet market, and by extension the iPad market, should largely do what it'll do regardless of what Apple puts out (something that has been proven by the continued decline in iPad shipments even as Apple has regularly put out interesting new products).
What the 10.5-inch iPad Pro could do, then, is offer enough interesting new features to allow Apple to do the following:
Increase prices for its iPad Pro devices generation over generation.
Potentially see customers opt for the more expensive iPad Pro over the standard iPad models as they find the features available in the iPad Pro compelling enough to spend extra.
Indeed, if Apple must contend with the reality of a market that simply can't deliver sustainable unit growth, it can at least try to wring out revenue growth by taking actions to drive iPad average selling price growth.
From the perspective of stockholders, it shouldn't matter if Apple grows iPad revenue through unit growth or through average selling price growth, as long as Apple can get its iPad business back to revenue growth after multiple quarters of year-over-year declines.
10 stocks we like better than AppleWhen investing geniuses David and Tom Gardner have a stock tip, it can pay to listen. After all, the newsletter they have run for over a decade, Motley Fool Stock Advisor, has tripled the market.*
David and Tom just revealed what they believe are the 10 best stocks for investors to buy right now...and Apple wasn't one of them! That's right -- they think these 10 stocks are even better buys.
Click here to learn about these picks!
*Stock Advisor returns as of May 1, 2017.
Ashraf Eassa has no position in any stocks mentioned. The Motley Fool owns shares of and recommends Apple. The Motley Fool has a disclosure policy.