Here's How Cirrus Logic Doubled in 2016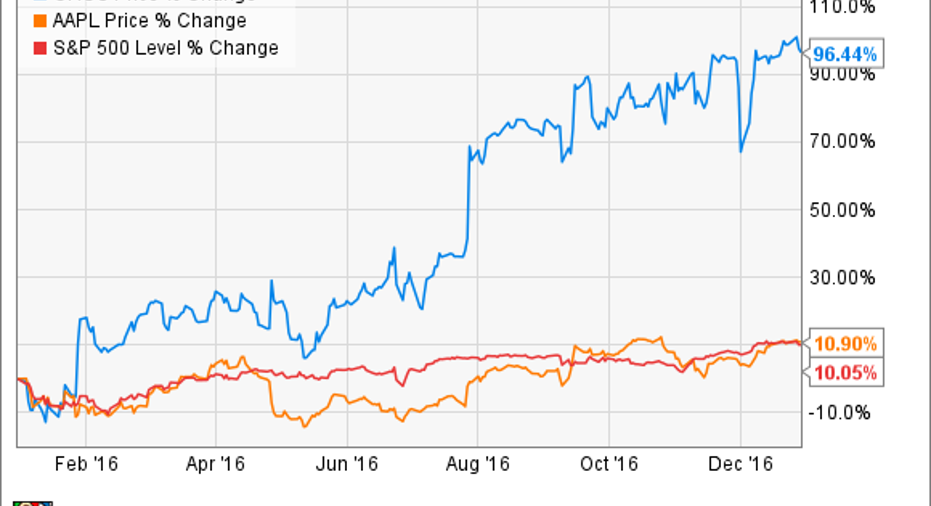 Image source: Getty Images.
What happened
Shares of Cirrus Logic (NASDAQ: CRUS) doubled in 2016, according to data from S&P Global Market Intelligence. Investors in the audio-processor specialist enjoyed a 96.4% return in 52 weeks.
So what
You can't own Cirrus Logic without keeping a close eye on Apple (NASDAQ: AAPL). Cirrus' largest customer accounted for 66% of the company's total sales in fiscal year 2016. That's down from 72% in 2015 and 80% in 2014, but Apple remains the core of Cirrus' business.
So when Apple adds more Cirrus chips to its most popular product, the chip supplier's top and bottom lines are sure to turn upward in a hurry. That's exactly what happened in calendar year 2016, as the iPhone 7 shipped with Cirrus-powered wireless headphones instead of the traditional 3.5-millimeter headphone jack.
Thanks to Apple's expanding order volume, Cirrus demolished sales and earnings targets in the back half of the year. Share prices followed suit in a hurry:
Now what
Here we stand at the start of a new year, with fresh holiday-quarter reports from both Apple and Cirrus due in a couple of weeks. Independent reports claim that the Cupertino company recently slashed its iPhone 7 production volumes in response to soft demand for the flagship smartphone. Cirrus fell hard on that rumor, but also bounced back quickly as investors forgot about the reported production cuts.
Honestly, owning Cirrus or Apple shares right now would keep me up at night. Those earnings reports will settle a lot of questions about the iPhone's trend line, and therefore about Cirrus' financial future. The company is diversifying to the best of its ability, but the Apple connection is still tight enough to add an uncomfortable amount of downside risk. When Apple stumbles, Cirrus falls -- and it's a long way down from here.
Investors would be wise to hold off on buying Cirrus shares until we have the holiday numbers in hand.
10 stocks we like better than Cirrus Logic When investing geniuses David and Tom Gardner have a stock tip, it can pay to listen. After all, the newsletter they have run for over a decade, Motley Fool Stock Advisor, has tripled the market.*
David and Tom just revealed what they believe are the 10 best stocks for investors to buy right now... and Cirrus Logic wasn't one of them! That's right -- they think these 10 stocks are even better buys.
Click here to learn about these picks!
*Stock Advisor returns as of January 4, 2017
Anders Bylund has no position in any stocks mentioned. The Motley Fool owns shares of and recommends Apple. The Motley Fool has the following options: long January 2018 $90 calls on Apple and short January 2018 $95 calls on Apple. The Motley Fool also recommends Cirrus Logic. The Motley Fool has a disclosure policy.