Here's How Apple Inc. Plans On Doubling Services Revenue Over 4 Years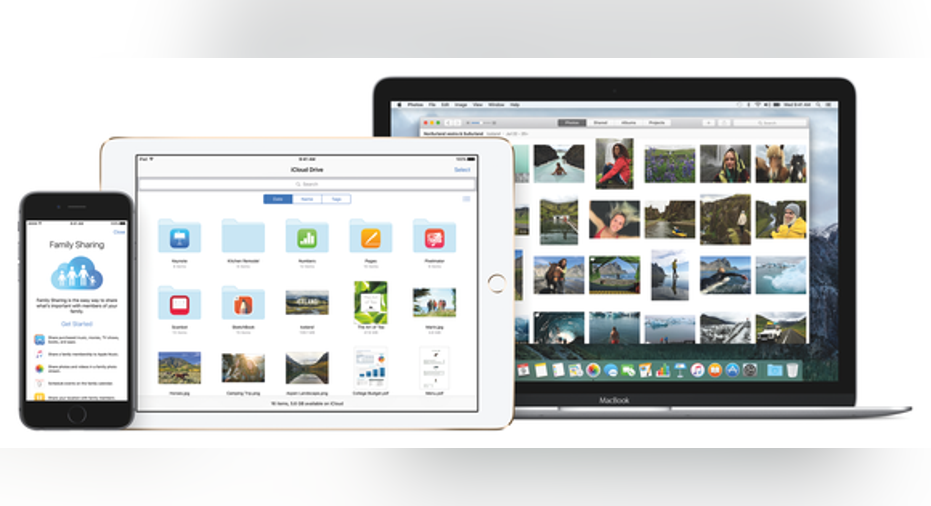 If you've been paying close attention, you'll notice that Apple (NASDAQ: AAPL) has been very conscientiously trying to shift investor focus away from things like iPhone unit sales in favor of recurring revenue sources like services.
That's why the iPhone maker even introduced a non-GAAP metric for installed base-related purchases in early 2016, only to stop reporting it just a few quarters later (likely due to the SEC cracking down on companies abusing non-GAAP metrics). The iPhone sold rather well over the holiday quarter, setting a fresh quarterly record, but Apple is still very much wanting investors to better appreciate its services business.
iCloud. Image source: Apple.
For 2016, Apple's services revenue hit a new milestone, crossing $25 billion in revenue for the first time. Services should even be large enough to be a stand-alone Fortune 100 company in 2017. Not one to rest on its laurels, Apple is ambitiously hoping to double services revenue over the next four years.
150 million subscriptions and counting
On the earnings call, CEO Tim Cook noted that Apple now bills over 150 million paid subscriptions through the various content platforms that it operates. That includes both Apple's own services as well as third-party subscriptions. This is a new metric that Apple has not disclosed previously, and it will be important to see this number grow (if Apple continues providing updates, that is). There was no update on how many Apple Music subscribers the company now has, but the most recent update from December was 20 million.
Apple Music. Image source: Apple.
More color surrounding these subscriptions would go a long way toward analyzing the services business. I have no shortage of questions. Are those 150 million subscriptions all discrete users, or are there multiple subscriptions per user? What's the average monthly recurring amount? What categories (such as video, audio, or other) are seeing the most interest? Has there been any uplift from the reduced 15% cut on long-term (longer than one year) subscriptions? Many enterprise-oriented apps utilize subscription models; how much is the enterprise contributing to subscriptions?
When asked how Apple will get to its goal, CFO Luca Maestri did add some additional detail:
Interestingly, Maestri also noted that iCloud storage and AppleCare are growing "very well" and are at all-time highs as well. Apple last cut iCloud storage prices in late 2015, making the service more competitive with rivals (iCloud storage used to be overpriced). Meanwhile, services like iCloud Photo Library increase the need for cloud storage. On the AppleCare front, more customers tend to buy Apple's extended warranty when newly designed products come out due to the higher initial repair costs, and those new MacBook Pros with Touch Bars are both new and pricey.
Take what you can get
Here's another way to look at it: Product sales are unlikely to be major growth drivers at this point since the businesses are already so large. The only new product that could theoretically start taking off is Apple Watch, but we know the smartwatch market is in the dumps and Apple still aggregates its wearable in the "Other Products" segment. It's unlikely that Apple Watch will suddenly become a $25 billion business within the next couple of years (the entire Other Products segment is under $11 billion).
If total revenue remains relatively flat, but services can add another $25 billion in sales over the next few years, that would represent over 10% growth. I'll take that.
10 stocks we like better than AppleWhen investing geniuses David and Tom Gardner have a stock tip, it can pay to listen. After all, the newsletter they have run for over a decade, Motley Fool Stock Advisor, has tripled the market.*
David and Tom just revealed what they believe are the 10 best stocks for investors to buy right now... and Apple wasn't one of them! That's right -- they think these 10 stocks are even better buys.
Click here to learn about these picks!
*Stock Advisor returns as of February 6, 2017
Evan Niu, CFA owns shares of Apple. The Motley Fool owns shares of and recommends Apple. The Motley Fool has the following options: long January 2018 $90 calls on Apple and short January 2018 $95 calls on Apple. The Motley Fool has a disclosure policy.