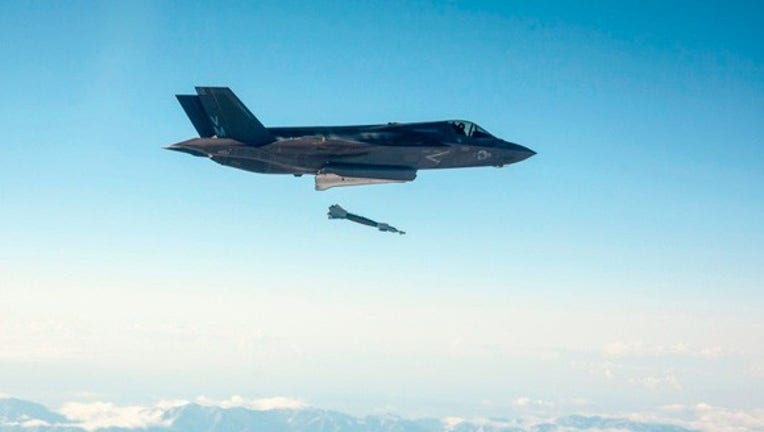 In March, President Donald Trump proposed increasing the U.S. defense budget by $54 billion. Trump wants America to build more aircraft carriers, more nuclear submarines, more nuclear missiles, and... more of Lockheed Martin's (NYSE: LMT) famed F-35 Lightning II stealth fighter, a weapon that he now calls "the fantastic new F-35 jet fighter."
But here's a bit of shocking news for America's populist president: Ina pollconducted last year by Voice of the People (VOP), a majority of Americans opted to send the fantastic new F-35 fighter jet to the junkyard.
Lockheed Martin's F-35 could be preparing to bomb -- and not in the way it's supposed to. Image source: Lockheed Martin.
The poll
VOP conducted its poll online between Dec.20,2015, and Feb.1,2016. Surveying 7,126registeredvoters who belong to its "Citizen Cabinet" advisory panel, in eight states scattered across the nation, VOP posed a series of questions concerning the U.S. defense budget.
Among other revelations, VOP's poll showed that Americans generally favor cutting defense spending on the Air Force (by $2 billion annually), the Army ($4 billion), Navy ($2 billion), nuclear weapons ($3 billion), and missile defense ($1 billion). Perhaps the most surprising revelation from the poll, though, was the sentimentamong votersfor what is now President Trump's new favorite military jet.
Of those polled, 54% wanted to end production of the F-35.
The details
That's right. By a vote of 54% in favor to 43% opposed, a majority of those polled "endorsed cancelling the F35JointStrikeFighterProgramand insteadupgradingcurrentfighters" such as Boeing'sF-15 and (luckily for Lockheed) Lockheed Martin's own F-16. When told that upgrading old planes versus buying newer F-35s would save as much as $97 billion in defense dollars over the next 20 years, voters overwhelmingly voted with their wallets -- to kill the F-35.
Anti-F-35 sentiment was widespread, too. Voters in eight states were surveyed, and in all eight states, majorities favored killing the F-35. Even in Texas, where the F-35 is built in Fort Worth, a 51% majority agreed that the F-35 should go away.
Why the death sentence?
Actually, maybe that's not so surprising, given the negative press Lockheed's F-35 program has endured. In querying voters regarding their feelings on the F-35, VOP pointed out, "Some say the F-35... has many design problems,andiswayoverbudgetalready, withmoreoverrunslikely."
That's stating it kindly.
As initially envisioned, Lockheed Martin's F-35 fighter jet was supposed to achieve "initial operational capability" (IOC) and be ready for at least limited use in combat by 2010. In fact, by 2015, only one variant of the F-35 (the F-35B,destined for the Marine Corps) had reached IOC. The Air Force anointed its own F-35Avariant with IOC status in 2016. And the Navy's F-35C variant... still isn't there yet. Viewed most charitably, the F-35 program is at least five years behind schedule -- and arguably as much as seven years late.
Price-wise, the F-35 produced was originally predicted to cost about $35 million per plane in 1994 dollars ($57.5 million today). But even after Lockheed's latest round of price reductions, the average F-35 still costs taxpayers more than $113 million -- 197% of its budgeted cost.
And as for the "design problems," well, VOP's poll was conducted more than a full year ago. Since then, the Pentagon's Directorate of Operational Test and Evaluation (DOT&E) has released an updated reporton the airplane's progress. It details a list of 276 "critical" deficiencies with the F-35, concluding that by and large, the F-35 is "overall ineffective." Were the same VOP survey conducted today, it's possible that even more Americans would vote to kill the F-35.
What it means for investors
So what is the upshot of all the above? President Trump wants to spend a lot more money on defense this year (and in future years) than President Obama spent last year. Lockheed Martin shareholders were understandably enthused to learn of the new president's desire to spend more on defense in general, and of his kind words for the F-35 in particular. But don't count your warbirds before the eggs are hatched.
Much of the extra money Trump wants to dump into defense is earmarked for an airplane that enjoys little support among voters -- and taxpayers. This could make the increase in defense spending a hard sell.
And increased purchases of F-35 fighter jets are still not a foregone conclusion.
10 stocks we like better than Lockheed MartinWhen investing geniuses David and Tom Gardner have a stock tip, it can pay to listen. After all, the newsletter they have run for over a decade, Motley Fool Stock Advisor, has tripled the market.*
David and Tom just revealed what they believe are the 10 best stocks for investors to buy right now... and Lockheed Martin wasn't one of them! That's right -- they think these 10 stocks are even better buys.
Click here to learn about these picks!
*Stock Advisor returns as of February 6, 2017
Rich Smith has no position in any stocks mentioned. The Motley Fool has no position in any of the stocks mentioned. The Motley Fool has a disclosure policy.