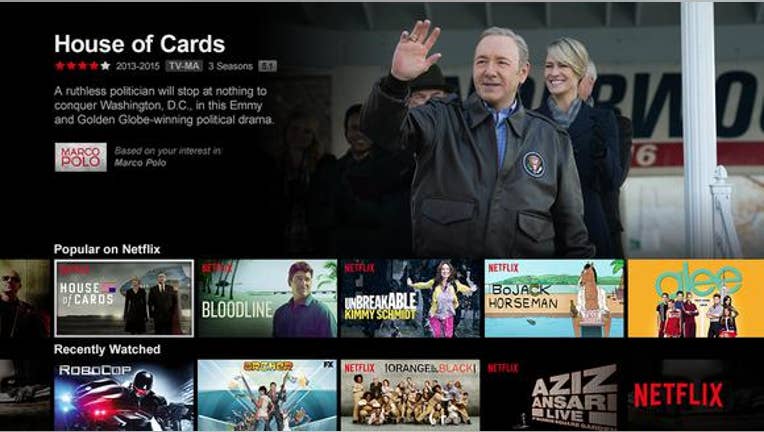 Netflix has gone through a number of iterations in its relatively short history.
When it started in 1997 the company sent DVDs through the mail, something it still does, which has faded in importance since its streaming service launched in 2007. That initial product just had movies with old television shows eventually joining the mix and the company did not even enter the original series market until 2013.
Once the streaming service launched into that space, however, it did so with gusto. The company pumped out hits likeHouse of Cards,Orange Is the New Black, andUnbreakable KimmySchmidtwhile also learning that nostalgia sells as it offered episodes ofArrested Development, and launched a sequel to dreadful, but for-some-reason beloved 1990's staple Full House. Netflix also has new episodes ofGilmore Girlsin the works as well as two hits shows fromWalt Disney's Marvel universe,DaredevilandJessica Jones, with at least three more on the way.
Today's streaming leader looks nothing like the company it was just five years ago and it has plans to continue its transformation in the year (and years) to come. Some of its plans and strategies were shared at a meeting a the recent Mobile World Congress in Barcelona, Engadget reported.Chris Jaffe, Netflix's vice president of user interface innovation shared the two biggest priorities for the company in 2016, one you may guess, and one you may not have thought of.
Netflix has increasingly become a go-to service for original programming Source: Netflix
HDR is comingWhile the term "high dynamic range," or HDR, may not mean anything to most Netflix customers, it's a term the public is going to get familiar with in the coming years. Essentially it's a detail-rich format for content for slowly gaining in popularity 4K televisions.
"We started exploring HDR content about one year ago," Jaffe said at his media briefing. "It is the [obvious]next-level resolutionin the playback experience."
This is a big decision because it's a bet on the future and new TV formats do not always pan out. Netflix was wise to ignore 3D and it has yet to move into virtual reality. The company plans to have 600 hours of 4K content available by the end of the 2016, DigitalTrends.com reported.
The first season ofMarco Polo andDaredevil'ssecond will be the first offerings using the emerging technology, which "essentially quadruples the number of pixels of a standard HD image," according to the technology news website.
"It's less about packing more pixels on the screen like the move from HD to Ultra HD 4K was, it's about extending the total range of those pixels," Jaffe added.Original content is a key focusNetflix has gone from dabbling in originals to basing its whole strategy on them in a pretty rapid fashion. With its Disney/Marvel properties in particular, the company has shown that there is an unfilled demand for new shows. The success of Daredevilpaved the way forJessica Jones, which may be Netflix's biggest hit, and those two will almost certainly lead to their companion series, Iron Fist and Luke Cage,becoming successful as well.
Netflix has a much higher success rate than traditional networks and that might make it a more attractive partner for a company like Disney, even though it owns ABC and various cable networks. That should give the streaming service better access to top projects from the best creative talent, which helps create a self-feeding cycle of success.
Jaffe said at his media briefing that the company plans to launch 30 new shows in 2016, including new seasons ofHouse of CardsandOrange Is the New Black.The company also has 10 original movies in the works as well as documentaries, and its first talk show (with Chelsea Handler).
If it's not broken...Netflix still offers old movies and television shows, but it has let rivals win contracts for premier reruns as its strategy (and budget) have shifted toward originals. For example, Hulu won the bidding forSeinfeldstreaming rights and Netflix has allowed deals with some movie companies to expire as a way free up money for creating new shows.
In the long run that's going to make sense because having a huge library of original programming offers more value to subscribers and shareholders than being a repository of other people's content. It's logical for Netflix to step up its investment in originals while carefully investing in HDR content on pace with the demand for that higher-bandwidth, higher resolution offering going forward.
This is an expensive strategy for the streaming leader, but investing in new shows that it owns builds the company for the long-term. It's also a whole lot less risky right now when consumers are open to sampling anything the company releases giving it a nearly unfathomable hit ratio.
The article Here's a Look at Netflix's Plans for 2016 originally appeared on Fool.com.
Daniel Kline has no position in any stocks mentioned.Jessica Jones was his favorite show in a very long time.The Motley Fool owns shares of and recommends Netflix and Walt Disney. Try any of our Foolish newsletter services free for 30 days. We Fools may not all hold the same opinions, but we all believe that considering a diverse range of insights makes us better investors. The Motley Fool has a disclosure policy.
Copyright 1995 - 2016 The Motley Fool, LLC. All rights reserved. The Motley Fool has a disclosure policy.