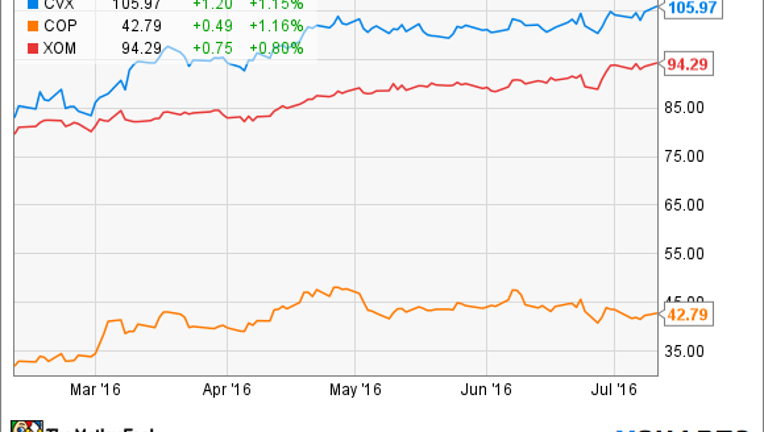 It's been 18 months since investment banker JPMorgan first told investors to sellConocoPhillipsstock. 18 months in which the stock has lost 31% of its value. But could it be that the time to buy is near at hand?
The news
Maybe. This morning, after 18 monthsof unrelenting pessimism (JP initially rated the stock an underweight in January 2015, and later made the effort to "reaffirm" this rating on ConocoPhillips stock in December), JPMorgan finally lifted its censure on the oil stock and removed its sell rating.
According to a report onTheFly.comthis morning, JP upgraded ConocoPhillips stock from underweight to neutral, leaving its $44 price target in place. TheFly notes that the upgrade was made in connection to Conoco's "relative underperformance" among oil stocks.
Here are three things you need to know about that.
ConocoPhillips stock costs a lot less than its rivals, but percentagewise, its shares are actually rising faster this year.CVXdata byYCharts.
1. Underperformance is relative
An investor might almost wish that JPMorgan had gone a step further, and upgraded ConocoPhillips stock to buy (at least for awhile) -- and done it sooner. Say, around about February 11, maybe? When the stock began a 34% run to its current share price of $42 and change?
While JPMorgan says it's upgrading on "relative underperformance," in fact ConocoPhillips stock has outperformed rivalsChevronandExxonMobilduring that time frame. Since February 11, Chevron shares have risen 28% in value, while Exxon is up just 18%. So what exactly is this "underperformance" that JPMorgan is referring to?
Probably, it's the year-long change in stock prices. The past year has seen both Chevron (up 11%) and Exxon (up 13%) move into positive territory, even as ConocoPhillips stock lags behind -- down 28% over the past 52 weeks. That was unpleasant to live through -- but as we've just seen, it helped to set up ConocoPhillips to outperform in 2016.
2. Outperformance is fleeting
Chances are, Conoco's recent spurt of price strength caught JPMorgan's eye, which may explain why the analyst has become incrementally more positive on the stock. But is this newfound optimism justified?
I'm not so sure it is. Consider:
When JPMorgan originally rated Conoco underweight back in January 2015, the analyst cited such factors as "the oil market's oversupply" and worries about the stock's ability to maintain its dividend and manage its debt load, as reasons for favoring other oil names over Conoco.
But has the situation really changed so much? Has it changed enough to justify JPMorgan's upgrade of ConocoPhillips stock?
3. The more ratings change, the more facts stay the same
After making a quick run up to $50 and beyond, the price of oil appears to have bumped its head and fallen right back below $50 (it's actually trading south of $47 today). That doesn't suggest to me a market thirsty for oil, and willing to pay up for it. Rather, it suggests a market thatremainsoversupplied.
If I'm right about that, it's not good news for Conoco's profits going forward. Conoco earned no profit at all last year, and its losses grew in the early months of 2016. According to data fromS&P Global Market Intelligence, Conoco is currently losing money at the rate of more than $6.1 billion annually, and burning cash at the rate of $2.6 billion per year. And S&P Global data suggests that the next five years could see Conoco's profits continue to shrink (or its losses to expand) -- perhaps by as much as 10% annually.
Danger ahead
That doesn't seem to me like a scenario likely to reward investors. Until Conoco starts generating cash and earning profits, it's hard to see how the company can maintain, much less grow its 4.5% dividend yield -- which is currently richer than the 3.2% payout at Exxon, or even the 4.1% divvy at Chevron.
Given that both those two companies are currently profitable, while Conoco is not, you have to wonder if a dividend cut is in the cards at Conoco. Meanwhile, Conoco still carries a debt load of $24.3 billion net of cash -- nearly half the size of its own market capitalization. That, too, will become an increasingly large burden the longer it takes Conoco to return to profitability.
JPMorgan was right to rate Conoco a sell 18 months ago. But it's wrong to relent on that rating today.
The article Here's 1 Analyst's New View of ConocoPhillips Stock originally appeared on Fool.com.
Fool contributorRich Smithdoes not own shares of, nor is he short, any company named above. You can find him onMotley Fool CAPS, publicly pontificating under the handleTMFDitty, where he's currently ranked No. 290 out of more than 75,000 rated members.The Motley Fool owns shares of ExxonMobil. The Motley Fool recommends Chevron. Try any of our Foolish newsletter services free for 30 days. We Fools may not all hold the same opinions, but we all believe that considering a diverse range of insights makes us better investors. The Motley Fool has a disclosure policy.
Copyright 1995 - 2016 The Motley Fool, LLC. All rights reserved. The Motley Fool has a disclosure policy.