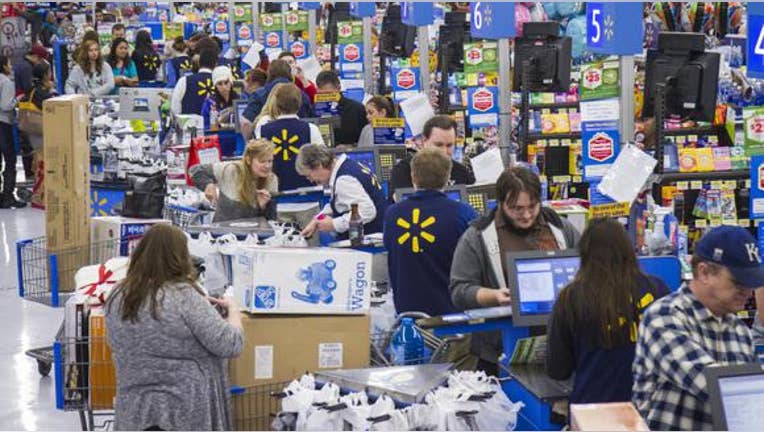 Black Friday, rest in peace.
The day as it once was is no more. People still shop on the Friday after Thanksgiving, and some even get up really early to fight for doorbuster deals, but the frenzy has ended. You can blame the death of Black Friday partly on holiday creep. What used to be one day now officially starts on Thanksgiving evening or earlier, which takes away urgency, but the real culprit is online retail.
A record $4.45 billion was expected to be spent online between Thanksgiving and Black Friday, according to research from Adobe. Thenumbers broke down to $2.72 billion on Black Friday, 14% more than in 2014, and $1.73 billion on Thanksgiving Day, a 25% increase over last year.
Those numbers show a shift in overall shopping habits from physical retailers to digital ones. That data was reaffirmed by the National Retail Federation's Thanksgiving Weekend Survey, which showed that nearly 102 million people said they shopped in stores over the Thanksgiving holiday period, and more than 103 million said they shopped online.
There was clearly significant overlap between the two. The survey found that more than 151 million people said they shopped either in stores and/or online over the weekend.
"We recognize the Thanksgiving weekend shopping experience is much different than it used to be as just as many people want that unique, exclusive online deal as they do that in-store promotion," said NRF President and CEO Matthew Shay in a press release. "It is clear that the age-old holiday tradition of heading out to stores with family and friends is now equally matched in the new tradition of looking online for holiday savings opportunities."
That trend helped define which companies did well in the fast-changing retail landscape. Here's a look at the winners from this year's Black Friday (and we mean that term to broadly cover Thanksgiving as well).
Amazon is the kingClearly a shift from bricks-and-mortar retailers to online ones is going to benefit Amazon. The online retailer was also helped by the fact that shoppers were increasingly likely to use mobile phones to make purchases -- about one-third of the nearly $4.5 billion in digital sales was generated by phones. That trend almost certainly helps Amazon because of its one-click purchases and enormous database of registered users with credit cards on file, who can buy very easily.
Amazon was expected to win the season even before it started, but what it actually sold may make the company even stronger in the long run.
The company's biggest seller over the sales holiday was its own Fire 7-inch tablet, according to research from InfoScout, which also showed that the $50 device being sold for $34.99 topped Best Buy'ssales as well. That's great news for the company because every Fire tablet sold creates a new mini-storefront for the company, which will generate app, movie, music, and more sales for years to come.
Wal-Mart and Target look to be strong, tooBothWal-Mart andTarget shifted their Black Friday strategies from focusing on in-store sales to also pushing customers online. That likely helped both chains (neither of which has released sales data yet) minimize the impact of the fact that fewer people are coming out to stores than in previous years.
"We've said this Black Friday would be the most integrated between Walmart stores and Walmart.com -- and we delivered," Walmart Chief Merchandising OfficerSteve Bratspies said in a Black Friday press release. He also noted that the company's investment in its digital offering also helped its retail stores. "More than 25 million customers accessed store maps and the circular through our online and mobile tools for Black Friday," he added.
Target CEOBrian Cornell also released a press releaselauding "record online sales and strong in-store traffic."
Neither company released any real numbers, and nobody would expect them to come out and declare failure, but their statements make sense given changing shopping habits. Both retailers have invested heavily in their websites and apps, which has led to increasing digital sales overall. There is reason to believe that would pay off during the holiday shopping season.
Wal-Mart and Target can't stop Amazon from taking sales, but they have showed they can at least hold on to some of their customers who want to shop digitally.
Wal-Mart's stores may not have been as busy as last year, but they still pulled in crowds. Image source: Wal-Mart.
J.C. Penney makes a markOne surprising Black Friday winner, J.C. Penney, is notable just for making it to the 2015 holiday shopping season. There were many who had predicted it would not survive after its disastrous run under CEO Ron Johnson, which ended in his firing in April 2013.
Under former CEOMike Ullman, who took back the post he had lost to Johnson, the company found stability. Now under Ullman's successor, Marvin Ellison, the company entered Black Friday 2015 being rated as the best retailer for Black Friday deals, according to research from WalletHub.
Offering cheap prices appeared to have paid off for the retailer, at least in the short term, asForbescited many social media pictures of lines at J.C. Penney stores as well as people posting positive reaction to the deals being offered. In some ways, JCP is a winner just for being open, but these findings show some positive signs that it may have turned a corner and found its place in the retail world.
The article Here Are the Early 2015 Black Friday Retail Winners originally appeared on Fool.com.
Daniel Kline has no position in any stocks mentioned. He did actually end up in a Target on Black Friday because he needed acookie sheet.The Motley Fool owns shares of and recommends Amazon.com. The Motley Foolrecommends Adobe Systems. Try any of our Foolish newsletter services free for 30 days. We Fools may not all hold the same opinions, but we all believe that considering a diverse range of insights makes us better investors. The Motley Fool has a disclosure policy.
Copyright 1995 - 2015 The Motley Fool, LLC. All rights reserved. The Motley Fool has a disclosure policy.