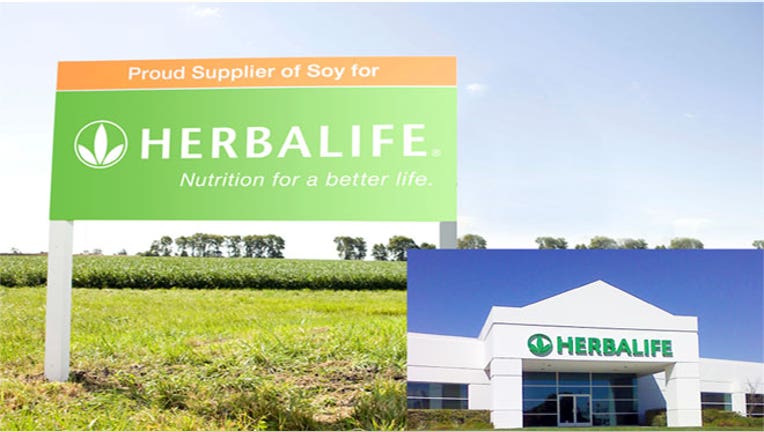 Herbalife (NYSE:HLF), the controversial nutrition company at the center of warring hedge funds, reported fourth-quarter results on Tuesday that exceeded Wall Street's expectations, and raised its 2013 earnings targets.
Shares of Herbalife ticked slightly higher in extended trading on the developments.
Herbalife has been the subject of dramatic stock moves over the past three months, with rival investment managers William Ackman and Carl Icahn making large and conflicting bets about the company's financial prospects and the legitimacy of its business model.
The company said on Tuesday it earned $117.8 million, or $1.05 a share, last quarter, compared with a profit of $105.4 million, or 86 cents a share, a year earlier. Analysts had called for EPS of $1.03.
Revenue jumped 20% to $1.1 billion, compared with the Street's view of $1.054 billion.
"Herbalife continues to deliver record results in sales and profitability as our independent distributors go deeper into existing markets, developing more and more customers using our nutrition products every day," CEO Michael Johnson said in a statement.
In a show of confidence, Herbalife raised its 2013 EPS guidance to $4.45 to $4.65, compared with the Street's view of $4.64. Sales are expected to jump 12% to 14%.
For the current quarter, Herbalife sees EPS of $1.03 to $1.07 on a 15% to 17% rise in sales. Analysts had been calling for EPS of $1.06.
Addressing concerns about its business model, Herbalife said a record number of sales leaders, who are required to re-qualify their leadership status at the end of January, were retained in 2012.
The company said the overall pool of sales leaders jumped 21% year-over-year and it retained 20% more than the year earlier. Overall retention rates "remained fairly constant" at 51.8%.
Herbalife noted that it still has $787.6 million remaining on its existing share repurchase authorization, firepower it can use to pressure short sellers like Ackman.
Herbalife also said its board of directors approved a dividend of 30 cents a share to shareholders of record March 5 that is payable on March 19.
All eyes Wednesday morning will be on Herbalife's conference call, which a source told FOX Business's Charlie Gasparino will be "carefully scripted" and feature Johnson.
Herbalife's stock initially spiked after Icahn, the billionaire activist investor, revealed late Thursday he has scooped up about 14 million shares of the company and hinted at a possible go-private offer.
The Icahn move leaves him with a 12.98% stake in Herbalife and puts further pressure on rival Ackman, who set off the Herbalife frenzy in December by calling the company a pyramid scheme and revealing a massive bearish bet.
Herbalife denied the pyramid scheme allegations and the company's shares have recovered from a steep 80% plunge fueled by the Ackman short.
Shares of Herbalife initially gained more than 1% in after-hours trading on Tuesday but recently were up just 0.13% to $39.79.