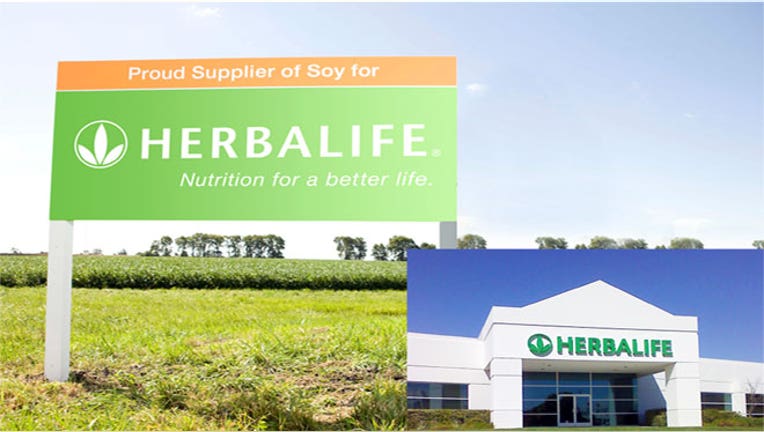 Herbalife (NYSE:HLF) revealed plans during a highly-anticipated conference call on Wednesday to more clearly delineate customers from distributors as the under siege nutrition company continues to fight pyramid scheme charges from short-seller Bill Ackman.
Shares of Herbalife, which has been rocked by massive opposing bets from Ackman and billionaire Carl Icahn, ticked lower following the call and closed off 5%.
Neither hedge fund giant posed a question during the call. In an email to FOX Business' Charlie Gasparino, Ackman said: "Shane Dinneen, our lead analyst on HLF, tried to ask a question and was not permitted on the call. They have yet to answer any of the questions we posted two weeks ago. You should call them to task on that. It was on your show that Des Walsh committed to answer everyone of our questions."
Ackman said Herbalife calls "always go for at least an hour and they let analysts ask the first questions. Shane tried to ask a question and they ended the call. They could have answered if they chose to. They ended the call because they didn't want to answer it."
Herbalife denied that charge, telling Gasparino that Ackman's analyst didn't try to ask a question until the end of the call and the company doesn't take questions from short-sellers anyway.
"This is another attempt by Pershing Square to manipulate the news to support their reckless bet against Herbalife," a spokeswoman from Herbalife said in an email. "Pershing Square has no choice but to continue to misrepresent the facts and attempt to disrupt the marketplace."
Addressing analysts a day after reporting fourth-quarter results that beat estimates, Herbalife said it plans to change compensation disclosures and more clearly delineate how it categorizes distributors and customers.
Concerns about these classifications have prompted some to question the sustainability of the nutrition company's business model.
The new focus on this area is part of an effort to "fix the misconceptions," Des Walsh, Herbalife's president, said during the call. "We know a significant number of distributors just want wholesale price for our products. We want to simplify matters by breaking out that group and identifying them separately."
The matter could draw attention from the Securities and Exchange Commission, which is already investigating Herbalife's business practices.
Following a meeting requested by Herbalife, the company said the SEC requested information about its business and operations.
"The company is and will continue to cooperate with these inquiries," said John DeSimone, Herbalife's chief financial officer. "Other than that, there is nothing to disclose."
Last week Icahn briefly sent Herbalife's shares surging by disclosing a 13% stake in the company and suggesting a potential go-private deal.
Michael Johnson, Herbalife's CEO, said the company has had "short discussions" with Icahn, but said beyond that there is "nothing concrete to report."
"Anyone who is legitimate, we welcome them," Johnson said.
Herbalife also detailed its share buyback activities, saying actual repurchase amounts could "significantly exceed guidance" depending upon circumstances.
The company said it bought back about $50 million in stock in the fourth quarter and then repurchased another $162 million since January 17, contrary to published reports that indicated no buyback activity was occurring.
Herbalife estimates it has $788 million remaining on its $1 billion authorization, potential ammo to squeeze short sellers like Ackman.
Addressing its fight with Ackman, who unveiled a bearish bet in December that set off the stock's ongoing roller coaster ride, Herbalife said it projects $10 million to $20 million in legal and other costs associated with the short seller.
Herbalife said it has hired an executive search firm to recruit a vice president-level head of research. Walsh said a new research department can help clear up "some of the misconceptions that exist out there."
Shares of Herbalife lost 4.93% to $37.78, though they remain up about 60% since tumbling to $24.24 after the Ackman fight began in December.