Helen DeVos, who backed health, education causes, dies at 90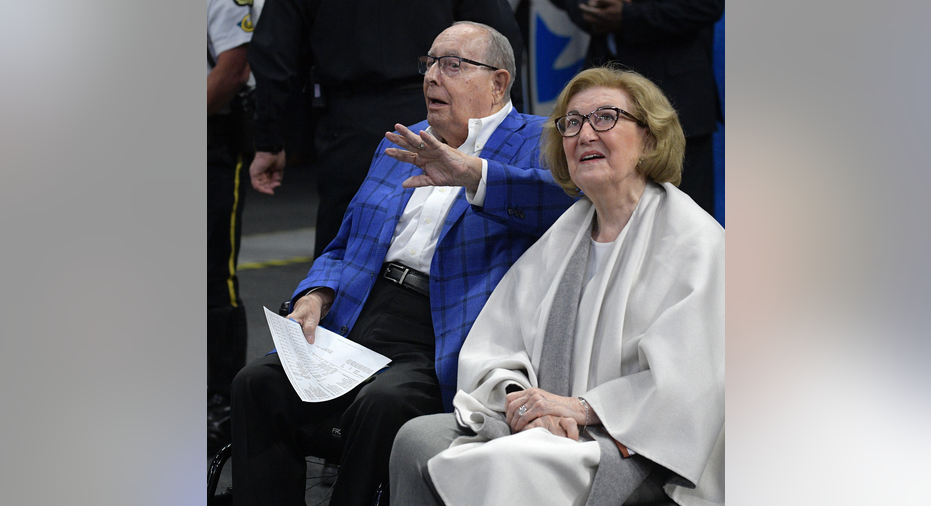 Helen J. DeVos, a philanthropist from western Michigan known for her support of children's health, Christian education and the arts, has died at age 90, her family said Thursday.
DeVos died Wednesday of complications from a stroke following a recent diagnosis of myeloid leukemia, her family said. She was the wife of Rich DeVos, who co-founded direct-sales company Amway and owns the Orlando Magic, and was the mother-in-law of U.S. Education Secretary Betsy DeVos.
"We will never forget her unfailing love, strength and devotion that were truly the heart of our family," Rich DeVos and other family members said in a statement.
Helen DeVos was born in Grand Rapids, where a children's hospital is named after her. She married Rich DeVos in 1953 and volunteered her time and leadership — as well the support of the Richard and Helen DeVos Foundation — to an array of causes, including Christian churches and ministries.
"Her steadfast commitment to helping others can be seen every day in many ways, but particularly as families are cared for during some of their most challenging times at the Helen DeVos Children's Hospital," Michigan Gov. Rick Snyder said in a statement.
Helen DeVos and her husband supported Grand Rapids Christian schools, including the Richard and Helen DeVos Center for Arts and Worship at Grand Rapids Christian High School, and numerous colleges and universities. The DeVos family also is known as big political donors, including to Republican presidential candidates.
Helen DeVos was a prominent supporter of the Grand Rapids Symphony and was a board member and officer from 1971 to 1990, when she was appointed as an honorary member. She and her husband provided the funding to help the Grand Rapids Symphony make its first commercial recording of works commissioned by the symphony.
Helen DeVos died in the Grand Rapids-area community of Ada Township, an Amway spokeswoman said in an email.
The memorial website helendevos.com says public services will be held at Amway Grand Plaza Hotel in downtown Grand Rapids. The visitation is scheduled for Monday from 2 to 8 p.m. and a celebration of life event will be the next day from 3:30 to 6:30 p.m.
A private service also will be held Tuesday.