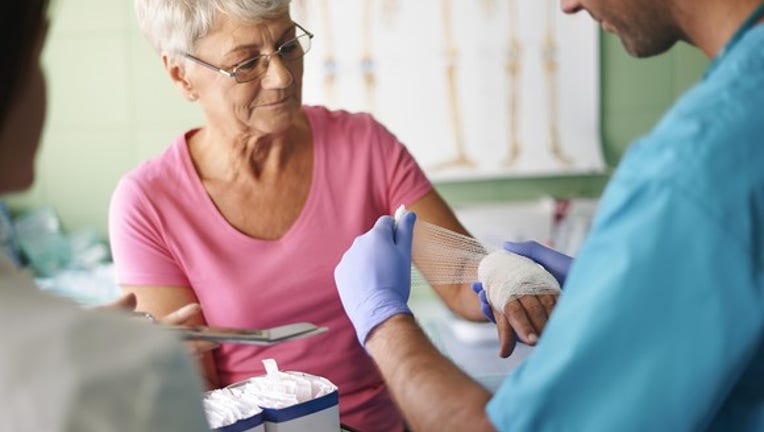 Healthcare real estate investment trust HCP, Inc. (NYSE: HCP) just announced a solid first quarter, with good earnings and revenue growth. In addition, HCP's post-spinoff plans seem to be on track, as the company made significant progress toward its year-end balance sheet goals, and reaffirmed its full-year guidance. Here's a rundown of the results, and what to watch for the rest of the year.
A strong start to 2017
For the first quarter, HCP reported adjusted funds from operations (FFO, the REIT equivalent of "earnings") of $0.51 per share, just ahead of analysts' expectations of $0.48. This was about 6% higher than comparable (excluding the spun-off assets) FFO a year ago.
Image source: Getty Images.
The company also stated that it is still on track to meet its core FFO guidance range of $1.89-$1.95 for 2017. Given the better-than-expected first-quarter figure, I wouldn't be surprised to see this range adjusted slightly upward in the coming quarters.
Excellent progress toward balance-sheet targets
Perhaps the most significant news in HCP's first-quarter report was the completion of planned asset dispositions, which are a crucial step in reaching the ambitious balance sheet targets HCP set for itself in the wake of the QCP spinoff. If you're not familiar with these, or need to refresh your memory, here's what HCP aims to achieve:
| Metric | End of 2016 | 2017 Target | 2019 Target |
| --- | --- | --- | --- |
| Net debt/EBITDA | 6.2 | Low to mid-6 | 5.5-6.0 |
| Leverage | 48.6% | 43%-44% | Less than 40% |
| Fixed-charge coverage | 3.6x | 3.6x-3.8x | More than 3.5x |
| Top 3 tenant concentration | 44% | 35%-40% | 30%-35% |
Data source: HCP Investor Presentation.
During the first quarter, HCP completed the following asset dispositions:
The sale of 64 triple-net assets leased to Brookdale Senior Living for $1.125 billion. This not only raised capital, but decreased HCP's reliance on Brookdale as a tenant. If you notice, the only two areas in the chart that need significant improvement are the leverage ratio and tenant concentration.
The sale of HCP's 40% interest in a joint venture for $480 million.
The sale of $136 million of Four Seasons debt investments.
$121 million in additional dispositions during the quarter, and another $27 million sale completed after the end of the quarter.
In addition, HCP continues to market 25 additional Brookdale-leased properties for sale, and expects to sell them by the end of the year.
The overall result of these transactions was the repayment of $1.1 billion in debt, which puts HCP on track to achieve 43%-44% in financial leverage by the end of 2017. In addition, the company has no major debt maturities for the next two years.
What to watch for the rest of the year
HCP is making excellent progress toward its goal of becoming a rock-solid REIT full of private-pay healthcare assets with one of the strongest balance sheets in the business.
So, for the rest of the year, aside from keeping track of whether HCP continues to show solid FFO growth or not, keep the balance-sheet goals in the table in mind. Continued progress toward these goals is perhaps the top thing to watch for the rest of 2017.
Also, since HCP had to cut its dividend for the first time in more than 25 years upon the spin-off of QCP, shareholders will likely be anxious to see if dividend increases resume this year. Any announcement of a dividend increase (likely to come toward the end of the year) would undoubtedly cause investors to breathe a sigh of relief.
10 stocks we like better than HCPWhen investing geniuses David and Tom Gardner have a stock tip, it can pay to listen. After all, the newsletter they have run for over a decade, Motley Fool Stock Advisor, has tripled the market.*
David and Tom just revealed what they believe are the 10 best stocks for investors to buy right now... and HCP wasn't one of them! That's right -- they think these 10 stocks are even better buys.
Click here to learn about these picks!
*Stock Advisor returns as of May 1, 2017
Matthew Frankel owns shares of HCP and Quality Care Properties, Inc. The Motley Fool has no position in any of the stocks mentioned. The Motley Fool has a disclosure policy.