Hasbro's Earnings Delight on Disney Partnerships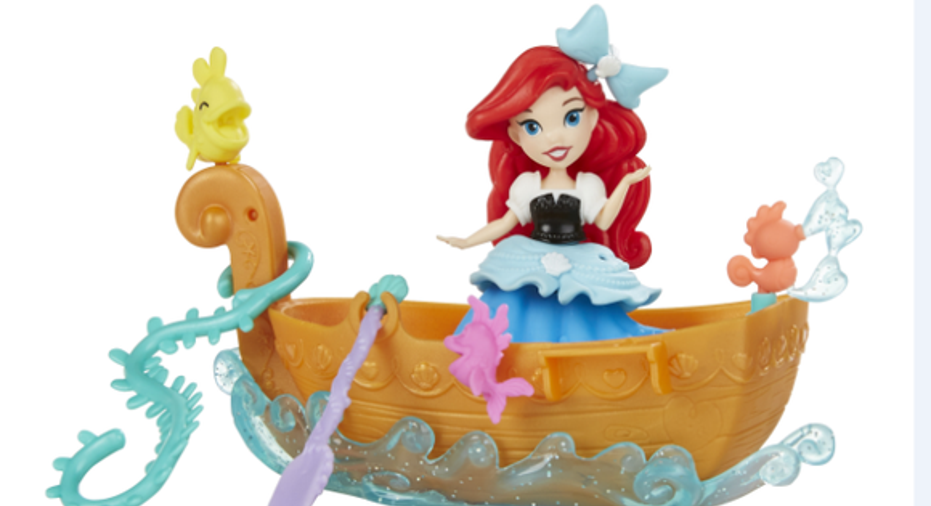 Toy makerHasbro (NASDAQ: HAS) reported strong fourth-quarter and full-year 2016 results before the market opened on Monday. Quarterly revenue increased 11.2%, while adjusted earnings per share jumped 18% from the year-ago period. For the year, revenue grew 12.8% and adjusted EPS surged 27.1%. Growth drivers in the quarter included partner brands Disney(NYSE: DIS)Princess and DisneyFrozen, andinternal brand Nerf.
The market was feeling playful upon Hasbro's earnings release and sent the stock soaring; it closed Monday up 14.1%. The stock had returned 22% in 2017 through Monday, crushing the market's 2.6% return and rival Mattel's negative 5.9% return.
Hasbro's key quarterly numbers
Data source: Hasbro. YOY = year over year.
Absent foreign exchange, revenue was up 12% in the quarter. Adjusted net income and EPS exclude a pre-tax $32.9 million, or $0.12-per-share, non-cash goodwill impairment charge related to Hasbro's Backflip Studios.
Full-year 2016 revenue rose 12.8% to $5.02 billion, and adjusted EPS soared 27.1% to $4.46. EPS on the basis of generally accepted accounting principles (GAAP) increased 21.6% to $4.34. Revenue was up 14% in constant currency.
Long-term investors shouldn't place too much weight on analysts' estimates since Wall Street is focused on the short term. However, expectations can be helpful to know since they often help explain market reactions. For the quarter, analysts were expecting adjusted earnings of $1.27 per share on revenue of $1.50 billion, so Hasbro comfortably beat on revenue and killed it on earnings.
Girls and games drive category results
The "G" team drove results again this quarter, with sales of girls toys rocketing 52% and games jumping 11%.
Image source: Hasbro.
Girls results in the quarter and year were driven by robust performance by Disney Princess and Disney Frozen, and DreamWorks' Trolls.In 2016, Hasbro was awarded the global rights to produce fashion and small dolls based on the characters in the phenomenally successful Frozen movie and other Disney princesses; Mattel previously held this lucrative license. For the year, internal brand Baby Alive grew "significantly," Hasbro CEO Brian Goldner said on the earnings call.
Disney Princess Ariel. Image source: Hasbro.
Growth in games in the quarter and year was seen across formats. Growth for the year was driven by Pie Face -- a new game for Hasbro in 2015 -- and the eight-straight-year of growth in Magic: The Gathering.
Boys toys results for the quarter were actually quite solid. They were down slightly from the year-ago period because of the monstrously tough Star Wars' comparable. Disney's Rogue One: A Star Wars Story, which drove holiday sales of Star Wars toys last year, has been an extremely successful movie. However, as widely expected, it's not been the phenomenon that was 2015's Star Wars:The Force Awakens.
Revenue from Hasbro's franchise brands -- its key internal brands -- increased 2.5% year over year in the quarter, with growth in Nerf, Transformers, and Monopoly. For the year, year-over-year revenue grew for Nerf, Play-Doh, and Magic: The Gathering. Revenue from partner brands jumped 15.5% in the quarter, driven by Disney Princess and Disney Frozen, DreamWorks' Trolls, and Yo-kaiWatch (a role-playing video game). Growth in these same brands drove full-year results.
Hasbro performed well in the quarter across its three segments, with revenue in U.S. and Canada growing 10%, international up 10%, and entertainment and licensing jumping 36% year over year. (The latter is a small segment, accounting for just over 5% of full-year 2016 revenue, so quarterly results tend to be very lumpy.) Within international, revenue in emerging markets grew 15%, or 13% in constant currency.
Dividend hike
Thanks to its powerful earnings results in 2016, Hasbro announced that it's increasing its quarterly dividend 12% to $0.57 per share.The dividend will be payable on May 15 to shareholders of record at the close of business on May 1.
Looking ahead
Hasbro turned in a great quarter, which capped off an even better year. 2016 was a record-breaking year for Hasbro for both revenue -- which surpassed $5 billion for the first time ever -- and earnings.
The company has numerous catalysts for growth on the horizon in 2017. In the first quarter, toy sales should get a solid boost from Disney's release of its live-action movieBeauty and the Beast,which opens domestically on March 17. The second quarter includes the openings of Disney'sGuardians of the Galaxy Vol. 2 in May and a film featuring Hasbro's Transformers brand, Transformers: The Last Knight,in June. In the third quarter, Disney's Spider-Man: Homecoming promises to heat up the silver screen -- and Hasbro's toy sales. The fourth quarter includes the scheduled release of Disney's Thor: Ragnarok, My Little Pony: The Movie, and Disney's Star Wars: The Last Jedi.
10 stocks we like better than HasbroWhen investing geniuses David and Tom Gardner have a stock tip, it can pay to listen. After all, the newsletter they have run for over a decade, Motley Fool Stock Advisor, has tripled the market.*
David and Tom just revealed what they believe are the 10 best stocks for investors to buy right now... and Hasbro wasn't one of them! That's right -- they think these 10 stocks are even better buys.
Click here to learn about these picks!
*Stock Advisor returns as of February 6, 2017
Beth McKenna has no position in any stocks mentioned. The Motley Fool owns shares of and recommends Hasbro and Walt Disney. The Motley Fool has a disclosure policy.