Hasbro Stock Q1 Earnings Show It's Lucrative to Be a Favored Disney Partner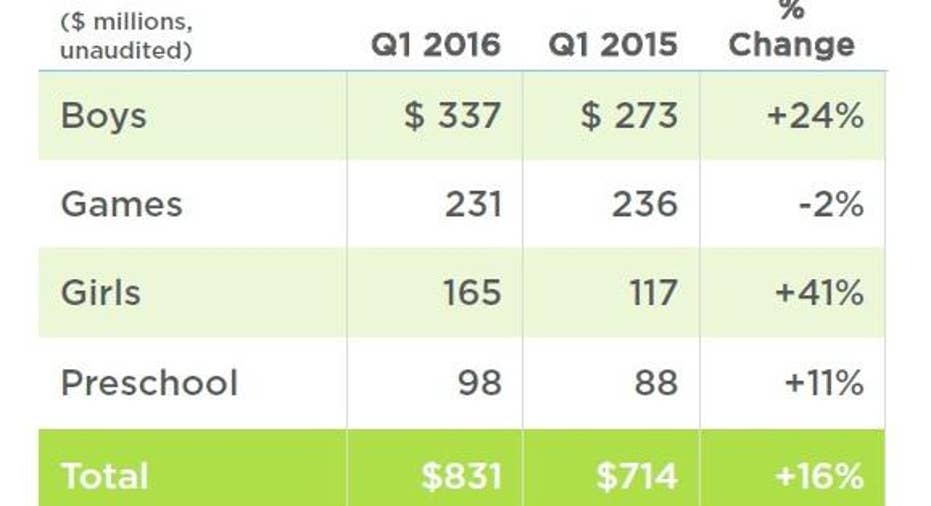 Image source: Hasbro.
Hasbroreported first-quarter 2016 earnings before the market opened on Monday. On the heels of lucrative new licenses with Disney that kicked in on Jan. 1, the toy and game maker posted record revenue, operating profit, and earnings growth.
Shares of Hasbro jumped 5.8% on Monday to close at an all-time high. The stock has returned 35.6%, including dividends, over the one-year period, crushing the S&P 500's return of 0.6%, and edging out rival Mattel's 34.7% return.
Hasbro's key quarterly numbers
| Metric | Q1 2016 | Growth (YoY) |
| --- | --- | --- |
| Revenue | $831.2 million | 16% |
| Operating Profit | $85.9 million | 59% |
| Net Income | $48.8 million | 83% |
| Earnings per Share | $0.38 | 81% |
Data source: Hasbro.
Hasbro generated 41.5% of its first-quarter revenue in international markets. So, foreign exchange currency headwinds remain a considerable factor because of the continued relative strength of the U.S. dollar. Excluding currency effects, revenue in the quarter jumped 20%.
Long-term investors shouldn't pay too much heed to analysts' estimates, as Wall Street is very short-term-focused. That said, it's worth noting that Hasbro's quarterly revenue soundly beat analysts' expectations of $777.1 million, and its EPS of $0.38 crushed the consensus of $0.24.
Hello, Disney Princess and Frozen revenue sources!Hasbro's results got a boost from sales of small dolls based on Disney Princess characters and Disney's immensely popularFrozen movie, which the company said got off to a strong start. The global rights to make these dolls transitioned from Mattel to Hasbro on Jan. 1. Mattel's gross sales for this line in 2015 were about $450 million, which represents 10% of Hasbro's 2015 revenue.
Hasbro's earnings release called out these two new revenue sources, along with Star Wars,as growth drivers in the first quarter.
Image source: Disney.
Hasbro's license from Disney to produce toys based on Star Wars: The Force Awakens naturally wasn't as golden in the first quarter as it was in the big holiday quarter, when the movie was released. These toys, however, continue to sell well because of the immense popularity of the film, which has a worldwide box office gross of more than $2 billion.
Girls toys lead category results for a changeThanks to sales of Disney Princess andFrozendolls, the girls category led results at Hasbro. This category grew a whopping 41% from the first quarter of 2015, or 48% on a constant currency basis. Girls toys had long been the category underperformer.
Image source: Hasbro.
Revenue growth in boys toys was driven by gains in franchise brand Nerf and partner brand Star Wars, as well as the addition of Yo-kai Watch. Nerf continued its string of double-digit year-over-year revenue increases. The boys category increased 28% on a constant currency basis.
Preschool results continued to be driven by franchise brand Play-Doh, which posted a double-digit year-over-year revenue jump. This category grew 17% absent the impact of foreign exchange.
Games benefited from continued strong sales of Pie Face, a new game for Hasbro in 2015. The company also experienced growth in its digital gaming licensing endeavors, including putting Yahtzee on mobile devices, driven by its mobile gaming license with Scopely. Declines in other brands, however, more than offset the winners. The games category was flat absent the impact of foreign exchange.
U.S. and Canada continues to lead segment results
Image source: Hasbro.
Strong sales across franchise and partner brands drove results in the U.S. and Canada and international segments. Absent the negative impact of foreign exchange, international segment revenue increased a robust 22% from the previous year's period. Entertainment and licensing's year-over-year revenue decreased as expected because of a toughcomparison that included a multiyear digital streaming deal recorded in the first quarter of 2015.
Revenue for franchise brands increased 1%, or 4% on a constant currency basis, driven by Nerf and Play-Doh, and was negatively affected by the entertainment and licensing segment. Growth was strong across partner brands, withStar Wars,Disney Princess, and DisneyFrozenprimarily driving results.
Disneypartnershipparty is just warming upHasbro posted yet another standout quarter. The long-term game remains firmly in its court because of its broad portfolio of perennially popular brands, which it continues to successfully leverage, and its increasingly strong ties with Disney.
Hasbro's Disney partnership party is just warming up. The company only just began selling Disney Princess and Frozen dolls. Additionally, there are four moreStar Warsfilms in the pipeline for the next few years, two to complete the trilogy that began withThe Force Awakensand two standalone films.
The article Hasbro Stock Q1 Earnings Show It's Lucrative to Be a Favored Disney Partner originally appeared on Fool.com.
Beth McKenna has no position in any stocks mentioned. The Motley Fool owns shares of and recommends Hasbro and Walt Disney. Try any of our Foolish newsletter services free for 30 days. We Fools may not all hold the same opinions, but we all believe that considering a diverse range of insights makes us better investors. The Motley Fool has a disclosure policy.
Copyright 1995 - 2016 The Motley Fool, LLC. All rights reserved. The Motley Fool has a disclosure policy.