Hasbro or Mattel: Who Is Doing Toys Best?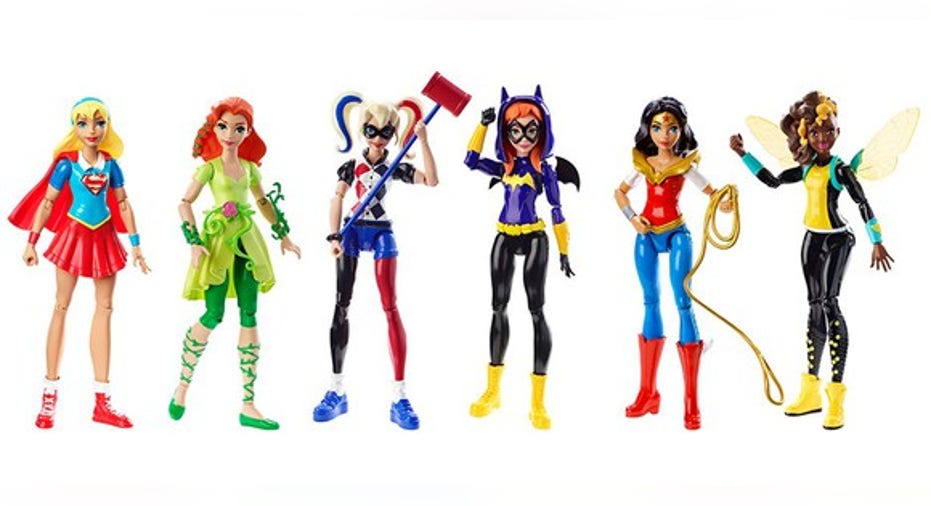 Adding insult to injury was the big bounce Hasbro received in its girls segment from the inclusion of Disney Frozen dolls, while Mattel saw continued declines with Barbie and American Girl. Image source: Hasbro.
It hardly seems a fair question. Even a bird's-eye view suggests Hasbro is the better toy company over Mattel . In its latest quarter, Hasbro reported a triple play of record revenue, operating profit, and earnings growth while its rival saw sales fall, adjusted operating earnings worsen, and net losses deteriorate.
And when you get up close, too, things are decidedly in Hasbro's favor. Star Wars continues to help boost Hasbro's boys segment, even if not to the same extent it did in the fourth quarter. The perennial kids' favorite Play-Doh also helped boost its preschool division, while the Frozen and Disney Princess franchises whichDisney stripped from Mattel and gave to Hasbro helped make its girls segment the best performer this period.
Yeah, remember that whole kerfuffle over Hasbro dissing girls because it withheld a Rey action figure from the market? Well, Disney likely just helped Hasbro solve its "girl problem," as the Frozen characters Anna and Elsa sparked a 41% jump in division revenues. It likely also quashed the last remaining possibility that Hasbro would buy Mattel to help plug the big hole it's had in its girls segment.
If there was one thing Mattel was thought to excel at, it was the power of its girl-centric toys. Barbie, American Girls, and Monster High routinely rank among the most-wanted toys for Christmas among girls. And despite Barbie sales being down 10% for all of 2015, in the fourth quarter that included the Christmas holiday, Mattel reported sales jumped 15%, also sparking speculation the doll was on the comeback trail.
Mattel has largely been seen as the stronger player in the girls market where Hasbro was the leader with boys. If Hasbro bought Mattel, it would have all its bases covered.
Yet what the switch of the Frozen and Princess franchises shows is that it may have been Disney's product line that was keeping Mattel's business afloat. Although Anna and Elsa were believed to cannibalize Barbie and American Girl sales, Mattel didn't see any bounce in those properties. Barbie sales were down 3% in the first quarter (flat in constant currency terms) and the American Girl series is still losing money.
But Hasbro also has deep claws in the movie business, beyond just the Star Wars franchise. Its partnership with Disney's Marvel characters and the Transformers films gives it a huge source of additional revenue whenever one of the movies hits the big screen.
Mattel has its own gaping hole that it's hoping to fill with its partnership with DC Comics, and it is counting onBatman v. Superman: Dawn of Justice, whichwas released in late March, to build its portfolio. According to BoxOfficeMojo.com, the movie earned $327 million in domestic receipts since its release (and $865 million worldwide), but it generated only a 27% rating on RottenTomatoes.com, suggesting its legs might be limited.
But there is a whole slate of movies coming out in the near future, including Suicide Squad in August; Wonder Woman in June 2017; Justice League in November 2017; The Flash and Aquaman in 2018; and Shazam and a Justice League sequel in 2019.
Mattel is hoping its line of female superhero action figures based on DC Comics characters will give its toy business a boost and make inroads on Hasbro, which has had a few missteps when it's come to similar toys. Image source: Target.
Mattel has also released a line of DC Comics female action figures in limited quantities, and it says it's encouraged by the reception it's gotten so far. Itis anticipating a broader retail rollout come June.
It's clear Mattel has lagged behind Hasbro in the blockbuster movie department, but it's possible it may soon make up for lost time. There are more than a few movies on the horizon that have the potential to do really well, though as Hasbro discovered with Battleship, it really depends on the script.
Yet in all the things that matter, Hasbro remains the premier toy company. It had a few stumbles, but none that hurt it for very long, and it has such a well-rounded portfolio that when the girls segment slips, boys picks up the pace; when games are off, preschool takes its place. And yet at around 19 times earnings estimates for 2016 and two times sales, the market values both stocks fairly similarly. Mattel doesn't necessarily look overvalued at that price, but itdoesmean Hasbro looks attractive. So not only is Hasbro doing toys better than Mattel, it may be the better stock for investors, too.
The article Hasbro or Mattel: Who Is Doing Toys Best? originally appeared on Fool.com.
Rich Duprey has no position in any stocks mentioned. The Motley Fool owns shares of and recommends Hasbro and Walt Disney. Try any of our Foolish newsletter services free for 30 days. We Fools may not all hold the same opinions, but we all believe that considering a diverse range of insights makes us better investors. The Motley Fool has a disclosure policy.
Copyright 1995 - 2016 The Motley Fool, LLC. All rights reserved. The Motley Fool has a disclosure policy.