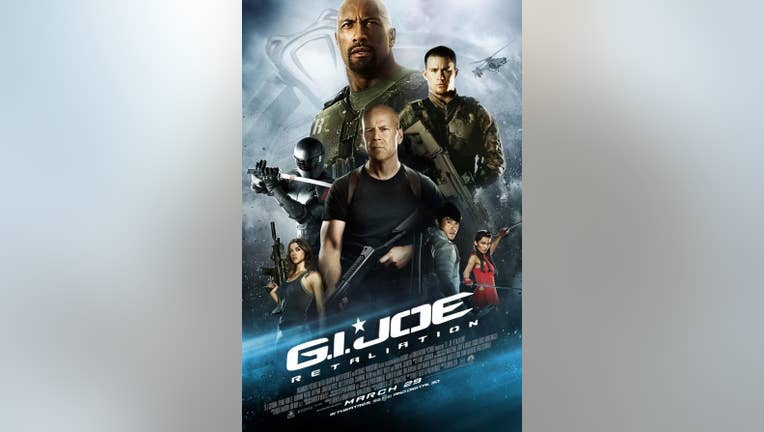 Hasbro has plans to make movie mashups featuring its G.I. Joe characters interacting with completely unrelated toy-based characters as it pursues a cross-universe strategy similar to Marvel. Image: Paramount Pictures.
Sometimes, no matter how bad a screenplay, a movie will still make its studios money. Take Battleship, the generally horrible Universal flick they slapped a Hasbro game title onto to sell more toys.
Even though the aliens-vs.-Navy epic earned a Rotten Tomatoes score of 34% -- not as bad as, say, Battlefield Earth (3%), but no Lego Movie, either (96%) -- it still earned the Comcast studio and Hasbro more than $300 million in worldwide box office receipts, paying them back handsomely for their estimated $209 million production budget investment.
Clearing nearly $100 million only encourages studios to produce more dreck, which is apparently what Hasbro is about to do.
All the toys in the toy boxThe toymaker is embarking on a plan to create a cohesive universe for a series of properties, much like Marvel has done with its comic book Avengers superheroes and Universal is planning to do with its classic monster characters. Just as you can find Captain America moving in and out of an Iron Man movie, or perhaps The Mummy existing in the same world as The Wolfman, The Hollywood Reporter says Hasbro, together with Viacom's Paramount Pictures, will create "an interconnected, cross-property onscreen universe" from five of the toymaker's brands. The deal was announced Dec. 15.
The problem is there's no uniformity as exists in the Marvel comics or even the monsters from the golden age of monster movies. It's simply a mashup of whatever toy lines Hasbro has lying around in its toy box. That's why moviegoers could end up seeing characters from its popular G.I. Joe franchise interacting with Micronauts, and Visionairies being interspersed among M.A.S.K. and ROM characters. While they're at it, why not let them ride in on a My Little Pony or hide out in a Littlest Pet Shop for good measure? Maybe they can shoot villains with Nerf guns.
No blockbuster box officeWhen Hasbro first created its Hasbro movie studio, it teamed up with Universal for a multi-movie deal that would see board games and toys make it to the big screen. It was described in a joint statement as a "six-year partnership" that would produce "at least four feature films" based on "the greatest brands in the world." The properties in that deal -- which came in the wake of the success of 2007's Transformers, which earned $710 million at the box office -- included Monopoly, Candy Land, Clue, Ouija, Battleship, Magic: The Gathering, and Stretch Armstrong.
But Stretch Armstrong isn't the Transformers, and while the doll was at least some sort of action figure, Candy Land, Clue, and Monopoly are not.
When Battleship bombed domestically, Universal seemingly got cold feet and quickly shed every single movie it agreed to develop that was based on a toy or board game. They either died off or were spun off to other studios (Candy Land, for example, migrated to Sony for a number of years before ending up atWarner Bros.).
But the allure and potential profits of a cross-licensed universe is just too great for Paramount to pass up.
What can happen when done rightWhen Disney paid $4 billion for Marvel in 2009, its claim to fame was just two movie successes, The Incredible Hulk and Iron Man. Since then, some 17 movies featuring Marvel characters have been made and they have grossed over $11.5 billion at the box office.
Marvel is the gold standard for the connected universe, and though every studio seems to be trying to emulate its success, the Hasbro-Paramount picture deal looks more like every derivative movie that's followed on the heels of some original box office success: a shallow shell simply riding on coattails.
After The Blair Witch Project blew up, we've been inundated ever since with shaky-cam found-footage films that rarely rise to the occasion. Even so, the six movies comprising the Paranormal Activity franchise have grossed nearly $900 million worldwide, even as their collective production budgets are below $30 million.
So we may see G.I. Joe jumping onto Chutes and Ladders, and it may be terrible, but that doesn't mean it won't feed the coffers of Hasbro or Paramount Pictures like a Hungry, Hungry Hippo.
The article Hasbro and Paramount to Create a Movie Mashup Mess originally appeared on Fool.com.
Rich Duprey has no position in any stocks mentioned. The Motley Fool owns shares of and recommends Hasbro and Walt Disney. Try any of our Foolish newsletter services free for 30 days. We Fools may not all hold the same opinions, but we all believe that considering a diverse range of insights makes us better investors. The Motley Fool has a disclosure policy.
Copyright 1995 - 2015 The Motley Fool, LLC. All rights reserved. The Motley Fool has a disclosure policy.