Has the FCC Found a Way to End Broadband Billing Surprises?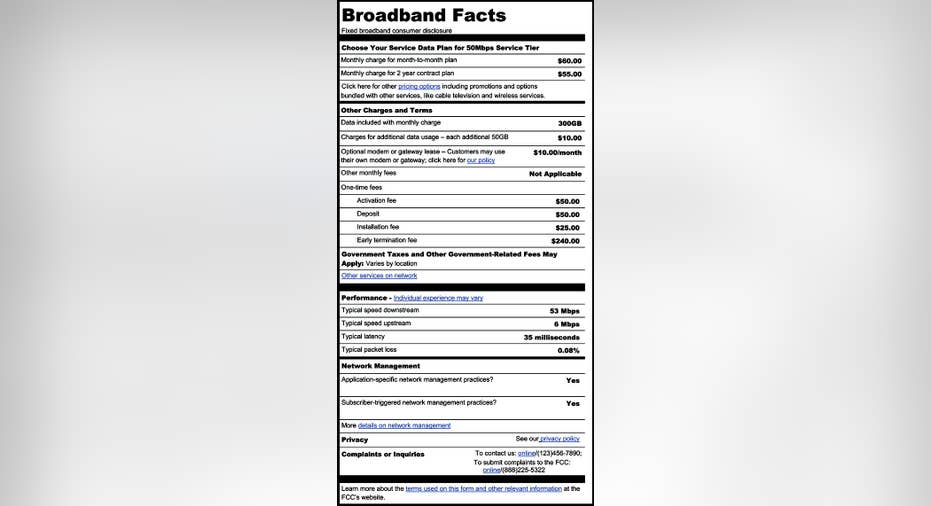 Many broadband customers have experienced the frustration of opening their bills to find that the price they expected to pay is not the price they have been charged.
That's because companies including Comcast , Time Warner Cable , and Charter Communications have a variety of ways to pump up bills that are legal, but can be unexpected. For example, both Comcast and Time Warner Cable charge monthly rental fees for cable modems to customers, some of whom don't know that they can buy their own.
Charter includes a cable modem but charges a onetime activation fee, which might be viewed as a pretty minor billing transgression compared to say the data cap charges Comcast adds in some markets. This can occur when users exceed a threshold that they may not even know is part of their plan, but it can lead to a bill being more than the advertised price.
Understandably this is a pain point for consumers. Imagine going to the mall, picking up a pair of $99 sneakers only to be hit at the register with a shoelace conveyance fee and then getting a bill after-the-fact because you ran too much? That's a silly extreme, but the point is that it's reasonable for people to want to understand what their Internet service provider (ISP) actually plans to charge. The Federal Communications Commission (FCC) has a new plan to make that happen.
Why is this a problem?The leading ISPs learned with the cable side of their business that consumers tend to focus on the advertised price. In pay-television this leads to companies (including Comcast, TWC, and Charter) running ads for packages at easy-to-swallow numbers like $39.99 or $54.49. Customers who sign up for that offer might be surprised when they learn that things like sports fees, broadcast network fees, box rentals, DVR charges, and other non-optional tack-on charges get added to the monthly bill.
For some reason this practice has not caused the public to revolt against their cable providers, all of which, to some extent, have carried over these misleading billing policies to their broadband business (some worse than others). The FCC wants to stop this, not by getting rid of those charges, but by letting people know what they are in for.
What is the FCC doing?The agency has released a new voluntary label that makes it easy for consumers to understand what their actual bill will look like. The labels provide "easy-to-understand information about price and performance," according to an FCCpress release.They were devised by the FCC's Consumer Advisory Committee, which is comprised of consumer groups and industry representatives. FCC Chairman Tom Wheeler was quoted in the press release as saying:
The labels (pictured below), which look a lot like the ones found on food, show information about price, including any additional charges or equipment fees, data allowances, and expected performance.
Image source: FCC.
According to the FCC, the agency receives over 2,000 complaints annually about surprise fees associated with consumers' Internet service bills. "The actual prices paid for broadband-related services can be as much as 40% greater than what is advertised after taxes and fees are added to a bill," according to the commission. "Consumers deserve to know before they owe, with clear, upfront information about the prices, risks, and terms of the deal," said Consumer Financial Protection Bureau Director Richard Cordray in the press release.
Will the industry sign on?Right now, these labels are voluntary and even though the industry had a hand in creating them, getting companies to actually use them may be a different story.
Transparency has never been a friend of the cable industry and, by extension, the broadband industry. These labels would make it much easier for consumers to evaluate what they are buying. Ultimately it would make it hard for cable companies to obscure their actual prices, but it's hard to see the industry embracing a change that may hurt their bottom line.
At least on the surface, the industry appears on board. The National Cable & Telecommunications Association trade association (a group which rarely sides with the FCC) said in a statement that"cable Internet providers are committed to providing consumers with accessible and relevant information about broadband services. We appreciate this contribution by the Commission to offer consumers that same information in a format they are familiar with."
That's not quite a yes, but it's better than expected. This is probably just a first step in a longer fight, but the FCC deserves a lot of credit for putting this issue on the table.
The article Has the FCC Found a Way to End Broadband Billing Surprises? originally appeared on Fool.com.
Daniel Kline has no position in any stocks mentioned. The Motley Fool has no position in any of the stocks mentioned. Try any of our Foolish newsletter services free for 30 days. We Fools may not all hold the same opinions, but we all believe that considering a diverse range of insights makes us better investors. The Motley Fool has a disclosure policy.
Copyright 1995 - 2016 The Motley Fool, LLC. All rights reserved. The Motley Fool has a disclosure policy.