Has the Biggest Risk to Established Las Vegas Casinos Hit a Glitch?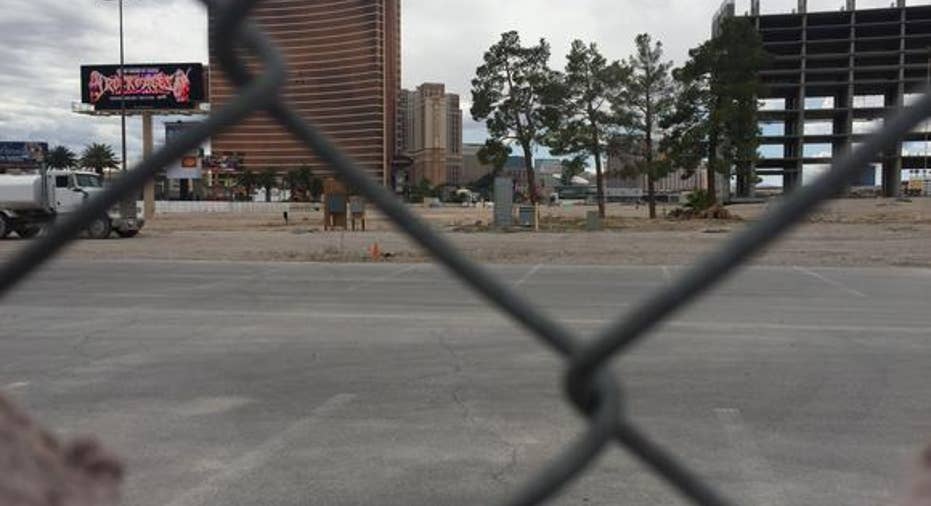 Resorts World Las Vegas (artist rendering shown here) could be a major threat to other area resorts -- if it ever opens. Image source: rwlasvegas.com
New casinos, resorts, and arenas have been popping up along the Las Vegas Strip recently, or soon will be, built by established companies such as MGM Resorts International and Wynn Resorts . For instance, MGM's major T-Mobile Arena project opened in early April, while Wynn announced a new project expansion on its property, adding new convention space, hotel rooms, and more.
But for all of this quick growth and new buildings, one enormous lot on the north end of the Strip has sat ominously empty for nearly a decade. Boyd Gaming Corp. originally bought the property, though poorly timed with the financial issues of 2008, the company was unable to follow through with construction plans. In 2013, Boyd sold it to Malaysian gambling company Genting, theoperator of Resorts World resorts in Malaysia, Singapore, New York, and the Philippines, which is seeking to expand elsewhere, including with a massive new resort on this property in Las Vegas.
This could be the biggest risk in years to established companies such as Wynn Resorts and MGM, as this Resorts World property is directly across the Strip from the Wynn Resort and next to MGM's Mirage. Yet the lot continues to sit idle, with very little news coming from Genting.
Resorts World: What it could beThe 88-acre property is the planned home of Resorts World Las Vegas -- a Chinese-themed resort that will include a casino, convention center, and 3,500 rooms in multiple hotels and personal villas. Other amenities the company has promoted during planning stages include 45 different stores and restaurants, an observation deck to rival that of the Stratosphere, a giant exotic aquarium and possibly even live pandas, a terra-cotta warrior exhibit, a scaled-down Great Wall replica, and much more.
Artist rendering of the planned Resorts World Las Vegas. Source: Genting.
And still ... silenceAfter many changes and delays, the Resorts World project finally got underway in mid-2015, and reports say that in January, Las Vegas officials fully approved Genting's plans to proceed as the company laid them out. If everything goes according to those plans, phase 1 of this resort could be open sometime in 2018.
But the company has been eerily silent, with no recent news or website postings since May 2015's post about the groundbreaking. The Resorts World Las Vegas Facebook page has only 1,500 likes and hasn't been updated in six months. I tried contacting Resorts World as well as the contracted construction company, to no avail.
So, I drove down to check out the site myself. What I found looked like a deserted lot without a single worker. The building skeleton on the right in the photo below is an original structure built by Boyd that Genting plans to use in its development, but there don't seem to be any additions. The only changes since Genting bought the land seems to be a partially completed parking garage near the back of the lot.
Photo taken by the authorfrom outside the Resorts World Las Vegas lot.
Why other resorts should be watching closelyFor Wynn, having such a large new competitor right across the Strip could push down demand at the Wynn and Encore properties. Wynn has just the two properties in Las Vegas -- the Wynn Resort and connected Encore -- which together provide 4,748 rooms. A supply of an extra 3,500 hotel rooms could push down occupancy and average rates.
MGM currently dominates the Strip in terms of number of properties, with 12 major properties there. However, MGM is mostly betting on the south end of the Strip, where its new T-Mobile Arena just opened and it continues to update properties such as Mandalay Bay. MGM does have properties on the north end as well, such as the Mirage, but if Resorts World successfully pulls traffic and interest further north on the Strip, that could hurt MGM's mass-market appeal in the south.
Of course, there's also the optimistic view that such a new major development will draw in more visitors to Las Vegas and help to increase total numbers, which could help all of the resorts. But for such a competitive 4-mile stretch of land, all new entrants are something to watch closely.
While we don't know the current state of the project, Genting is still seemingly pursuing the necessary legalities with the City of Las Vegas for the project to move forward. Until we have more reason to think this current silence is more than just temporary before the first major construction starts, we should still expect that it will eventually come. For now, just keep watching the progress.
The article Has the Biggest Risk to Established Las Vegas Casinos Hit a Glitch? originally appeared on Fool.com.
Bradley Seth McNew has no position in any stocks mentioned. The Motley Fool owns shares of Wynn Resorts, Limited. The Motley Fool is short Caesars Entertainment. Try any of our Foolish newsletter services free for 30 days. We Fools may not all hold the same opinions, but we all believe that considering a diverse range of insights makes us better investors. The Motley Fool has a disclosure policy.
Copyright 1995 - 2016 The Motley Fool, LLC. All rights reserved. The Motley Fool has a disclosure policy.