Has Microsoft Finally Solved Windows' App Problem?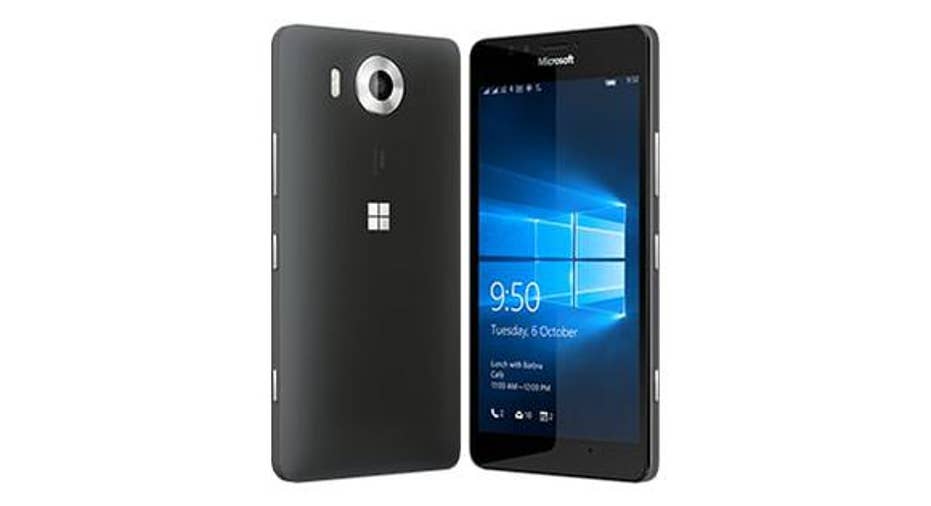 Microsoft came late to the smartphone and tablet party.
While Apple was building an audience for iPhones and iPads and various manufacturers were growing the universe of people using devices running Alphabet's Android operating system, Microsoft remained focused on Windows PCs. That put the company well behind its rivals when it comes to apps for mobile devices.
Windows 10 phones have a tiny piece of the market. Image source: Microsoft.
It's a deficit that makes sense. Apps are generally for mobile devices and that's an area dominated by Apple's iOS and Google's Android. Microsoft has around a 1.1% share in mobile phones globally while Android has 80% and Apple comes in at about 17%, according to research from .
The numbers are a little better for Microsoft in tablets, where Windows has about a 10% share, which Statista suggests will grow to nearly 18% in 2019, but the company is still playing catch-up. In both markets -- phone and tablet -- Microsoft is the clear No. 3. That makes it hard for the company to attract developers to build apps, or even port over existing apps, to work on Windows phones and tablets.
Without apps it becomes very hard to attract customers for Microsoft's mobile devices. Even if the company builds a stellar Windows Phone or an innovative tablet, consumers could (and have) passed because they can't play Angry Birds or whatever other favorite app they might be looking for.
Microsoft has attempted to fix this multiple times. Now the company has a new plan to bring more apps to its mobile devices.
It's a new Windows worldWhile Android is basically an operating system just for phones and tablets, Apple's iOS has different versions for iPads and iPhones versus computers. With Windows 10, Microsoft has tried to one-up its rivals by having one OS which runs on phones, tablets, and PCs. That's a smart way to entice developers into creating new apps for Microsoft devices because instead of them only going after the company's scant mobile audience they can target every Windows user.
That's great for new apps in theory, but it does not solve the issue that there are thousands of popular apps not offered on Windows devices. To change that the company has begun offering a preview version of a new tool that allows app owners to convert their product to operate on Windows.
"Desktop App Converter, previously known as Project Centennial, converts app installers from older .NET and Win32 configurations to AppX packages that work withWindows 10," Geekwire's James Risley wrote. "The tool,Microsoft hopes, will help populate theWindows Store with more desktop apps that users were familiar with in olderoperating systems."
Once the developers port their apps to Windows 10 they will be able to take advantage of some of its cooler features including live tiles, notifications, and Cortana integration.
UWP = universal Windows platform. Microsoft laid out the steps for using its app converter. Image source: Microsoft.
Will this help?The problem Microsoft has is that even though apps created for Windows 10 work across phones, tablets, and PCs, developers recognize that most people only use them in mobile settings. That has made the idea of one Windows across all devices not quite as attractive to developers as it seemed like it would be when it was first announced.
This new tool will help a little bit. Microsoft has made some inroads in the tablet space and that growing audience along with the company making things easy on developers could attract more app owners willing to make the conversion.
Microsoft is smart for trying, but the real money in apps for developers is in the phone space. That's why many popular iPhone or Android apps feel odd when used on an iPad or Android tablet -- they were developed for phone first and moved over as an afterthought.
Still, Microsoft can't simply throw in the towel on winning over developers and it's being smart making the conversion process as easy as possible. This won't be an easy war to win and every inch of ground the company gains will be hard-fought. That does not mean the company should stop fighting; this move is another step toward building the Windows 10 app universe.
The article Has Microsoft Finally Solved Windows' App Problem? originally appeared on Fool.com.
Suzanne Frey, an executive at Alphabet, is a member of The Motley Fool's board of directors. Daniel Kline owns shares of Apple and Microsoft. He uses very few apps on his iPhone, but some of the ones he uses are not available on Windows Phone. The Motley Fool owns shares of and recommends Alphabet (A shares), Alphabet (C shares), and Apple. The Motley Fool recommends Gartner and Microsoft. Try any of our Foolish newsletter services free for 30 days. We Fools may not all hold the same opinions, but we all believe that considering a diverse range of insights makes us better investors. The Motley Fool has a disclosure policy.
Copyright 1995 - 2016 The Motley Fool, LLC. All rights reserved. The Motley Fool has a disclosure policy.