Has Johnson Controls Earned a Clean Bill of Financial Health?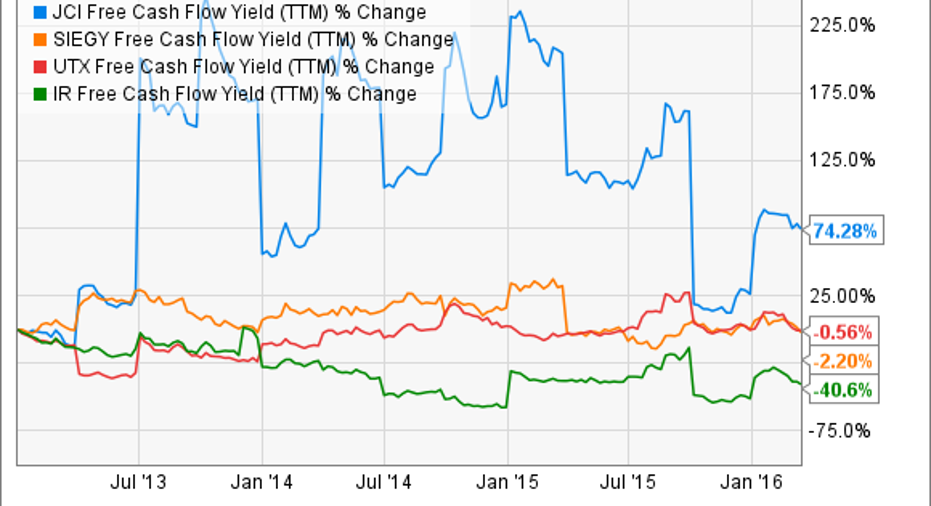 Image Source: Johnson Controls corporate website
With the first quarter of 2016 in the rearview mirror, it's a good time to pull over and check under the hood. Reporting diluted EPS of $0.82, Johnson Controls (NYSE: JCI) is on track to meet expectations of diluted EPS between $3.70 and $3.90. But earnings alone don't suggest that the company is in good financial shape, so let's take a closer look to see how well the engine is running.Pumping out profitsWhereas Johnson Controls has struggled to maintain revenue growth over the past three years, the company has improved its bottom line. According to management, the recent decrease in sales was primarily attributable to unfavorable foreign currency exchange -- a familiar theme throughout the market -- and poor performance of the automotive interiors business, neither of which inspire any major sense of concern.
| Metric | FY 2015 | FY 2014 | FY 2013 |
| --- | --- | --- | --- |
| Net sales | $37.18 billion | $38.75 billion | $37.15 billion |
| EBITDA | $3.01 billion | $2.87 billion | 2.72 billion |
| Net income | $1.68 billion | $1.34 billion | $1.30 billion |
| Diluted EPS | $2.36 | $1.80 | $1.71 |
Source: Johnson Controls 10-K. Author's calculations.
Moving down the balance sheet, it's impossible to discuss Johnson Controls' financial health without addressing the imminent major changes: the spinoff of its automotive interiors business into the new entity, Adient, and planned merger withTyco International(NYSE: TYC). Upon the deals' closing -- presumably by year's end -- management forecasts $32 billion in net sales. If the company meets this guidance, it will report a 13% drop in revenue; however, investors shouldn't be concerned. Despite this falloff on the top line, management forecasts earnings to grow to $4.5 billion in EBITDA -- a figure that doesn't account for the $650 million in operating and tax synergies that management expects to yield.
Pumping out cashEarnings are important, but equally important is the company's ability to generate cash. A healthy sign for a mature company like Johnson Controls is the ability to maintain and grow free cash flow. In this regard, the company is succeeding -- performing exceedingly well compared to its peers over the past five years. The company rebounded well from a challenging 2014 during which various divestitures negatively affected the company's cash flow by $111 million. Evaluating Johnson Controls and its peers on their free cash flow yield, we get a sense of how well the companies are at converting their sales to free cash flow. BothSiemens (NASDAQOTH: SIEGY) andUnited Technologies (NYSE: UTX) are much larger than Johnson Controls and the diverse industries in which they operate, presumably, helped them to avoid the precipitous decline which their smaller rival,Ingersoll-Rand (NYSE: IR), has suffered.
JCI Free Cash Flow Yield (TTM) data by YCharts
What's a company to do with its stacks of cash? Johnson Controls has been committed to returning it to shareholders. The company has been making dividend payments since 1887 -- raising it 35 times over the past 37 years. Continuing the trend, the company announced that it will be raising its FY '16 quarterly dividend to $0.29 from $0.26 in FY '15. It also plans on resuming its share-repurchase program, buying back $500 million through FY '16. Looking forward, management expects its cash flow to improve following the spinoff of Adient and the merger with Tyco as its restructuring outflows taper off in FY '17 and FY '18.
Consistently returning cash to shareholders over the long term, Johnson Controls' generosity has fattened its investors' wallets, but has it been too generous -- sacrificing its own well-being? After all, the company must ensure that its allocating enough cash to invest in itself. After all, Johnson Controls' overall health largely depends on the health of its big machines. Its spending on capital expenditures has followed the same trajectory as several of its peers -- no red flags here.
JCI Capital Expenditures (Annual) data by YCharts
Owing a debt ... of gratitudeDistributing dividends and buying back shares is all well and good, but not if it comes at the cost of unmanageable debt. Investors need not worry; the company's debt doesn't raise any major concern. Although it is increasing the degree to which its leveraged, the company is still more conservative than its peers. Illustrating its success over the past five years, the following chart reveals how well it has managed to take on debt without sacrificing shareholder value.
JCI Debt to Capital (Annual) data by YCharts
In the near term, management acknowledges that there will be an increase in the company's average debt level as it further invests in its joint venture with Hitachi. Johnson Controls will not incur any debt in relation to the merger with Tyco; its shareholders will own 56% equity in the new entity and receive a total cash consideration of approximately $3.9 billion.The Foolish takeawayWe can close the hood. With growing profits, healthy cash flow, and manageable debt, Johnson Controls passes its checkup and earns a clean bill of health. There are major changes under way, though, and Johnson Controls, for both the balance of 2016 and beyond, will look very different from the Johnson Controls of yesteryear. The question is: Will it be able to execute this transformation while keeping fit?
The article Has Johnson Controls Earned a Clean Bill of Financial Health? originally appeared on Fool.com.
Scott Levine has no position in any stocks mentioned. The Motley Fool owns shares of Johnson Controls,. Try any of our Foolish newsletter services free for 30 days. We Fools may not all hold the same opinions, but we all believe that considering a diverse range of insights makes us better investors. The Motley Fool has a disclosure policy.
Copyright 1995 - 2016 The Motley Fool, LLC. All rights reserved. The Motley Fool has a disclosure policy.