Harley-Davidson Vs. Polaris Industries: Who's Doing Motorcycles Better?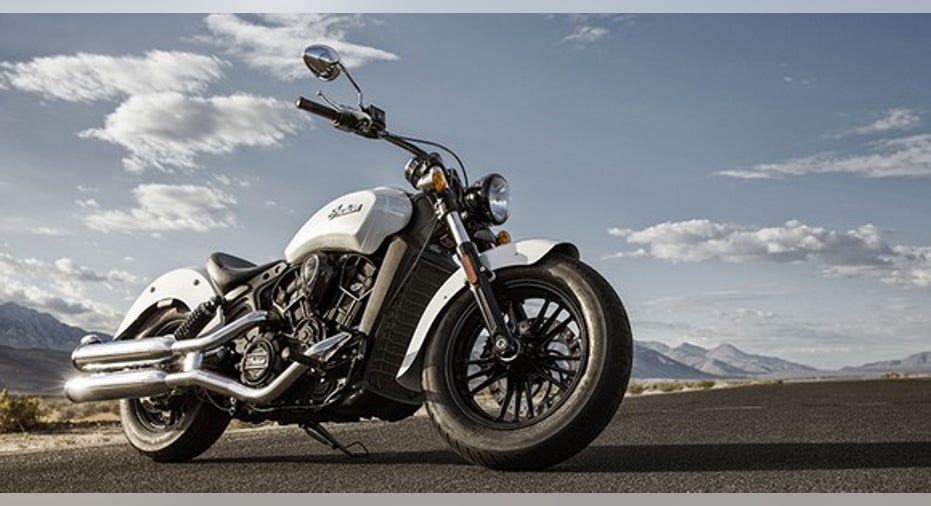 Even though Harley-Davidson has stumbled badly in recent periods, there's no reason for investors to feel blue about the big bike maker as its reputation remains intact. Image source: Michael Gram.
Ever since Polaris Industries resurrected the Indian Motorcycle nameplate in 2013, it's been a David versus Goliath scenario against Harley-Davidson . While no one expects Polaris to slay Harley, or even dethrone it as the big bike king, it's clear the upstart has caused its industry rival to stumble.
At the end of 2012, Harley owned 57.2% of the heavyweight motorcycle market for bikes 601 cubic centimeters and larger, but by the end of 2015, that had shrunk to 50.2%, even as that segment of the market expanded from 62% of the total U.S. motorcycle market in terms of new units registered, to 85%.
Because Polaris and Indian Motorcycle have enjoyed double-digit sales growth since the nameplate was reintroduced, it is clear they've been largely responsible for Harley's decline. Yet despite the behemoth's troubles, it remains a force to be reckoned with: Last year, it still managed to ship some 270,000 bikes to dealers worldwide, a huge number, even though it's much lower than the all-time high it hit just before the financial markets collapsed.
That's why no one is saying Harley-Davidson is just going to disappear. It's not a broken brand, or even one in serious financial trouble, and it still possesses an identity any company would be jealous to have. But in a contest of two fierce manufacturing rivals, it's instructive to see who is doing motorcycles better.
Such a comparison can't just be based on sales numbers. Indian obviously started from a much smaller base, so its growth will naturally seem exponential while Harley, as the more mature motorcycle maker, will appear to be growing slower.
The motorcycle market is relatively stagnant
Both Harley-Davidson and Polaris Industries agree the motorcycle market isn't moving significantly higher these days, with sales expanding at best at low, single-digit percentage point rates in the past year, but at other times largely remaining flat.
Because Harley saw U.S. sales fall 3.4% in 2015, while Polaris's motorcycle sales were up 67%, the latter was able to gain significant market share in heavyweight bikes at the expense of its rival. Still, Harley continues to sell far more motorcycles than Polaris does, so while the pie isn't getting much bigger, it's just being divvied up differently. Increasing numbers of riders are choosing Indian motorcycles, though far more still buy from Harley.
The market is changing
For eight years running now, Harley-Davidson has been the No. 1 seller of new on-road motorcycles in the U.S. to every demographic you want to look at: middle-aged white males, who remain its core customer, as well as those it deems its new outreach demographic: young adults ages 18 to 34, women, blacks, and Hispanics.
Both Harley and Indian are targeting all of the groups, though it seemed Harley was late to realize there was change coming to the market. Once it did, though, it began targeting bikes to the up-and-coming riders. Its Street 500 and 750 models proved immediately popular, and it has since updated for 2016 its Sportster Iron 883 and the Forty-Eight.
Indian Motorcycle has gone hard after the new, growing rider demographic with new models geared especially toward them, like the Scout Sixty. Image source: Indian Motorcycle.
Polaris also went after this demographic, first coming out with the Indian Scout and then doubling down with the Scout Sixty, an even lower-priced version of its forebear. Expect to see both bike makers continue wooing new riders and riders new to their respective brands.
But they do take different paths
Both Harley-Davidson and Polaris Industries have bemoaned the discounting going on in the industry, but they've responded to it in different ways. Where Polaris has participated in the promotional environment to increase sales and market share, Harley refuses to go along so it can maintain its margins.
In the first quarter of 2016, Harley's gross margins only slipped 1.7 percentage points as product mix and foreign currency exchange rates offset gains in volume and pricing. Polaris, on the other hand, saw its gross margins slide 324 basis points in the period, though that included its off-road vehicle and snowmobile businesses, too. It does say, though, that it expects margins to improve throughout the year as volumes increase.
Harley-Davidson maintains it's a premium brand, and its bikes should be priced accordingly. Instead of discounting, it's investing in attracting new riders to both Harley bikes and motorcycling generally. This year, it's boosting its marketing spend by $70 million, a 65% increase from last year.
Because it does own half the motorcycle market, it can afford to take that stand, even if it costs it a few percentage points of share by doing so. It ultimately keeps its business stronger in the long run.
Picking a winner
There really are no losers in this battle. As the industry upstart, Polaris Industries and Indian Motorcycle are aggressively going after the leader, as they should, taking on Harley-Davidson all across the board, from different models and price points to demographics and even onto the racetrack.
Harley is also doing what it needs to maintain its preeminent position atop the motorcycle industry. It's courting new riders to its brand while also continuing to service the group of bikers that created the powerhouse the bike manufacturer has become.
Still, at the moment, I'd give the nod to Polaris since it was the company that had to prove it could successfully resurrect Indian Motorcycle. It was already producing big bikes under the Victory brand and was unable to make a dent in Harley's dominance. Only after acquiring the rights to a motorcycle name that was older and just as storied as Harley-Davidson did it see the needle move.
As pointed out earlier, no one anticipates Polaris succeeding Harley as the leader of the pack, but now that Indian is a viable motorcycle company once again, the industry -- and riders -- are better off.
The article Harley-Davidson Vs. Polaris Industries: Who's Doing Motorcycles Better? originally appeared on Fool.com.
Rich Duprey has no position in any stocks mentioned. The Motley Fool owns shares of and recommends Polaris Industries. Try any of our Foolish newsletter services free for 30 days. We Fools may not all hold the same opinions, but we all believe that considering a diverse range of insights makes us better investors. The Motley Fool has a disclosure policy.
Copyright 1995 - 2016 The Motley Fool, LLC. All rights reserved. The Motley Fool has a disclosure policy.