Harley-Davidson riders rumble into Milwaukee for Labor Day weekend rally, custom bike show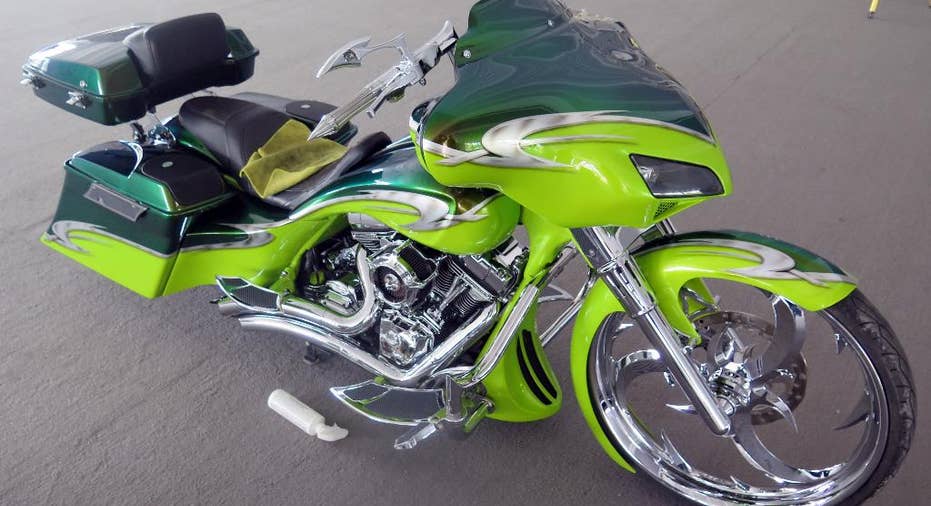 Gearheads converged on the Harley-Davidson Museum on Friday to show off, talk shop and get started on a weekend motorcycle rally and custom bike show.
Tents outside the museum featured T-shirts, trinkets made from spare parts, custom pin-striping, Harley's new line, pencil sketches, fine art, industrial art and — of course — custom leather.
There was also a stage with a rock band and a tattoo booth.
About 5,000 riders and fans began arriving Thursday evening, lining up thousands of bikes in long rows of choppers, trikes and cruisers. Organizers say enthusiasts come from all around to see world-class designs and celebrate Harley culture.
Here are some things to know about the event:
CUSTOM SHOWS: There are two custom shows, the Pro Invitational Custom Bike Show, for those who customize motorcycles for a living, and the Ride In Show, featuring the most serious garage tinkerers who roll into town. Some pro competitors set up their creations for early spectators. The event starts Saturday and features motorcycles tricked out in some of the nation's top shops, all seeking the Willie G. Davidson Award, named after the father of custom bike culture.
___
ELECTRIC COMPANY: Harley has been testing electric bikes to get customer feedback. The company wants to hit the market with an electric bike "no later than 2020," said Harley product planning spokesman Paul James. At the Live Wire booth, riders can take an electric Harley prototype for a test ride and tell the company what they liked and what they didn't. James said the electric model isn't something a rider would take to Sturgis, but they're ideal for city use.
___
WOMEN RIDERS: Photographer Lanakila MacNaughton said she started riding four years ago in Portland, Oregon, but couldn't find a community of women riders. She's started to build one through her photography. She said the women motorcycle riders she shoots embody "power, sexuality and they're super-smart leaders and role models." Her work is the focus of a traveling exhibit featured at the Harley event. She said she wants to "take women off the back of the bike and put them on the front of the bike."
___
THE PEOPLE: Sergio Satey, Robert Cattaneo and Javier Lazaro, of the Joliet, Illinois, chapter of the Latin American Motorcycle Association looked for their rivet on the Living the Legends wall. ... Arturo Osorio, who grew up in Detroit, talked about the places he has traveled. "My daughter is an opera singer. Where ever she is, that's where I get my T-shirt," he said. He said he has been to Berlin, Hong Kong, London and Cape Town, South Africa, and he picked up a Harley shirt with the city's name on the back at each stop. ... Rider and customizer Dell Battle of Crown Point, Indiana, rolled out his Barack Obama bike, which drew a crowd as soon as it came off his trailer.