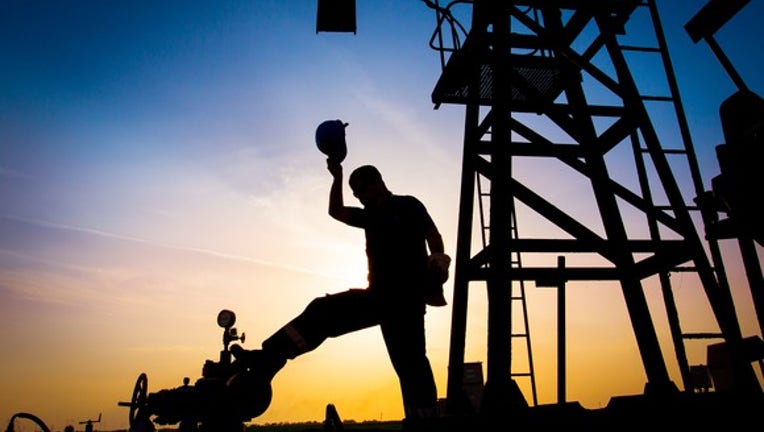 Halliburton's (NYSE: HAL) nickname should probably be "North America's oil industry cheerleader." On almost all of its investor conference calls, it goes out of its way to champion the shale industry and how it's the company best positioned to service -- and profit from -- this part of the overall oil and gas industry. Its most recent conference call was no different, as it explained the trends it's seeing in the oil patch while taking a few jabs at its competition. These five quotes from Halliburton's management encapsulate what management is thinking and what investors should be looking for in 2017.
Image source: Getty Images
Dem's fightin' words
Halliburton always seems to be locked in a battle with its larger competitor Schlumberger (NYSE: SLB) for dominance of the oil patch. So when Halliburton can make a dig at its competition, it never hesitates to do so. Here's CEO Dave Lesar explaining how Halliburton sees itself outperforming its peer:
While Halliburton can certainly make this claim, it wasn't as much of a fight as management makes it out to be. Schlumberger has said on multipleoccasions throughout this downturn that it is much more interested in maintaining a rate of return rather than market share. So management was much more willing to idle equipment if it wasn't profitable. It should be no surprise, then, than Schlumberger was able to produce a pre-tax operating income margin last quarter of 11.8% while Halliburton's was 8.2%.
The big question for investors is what strategy is better for the long run: preserving market share or preserving rate of returns. That probably comes down to personal preference.
Shale market sorting itself out
For most of the past year, there was this odd feeling that a recovery was coming in the North American shale market, but the data wasn't completely backing that idea up. Lesar explained that a large reason is that some companies were pursuing some different corporate moves to get ready for the inevitable increase in activity across the American oil patch:
Getting selective
One of the clear benefits that Halliburton's management thinks it has from its increased market share is the ability to pick and choose the operators with which it will work. As Lesar explained, it has a bench of clients it is willing to keep and let go depending on what kind of pricing power it can get from each:
This move to trim the client base is going to be critical, especially if it wants to get up to Schlumberger's levels of margins. North America has been Halliburton's lowest-profit margin region as of late, and it will need to show some sort of improvement to justify all of those assets.
Throwing some shade on offshore
Lesar's optimism for the future of oil and gas activity doesn't apply to every part of the market, though. His views on offshore are much more tempered:
This is indeed true, but there are some overtones of a company trying to take a dig at Schlumberger here. Since Halliburton is so much more tied to U.S. drilling -- particualrly shale -- having that market look so much more promising than deepwater and international markets is somewhat by design.
Something's gotta give
All of the talk from oil services companies has been on increasing activity leading to better revenue. One thing that isn't as often discussed, though, is price. According to Jeff Miller, president and chief health, safety, and environment officer, many of the company's oil services competitors are operating under contracts that simply cannot persist.
This is something to watch in all parts of the oil and gas business. For services companies, it could mean a return to improved margins and returns as these contracts get renegotiated. Conversely, oil producers that have been touting such high levels of cost savings may see an uptick in costs as they have to pay up for contract services.
10 stocks we like better than Halliburton When investing geniuses David and Tom Gardner have a stock tip, it can pay to listen. After all, the newsletter they have run for over a decade, Motley Fool Stock Advisor, has tripled the market.*
David and Tom just revealed what they believe are the 10 best stocks for investors to buy right now... and Halliburton wasn't one of them! That's right -- they think these 10 stocks are even better buys.
Click here to learn about these picks!
*Stock Advisor returns as of January 4, 2017
Tyler Crowe has no position in any stocks mentioned. The Motley Fool owns shares of Halliburton. The Motley Fool has a disclosure policy.