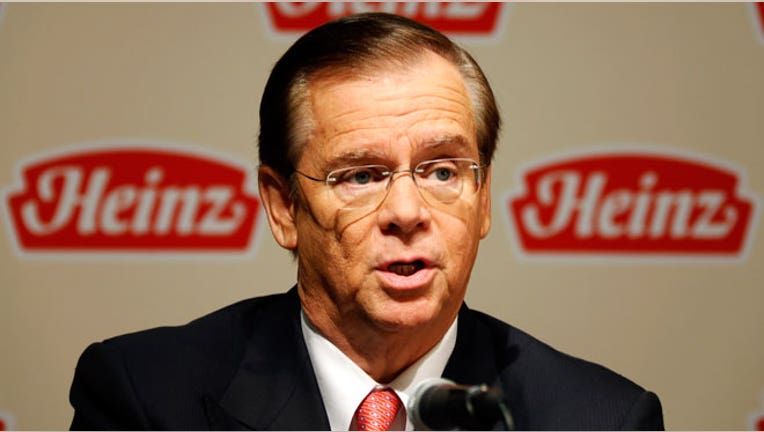 H.J. Heinz (NYSE:HNZ) announced plans on Wednesday to hold a special shareholder meeting on April 30 to allow investors a chance to vote on the iconic ketchup maker's $28 billion takeover by Warren Buffett and a lucrative golden parachute for CEO William Johnson.
First unveiled in February, the $72.50-a-share buyout marks the largest food acquisition on record and offers shareholders a 19% premium to the company's all-time high.
In a Securities and Exchange Commission filing, Heinz said its board unanimously recommends shareholders vote in favor of the takeover by Buffett's Berkshire Hathaway and private-equity firm 3G Capital.
Unlike the potential $24.4 billion leveraged buyout of Dell (NASDAQ:DELL), the Heinz transaction has faced little opposition from major shareholders and no rival bids have emerged.
Heinz also urged shareholders to approve a non-binding, advisory vote on merger-related compensation for executives. Earlier SEC filings revealed that Heinz CEO William Johnson could walk away more than $200 million richer from the transaction thanks to one of the most lucrative golden parachute packages on record.
The meeting will be held at 8 a.m. ET on April 30 at the New York offices of Davis Polk & Wardwell and shareholders of record as of the close of business on March 18 may vote.
Heinz said it has received early termination of the waiting period under the Hart-Scott-Rodino Antitrust Act, satisfying one of the conditions to finalize the deal.
Heinz also said it now sees the transaction closing late in the second quarter of 2013 or in the third quarter. Previously the parties said they expect the deal will close in the third quarter.
Shares of Pittsburgh-based Heinz were unchanged on Wednesday, dipping 0.04% to $72.01. The ketchup maker has rallied 25% so far this year and 35.5% over the past 12 months.