Gun Stocks Pop as Obama Rolls Out New Rules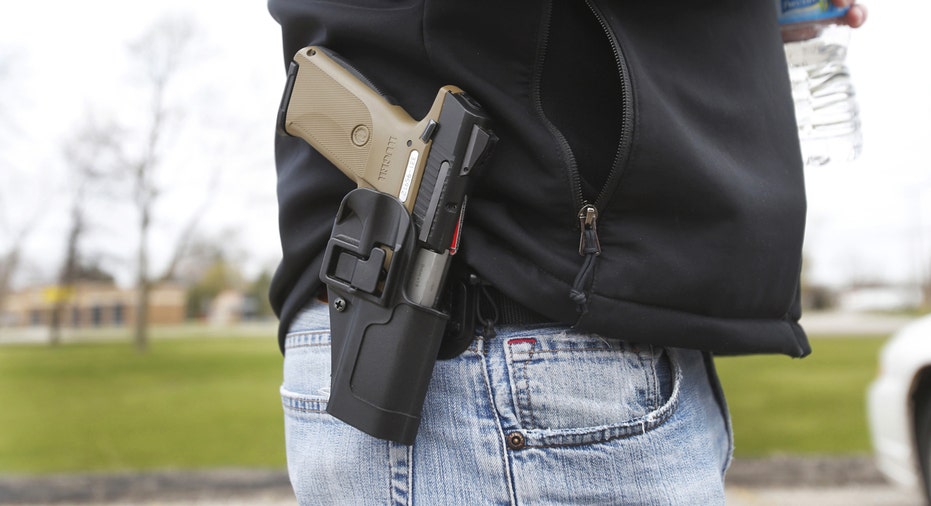 UPDATED
Gun makers soared on Wall Street as President Barack Obama rolled out executive orders that will expand background checks, a move that is reminding investors of past gun-control efforts that helped spark a sales boom.
Smith & Wesson (NASDAQ:SWHC) jumped 11% on Tuesday, and Sturm, Ruger & Co. (NYSE:RGR) rallied 6.7% in reaction. Other manufacturers and retailers also saw a boost. Shares of Cabela's (NYSE:CAB) and Vista Outdoor (NYSE:VSTO), the owner of Savage Arms, were up on a flat day for the broader market.
President Obama announced a plan that, among other measures, will require more buyers and sellers to go through the federal background check system.
One executive order states that anyone "in the business of selling firearms" must obtain a Federal Firearms License (FFL) from the ATF. The broader guideline is aimed at forcing more sellers, particularly those that sell a small number of guns online or at gun shows, to conduct background checks on buyers.
Attorney General Loretta Lynch said an exception for hobbyists will remain, although the new rule means sellers who transfer as few as two firearms each year may need to apply for a license.
The executive actions have been met with criticism from the firearm industry and gun owners who believe the new federal guidelines will not effectively combat gun violence and constitute an overreach by the Obama administration.
"President Obama's executive orders will do nothing to improve public safety," the National Rifle Association said on Twitter (NYSE:TWTR). In another tweet, the NRA noted that gun-crime prosecutions "are way down."
The National Shooting Sports Foundation, a trade group representing firearm manufacturers and retailers, said it will "carefully review all aspects of the executive actions that President Obama announced today."
"We all share the goal of reducing the intentional misuse of guns and enhancing the safety of our communities," the NSSF said in a statement. "The criteria for what will constitute being 'engaged in the business' going forward needs considerable clarification and raises questions about enforceability."
The NSSF agreed that more resources should be devoted to the FBI's National Instant Criminal Background Check System (NICS), which has been the subject of complaints from gun owners and merchants for slow response times. Under President Obama's executive orders, the FBI will increase its NICS workforce by 50% and work toward implementing a 24/7 background check program.
Spokespeople for Smith & Wesson and Ruger did not respond to requests for comment. Vista Outdoor and O.F. Mossberg & Sons referred to the NSSF's response.
Historically, efforts on Capitol Hill to implement gun-control measures have fueled sales. NICS background checks in 2012 and 2013 smashed prior records as buyers anticipated new restrictions. During President Obama's tenure, shares of Ruger and Smith & Wesson have risen more than 900%.
U.S. gun sales appeared to end 2015 on a high note. The NICS program reported its first-ever month of more than three million checks in December, completing an additional one million checks compared to December 2014. According to adjusted NICS figures from the NSSF, the number of background checks for firearm transactions surged 37.6% to 2.24 million. The NSSF-adjusted numbers strip out background checks for licenses.
Citing strong December data, Smith & Wesson hiked its quarterly and full-year outlook on Monday, forecasting stronger-than-expected sales and per-share earnings.