Guess? Disappoints With Falling Earnings, Downbeat Guidance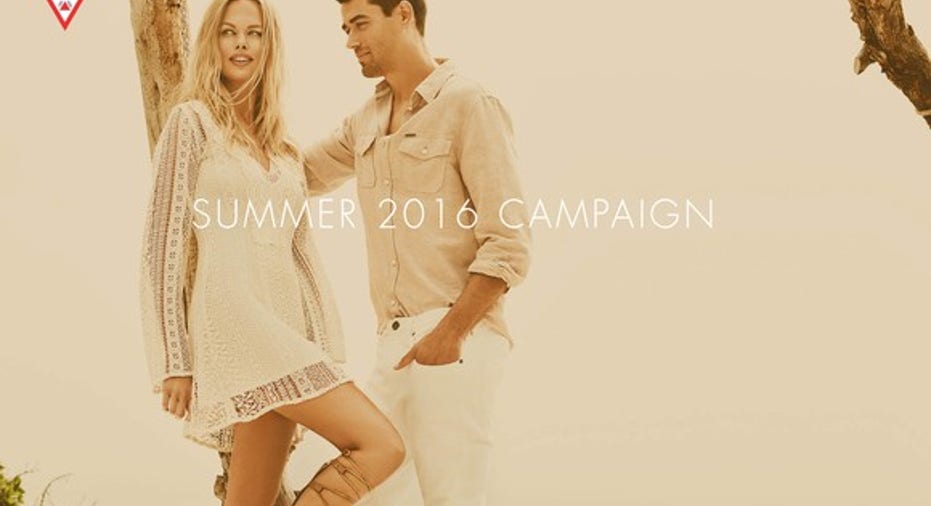 The whims of fashion can be tough for apparel companies to navigate, and jeans maker Guess? (NYSE: GES) has had its share of problems in handling a difficult environment in the retail sector. However, Guess? had seen some recent success, and coming into Wednesday's fiscal third-quarter financial report, investors in the jeans specialist had hoped that it would be able to grow revenue modestly while keeping earnings declines to a minimum. Instead, the results that Guess? posted weren't as good as investors had expected, and the company's guidance for the future was also cloudy. Let's take a closer look at Guess? and what its results suggest about a potential recovery.
Image source: Guess?.
Guess? misses the mark
For Guess?, the company's fiscal third-quarter results weren't able to satisfy those following the stock. Revenue climbed slightly, rising almost 3% to $536.3 million, but that was less than the 5% growth rate that most were hoping to see. Moreover, earnings dropped by more than 25% to $9.1 million, which produced earnings per shareof $0.11, falling short of the $0.14 consensus forecast among investors.
Looking more closely at how Guess? did, the jeans maker suffered a setback in terms of its comparable sales figures. In the Americas retail division, comps including e-commerce fell by 4.9%. Foreign exchange has almost ceased to be any factor at all in the results, costing Guess? about a tenth of a percentage point during the quarter.
On a region by region basis, Guess? had some signs of strength. Although the Americas were weak, revenue from Europe jumped by more than 16%, and Asia also showed strength with a nearly 10% gain. However, the wholesale portion of the Americas business for Guess? was weak, falling 4.3%. Licensing revenue dropped 14%, accelerating from past quarters.
Operating margin was also mixed but generally less favorable for the company. Operating margin in Europe jumped by more than 2 full percentage points to 6%, with the company's fixed-cost structure helping to produce better results. Negative operating margin worsened by 4 percentage points in Americas retail, and in Asia, margin went negative as well, falling more than 6 percentage points to -1.6%. Americas wholesale and the licensing segment also saw decreases of between 3 and 5 percentage points for operating margin.
CEO Victor Herrero tried to accentuate the positive. "While I recognize the challenges we are facing in the Americas," Herrero said, "I am thrilled that, due to our various revenue enhancement initiatives, our third-quarter revenues increased." The CEO also pointed to strength in the international arena in helping its overall gains.
Can Guess? find the right answer?
Guess? also wants to do better in the future. In Herrero's words, "As we reach the end of our transition year, I look forward to fiscal year 2018 with tremendous anticipation and excitement."
The problem, though, is that Guess? isn't giving investors very much optimism when it comes to its immediate guidance. For the fiscal fourth quarter, expected revenue growth of 3.5% to 7.5% would be far slower than the 10% gains that many wanted to see. Earnings of $0.40 to $0.50 per share would similarly fall short by $0.10 to $0.20 per share. Moreover, for the full year, the company cut its revenue expectations, now believing it will grow its top line by just 0.5% to 1.5% -- less than half its previous expected pace. Adjusted earnings of $0.42 to $0.52 per share represent a cut of $0.20 or more from its earlier predictions.
Guess? shareholders were stunned by the news, sending the stock down 14% in after-hours trading following the announcement. Unless the holiday season goes much better than the company now expects, it could be difficult for Guess? to generate any positive momentum for its business in the foreseeable future.
10 stocks we like better than Guess? When investing geniuses David and Tom Gardner have a stock tip, it can pay to listen. After all, the newsletter they have run for over a decade, Motley Fool Stock Advisor, has tripled the market.*
David and Tom just revealed what they believe are the 10 best stocks for investors to buy right now... and Guess? wasn't one of them! That's right -- they think these 10 stocks are even better buys.
Click here to learn about these picks!
*Stock Advisor returns as of November 7, 2016
Dan Caplinger has no position in any stocks mentioned. The Motley Fool recommends Guess?. Try any of our Foolish newsletter services free for 30 days. We Fools may not all hold the same opinions, but we all believe that considering a diverse range of insights makes us better investors. The Motley Fool has a disclosure policy.