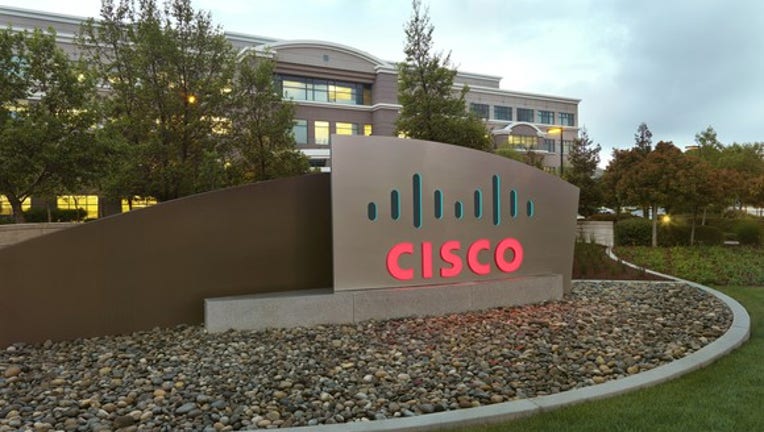 Image source: Cisco Systems.
Networking hardware giant Cisco Systems (NASDAQ: CSCO) reported its fiscal first-quarter results after the market closed on Nov. 16. The company's results came in at the high end of its guidance, but Cisco expects the second quarter to be much weaker. Growth areas such as collaboration and the data center suffered declines during the quarter, while security continued to post robust growth. Here's what investors need to know about Cisco's first-quarter results.
Cisco Systems results: The raw numbers
Data source: Cisco Systems.
What happened with Cisco Systems this quarter?
Adjusted for the sale of the SP Video CPE business, Cisco's revenue was in line with the high end of its guidance.
Adjusted revenue grew by 1% year over year.
The switching segment suffered a 7% decline in sales, generating $3.72 billion of revenue.
The routing segment produced $2.09 billion of revenue, up 6%.
The collaboration segment, which has been growing in recent quarters, suffered a 3% sales decline, with $1.08 billion of revenue.
Data center revenue dropped 3% to $834 million.
Wireless revenue dropped 2% to $632 million.
The security segment continued to grow at a double-digit rate, with revenue of $540 million representing growth of 11%.
Service provider video, excluding the SP Video CPE business, slumped 2% to $271 million.
Deferred revenue rose 12% year over year to $17 billion, driven by subscription-based software.
Cisco's second-quarter guidance fell short of expectations.
Revenue is expected to decline by between 2% and 4%, excluding the SP Video CPE business.
GAAP EPS expected between $0.42 and $0.47, while non-GAAP EPS expected between $0.55 and $0.57. For the second quarter of last year, non-GAAP EPS came in at $0.57.
What management had to say
Cisco CEO Chuck Robbins summed up the quarter:
Kelly Kramer, CFO of Cisco, discussed the shift to a subscription model:
Looking forward
One thing hurting Cisco's results is its ongoing shift toward a subscription business model. The security segment grew revenue by 11% year over year, but deferred revenue soared 39%. While collaboration revenue slumped 3%, deferred revenue jumped 14%. Cisco singles out the growth of software-as-a-service within these segments as one reason for the discrepancy.
With only one growth business, security, posting growth during the first quarter, and with guidance for the second quarter calling for a revenue decline, the difficult environment Cisco finds itself in is taking a toll on the company.
Forget the 2016 Election: 10 stocks we like better than Cisco Systems Donald Trump was just elected president, and volatility is up. But here's why you should ignore the election:
Investing geniuses Tom and David Gardner have spent a long time beating the market no matter who's in the White House. In fact, the newsletter they have run for over a decade, Motley Fool Stock Advisor, has tripled the market.*
David and Tom just revealed what they believe are the ten best stocks for investors to buy right now... and Cisco Systems wasn't one of them! That's right -- they think these 10 stocks are even better buys.
Click here to learn about these picks!
*Stock Advisor returns as of November 7, 2016
Timothy Green owns shares of Cisco Systems. The Motley Fool recommends Cisco Systems. Try any of our Foolish newsletter services free for 30 days. We Fools may not all hold the same opinions, but we all believe that considering a diverse range of insights makes us better investors. The Motley Fool has a disclosure policy.